How to Write an AP Style Press Release (+Free Template)
An AP Style press release, or Associated Press-style press release, is a statement for the press that is correctly styled within AP guidelines. To write yours, you will need to familiarize yourself with the guidelines, then find a newsworthy angle and audience for your story. Add release instructions and your contact information. Then, write an attention-grabbing headline, craft the body of your press release, and include a short "about you" section known as a boilerplate.
Here are the more detailed steps to writing an AP Style press release:
1. Familiarize Yourself With AP Style Guidelines
AP is one of the largest news agencies in the world. It publishes a style handbook every year that governs the way they want journalists to format content so that everything is uniform, no matter who is writing the story. This style guide covers everything from formatting conventions to punctuation rules—and they apply to press releases as well.
Here are the key guidelines of AP Style for press releases:
Spacing: Use one space after a period (not two)
Serial comma: Do not use a comma before the last item in a series
Headings and subheadings: Title case (aka capitalized)
Perspective: AP Style uses third-person perspective (never first or second)
Numbers: Spell out numbers between one and nine, then use numerals thereafter
Dates: Use numbers for dates and abbreviate months with more than five letters
Fonts: Use common fonts, such as Times New Roman or Arial
Font size: Use standard font sizes (i.e., header: 14-pt.; subheader: 13-pt.; body: 12-pt.)
One way to ensure that your press release follows AP Style guidelines and formatting is to use Send2Press, which not only distributes your press release to thousands of journalists and publications, but also includes AP Style verification. Of course, it won't matter how perfectly formatted your press release is if it doesn't cover a compelling and newsworthy story.
Another way is to use our AP Style Press Release Template, which follows the accepted press release format structure. This will help ensure that media outlets, journalists, and search engines can find important information quickly.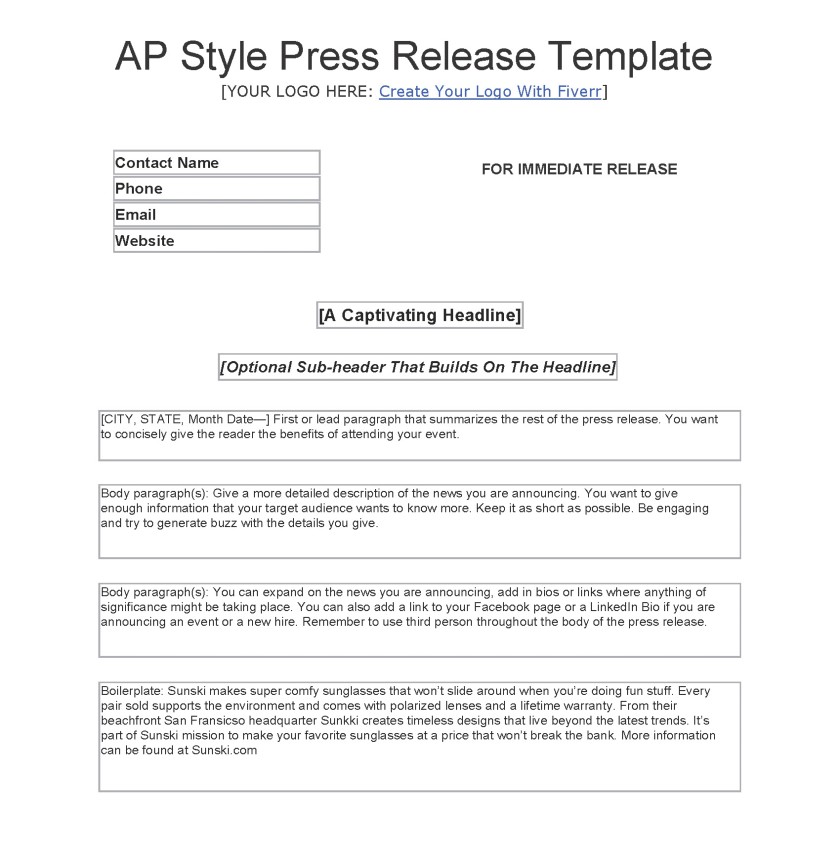 Download Word Document | Download PDF | Download RTF (Rich Text)
2. Find a Great Angle for Your Target Audience
The first step to writing a press release is to figure out the best angle for your story. To do that, you need to target the best audience for your press release. Keep in mind that your audience is not just journalists, but their readers, listeners, or followers as well. Your story needs to be written in a way that captures their attention, which means you need to consider the following:
Interests: What interests does your ideal audience have? What are their hobbies? What do they read or watch?
Values: What is most important to them? Do they want to support local businesses or a specific cause?
Trust: Who do your potential customers trust? What businesses do they find credible?
Habits: Do they have specific habits, like doing their financial planning once a year or shopping for groceries every Friday?
Location: Where are they located (e.g., in a certain city, state, region, country, or worldwide)?
Now, you're ready to start assembling content and fleshing out the elements of your AP Style press release.
3. Add Release Instructions
To start, add the time and date when you want your AP Style press release to be published. This is positioned in the top right-hand corner of your press release and is in all caps. If your press release is ready to be distributed, include the words "FOR IMMEDIATE RELEASE" at the top of your press release.
If you want the media to hold onto your press release for a certain period of time, it is called an "embargoed" release. In that case, write "EMBARGOED FOR RELEASE UNTIL [DATE AND TIME]."
4. Add Contact Information
The contact information needs to include the name, phone number, and email address of the person who can answer questions about the press release content. Add the contact information at the top left-hand of the press release.
Include the following information in this format:
Contact Name: Full name of the primary contact in case the media has any questions.
Contact Phone Number: A phone number with area code that makes it easy to reach the primary contact.
Contact Email Address: This should be the email address of the primary contact or a media-specific email address for the business.
5. Craft a Compelling Headline
For an AP Style press release, the headline should be at the top and center of your press release as a title. Since the headline is usually the most eye-catching part of your press release, you want to use it to compel people to read your press release. A correctly styled AP headline is between 65 and 80 characters and in 14-point size.
Here are three effective approaches to writing your headline:
Tie your headline to a trending topic or current event: Also known as "newsjacking," this is the process of taking a story that is already in the news and anchoring your press release to it. For example, a recent natural disaster might be a good prompt for a press release about a nonprofit's mission to raise money for environmental efforts.
Elicit emotion or encourage action: Use the present tense in your writing as you describe what your organization is currently doing. Ideally, you want to write a headline that is bold, exciting, and encourages some type of action (e.g., This Kindergartener Raised $54k for Disaster Relief and How You Can Too).
Include keywords: Keywords are words people use to find information through search engines. Use keywords and phrases in both the headline and body of your press release to ensure that your release gets the most visibility online. For best results, place your keywords in the first one to three words of your headline, or in the first 65 characters. For other tips on how to use keywords, check out our guide on how to rank higher on Google.
In addition to your headline, you can use a subheading to provide additional insights or details. Subheadings are usually about 120 characters in length and appear directly below your headline. They should be formatted in 12-point Times Roman font and in title case to comply with AP Style formatting. Ideally, they should be italicized.
6. Write Your Press Release Using a Strong Lead Paragraph
The first paragraph of your AP Style press release (sometimes called the "lead") should be a summary of the most important information in your press release, including the date. Your first paragraph should be under 60 words. If you keep it short, you will have a better chance of getting picked up by media outlets.
Here are some things to keep in mind as you write the first paragraph:
Add the Date & Location
Your press release should begin with the date that you want the release to go live and the city the press release originated in. Many media outlets will look for this when deciding when to pick up your press release. For example, you'll often see notations like this that begin the first paragraph of a release:
Santa Monica, Calif. (September 26, 2018) —
Be sure to bold these elements and use proper AP Style—not postal codes—for state abbreviations.
Answer the 'Who, What, When, Where & Why'
Many readers won't make it past your first paragraph, so give the most pertinent information here. You can start this paragraph by briefly answering the questions your reader will want to know. Be sure you keep it short. Your goal is to summarize the entire press release in the first paragraph.
These are the questions your first paragraph should answer:
Who: Who is releasing this information? (Business or organization)
What: What is the news the reader should know?
When: When is this news, change, or hire taking place?
Where: Where is this taking place or where can the audience learn more?
Why: Why is this news important?
After writing a strong introduction that grabs the reader's attention, use the succeeding paragraphs to provide supporting details.
Pro tip: Feature a supporting quote to the body of your press release to add more credibility. Keep this quote around two sentences, and try to choose one that is directly relevant to the news you are releasing. The quote should come from someone who has a solid reputation in your industry or location.
7. Write Your Boilerplate
The boilerplate is the "about" section that appears at the very bottom of your press release. This is where you include your company's background, awards, amount of time in business, or anything else that might be of interest regarding your company. Your boilerplate should be under 100 words.
For more detailed information, learn how to write a press release boilerplate.
8. Distribute Your AP Style Press Release
With your AP Style press release written, it's time to distribute it. This is a crucial part of landing press. It's where your press release goes into the hands of the journalists who can give your press release and your organization news coverage.
There are a handful of ways in which you can get your press release into the hands of journalists, such as direct outreach with established connections, your website, social media, and press release distribution services.
Here are a few ways you can distribute your press release:
Direct outreach: If you have established connections with journalists, distribute your press release directly to your media contact list.
Use a distribution service: For maximum exposure to targeted media outlets and journalists, many businesses use a press release distribution service.
Post it on your website: In addition to reaching out to the media, you should always post your press release on your organization's website to increase overall visibility. One way to do this is to create a press page and add all press releases and mentions there.
Share it on social: Once you have a press release posted on your website, post a link from that page to your social media pages so that your fans and followers can see, like, and share it as well.
If you use a press release distribution service like eReleases, you can easily monitor the performance of your press release since you will be given a report detailing all of your press coverage. If not, you can manually monitor links and mentions by using a backlink checker, such as this free one from ahrefs.
Frequently Asked Questions (FAQs)
Are there any AP Style press release best practices?
Yes. When writing an AP Style press release, there are a few best practices that ensure you get the best results for your effort. These include providing informative, valuable information, taking care to avoid being overly wordy, including images, and condensing text into bullet points where you can. For more information, check out the complete list of press release best practices.
What are the best free press release distribution services?
While there aren't many free press release distribution services, you still have options even if you don't have a list of media contacts or the budget to pay for press release distribution. For example, use OnlinePRNews for short-term press releases (posted for 90 days) or 1888PressRelease for distribution to search engines. If your organization is a nonprofit, you can get free distribution from NewswireToday. Learn more about the best free press release distribution services.
Should businesses submit press releases to announce new hires?
Press releases that announce new hires can be a great way to gain additional exposure and welcome a new team member. However, they are typically limited to well-known companies—more specifically, publicly traded companies—and for those entering into high-level positions. Get the insights you need to decide if a new hire press release is right for your business.
Bottom Line
An AP Style press release is a statement from an organization sent to the press and designed to be distributed through the Associated Press. It is used by organizations of all types that want to increase their odds of landing media coverage for their press release. Using correct formatting makes it easier for journalists to pick up and publish their story.
For exposure to thousands of outlets and to guarantee your press release is written in AP Style, use Send2Press, which comes with AP Style verification.
You Might Also Like…