8 Best POS Inventory Systems in 2022
This article is part of a larger series on POS Systems.
Point-of-sale (POS) inventory systems are software tools used by retailers and restaurants to process customer sales and track product or ingredient stock levels. Most POS inventory software has tools to count inventory, track sales, and provide basic reports. They allow businesses to streamline back-office management by providing central access to track across multiple channels and locations. The best POS systems also streamline product purchasing at prices starting at less than $100 per month.
The POS systems with the best inventory management for small businesses are:
Top POS Inventory Systems Compared
| | Monthly Software Fee | Payment Processing Fee | Matrix Inventory | Multichannel Management | Purchase Ordering | Vendor Management |
| --- | --- | --- | --- | --- | --- | --- |
| Visit Lightspeed | $69 to $269+ | Lightspeed Payments starts at 2.6% + 10 cents | ✔ | With upgrade | ✔ | ✔ |
| Visit Vend by Lightspeed | $69 to $229+ | Other processors available | ✔ | With upgrade | ✔ | With upgrade |
| Visit IT Retail | $99+ | Custom-quoted | ✔ | ✔ | ✔ | ✔ |
| Visit Toast | $0 to $165+ | 2.49% + 15 cents | ✔ | Add-on | ✔ | ✔ |
| Visit Shopify | $0 to $89* | Starting at 2.4% | ✔ | ✔ | With upgrade | With upgrade |
| Visit Square | $0 to $60 | 2.6% + 10 cents | ✔ | ✔ | With upgrade | With upgrade |
| Visit Revel | $99+ | Varies by processor | ✔ | ✔ | ✔ | ✔ |
| Visit KORONA | $49 to $79+ | Varies by processor | With upgrade | With upgrade | With upgrade | With upgrade |
*Separate ecommerce subscription required
Lightspeed Retail: Best Overall POS Inventory System
Lightspeed Retail

Overall Score:
4.70
OUT OF
5
RATING CRITERIA

Pricing
4.75
OUT OF
5
General features
4.25
OUT OF
5
Inventory features
5.00
OUT OF
5
Ease of use
5.00
OUT OF
5
Expert score
4.75
OUT OF
5
What We Like
Customizable matrix inventory
Built-in purchase ordering and vendor catalogs
Granular control for variants, assembled products, and work orders
14-day free trial
What's Missing
Can get pricey
Complex interface
No free plan
Lightspeed Deciding Factors:
Lightspeed Retail POS: $69 to $239 per month; additional registers $29 per month.
Installation fee: $0
Chip, tap and swipe payments: 2.6% + 10 cents
Keyed-in payments: 2.6% + 30 cents
Volume discount: For retailers processing more than $250,000
Third-party payment processing: Higher monthly software fees when using a third-party payment processor instead of Lightspeed payments
Lightspeed is a cloud-based POS system designed for growing small businesses with massive inventories that need to be categorized by multiple variants. Its detailed inventory features are a great fit for retailers. Meanwhile, the sibling restaurant POS system's inventory is not quite as strong (see Toast and Revel for better restaurant options). Paired with a sophisticated custom reporting tool for a starting price of less than $100 per month, Lightspeed Retail is the best overall POS inventory system for small businesses.
In our evaluation, Lightspeed received a 4.70 out of 5. Granular inventory tracking, built-in purchase ordering, and the most sophisticated analytics platform earned the system a high score. However, unlike competitors Square and Toast, Lightspeed does not have a free plan. Although the reporting is cloud-based and accessible from anywhere, Lightspeed does not have a mobile reporting app like Square, Toast, and Shopify. It also does not support expiration date tracking. If you operate a market or grocery, IT Retail is a better option.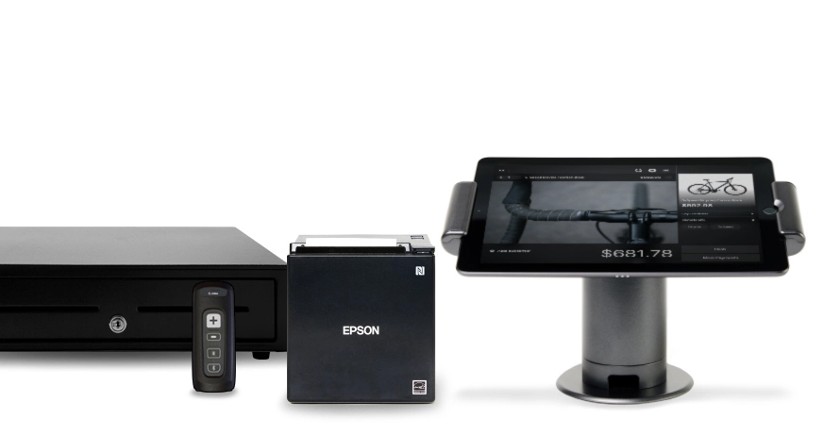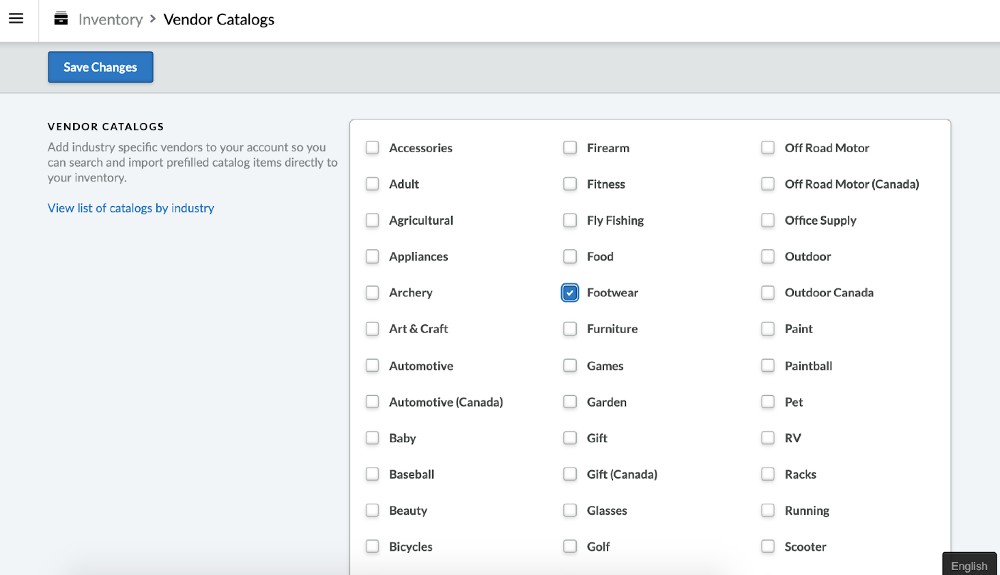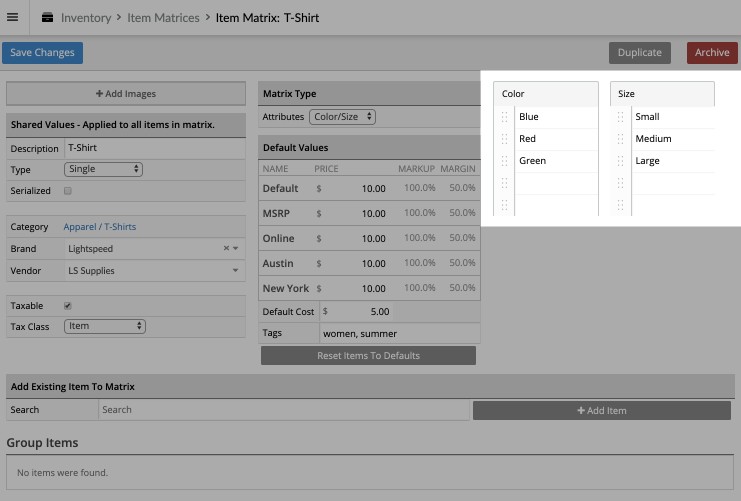 Lightspeed's Standout Inventory Features
There is a lot to love about Lightspeed Retail's inventory tools. The crowd favorite is probably the integrated product catalogs that speed up purchase order (PO) creation. These catalogs support ordering for all kinds of brick and mortar businesses from furniture stores to shops that sell paint or golf equipment. The only notable missing category is restaurant suppliers. While the Lightspeed Restaurant POS frequently appears on our rankings of the best restaurant software, the inventory tools in that system are not yet as robust as Lightspeed's retail offerings.
Lightspeed Retail's standout features include:
Customizable matrixes: Sell unique product variations that are bundled and serialized, or case-broken to sell various quantities of the same product.
Work order management: Process and follow work orders in the POS system.
Categorization and tracking: Use serial numbers and/or stock keeping units (SKUs) to identify each piece of inventory.
Integrated vendor catalogs: With more than 3,000 preloaded catalogs, you can upload up to 10,000 items, consolidate all purchases into one order, set custom reorder points, and fulfill special orders for customers.
Smart pricing: Set up automated rules and discounts for customer segments, seasonal discounts, giveaways and promotions, bulk price changes, and more.
Supplier network: Allows you to discover products, submit POs, and track stock shipments from within Lightspeed POS, making a more efficient supply chain.
Detailed analytics: More than 40 built-in reports, plus customizable settings, data visualizations, and actionable tips.
Synced eCom: Lightspeed POS syncs with Lightspeed eCom to manage online sales from the same system.
Vend by Lightspeed: Best for Brick-and-Mortar Retailers With Large Inventories
Vend by Lightspeed

Overall Score:
4.68
OUT OF
5
RATING CRITERIA

Pricing
4.25
OUT OF
5
General features
4.50
OUT OF
5
Inventory features
5.00
OUT OF
5
Ease of use
5.00
OUT OF
5
Expert score
4.50
OUT OF
5
What We Like
Scanner app
Customizable reporting
Demand forecasting
Offers free trial
What's Missing
Baseline "Lean" plan has limited functionality
No reporting app
Limited customization options
Vend by Lightspeed Deciding Factors
Vend POS: $69 to $199 monthly with enrollment in Lightspeed Payments, or $99 to $229 per month using a third-party processor
Installation fee: $0
Chip, tap and swipe payments: 2.6% + 10 cents
Keyed-in payments: 2.6% + 30 cents
Volume discount: For retailers processing more than $250,000
Third-party payment processing: Higher monthly software fees when using a third-party payment processor instead of Lightspeed payments
Vend by Lightspeed was a popular cloud-based POS system in its own right when it was simply Vend. When Lightspeed acquired the system in 2021, it gave this popular retail POS a more accessible price point and the ease of built-in payment processing.
Aside from being intuitive and easy to use, Vend by Lightspeed meets Retail Access Control Standards (RACS), and integrates easily with payment processors like Worldpay that support high-risk businesses. It also includes unique features like a barcode scanning app, scale integration, and product lookups from the sales floor, making it a great fit for shops that have large and constantly evolving product lists.
Vend by Lightspeed came in right on the heels of its sibling POS, earning a score of 4.68 out of 5 based on our POS inventory system scoring criteria. Vend's detailed inventory features including streamlined purchase ordering and shipment tracking, automation tools, and mobile scanning app earned the POS system a high score. Plus, like Lightspeed Retail, Square, and KORONA, Vend offers a free trial so you can test drive the system before committing.
However, Vend lacks a mobile reporting app, which we were looking for, and does not support expiration date tracking for perishable items. It also had slightly lower user reviews than Lightspeed Retail―averaging 4.2 out of 5 compared to Lightspeed's 4.7, which is what put Vend in second place on this list.
Vend's Standout Inventory Features
Since it was acquired by Lightspeed, Vend's back-office management dashboard has developed the same Lightspeed style. This is good because the Lightspeed dashboard is incredibly easy to use. In addition to offering an intuitive, internet-enabled management dashboard, Vend also has some unique features.
Vend's standout features include:
Scanner app: This is a free barcode scanner smartphone app for scanning and searching products, taking full or cycle stock counts that sync with your POS, receiving stock orders, and creating and sending inventory comma-separated values (CSV) files.
Stock orders: You can create POs right from Vend, track order and invoice numbers, manage supplier lists, and track deliveries. Set custom reorder points to help automate creating stock orders. Send orders to suppliers right from the POS.
Product management: Individual or bulk product uploads, manage variants and composites, and store it all in a centralized product catalog. Integrate with ecommerce platforms and use your existing product catalog.
Barcoding: Create and print new or existing barcodes for various items, including broken cases of the same item in different quantities.
Customizable fields: Vend includes the option to add customizable fields to your inventory items. So if you are selling books, you can add a field to track International Standard Book Numbers (ISBNs) or genres. If you sell fishing tackle, you can include various types of flies and other accessories.
Reporting and analytics: Build customized reports, see on-hand inventory levels, detailed sales reports, and more. Export reports as needed, and access real-time data from anywhere.
IT Retail: Best for Tracking Expiration Dates
IT Retail

Overall Score:
4.40
OUT OF
5
RATING CRITERIA

Pricing
3.50
OUT OF
5
General features
4.50
OUT OF
5
Inventory features
4.17
OUT OF
5
Ease of use
5.00
OUT OF
5
Expert score
4.75
OUT OF
5
What We Like
Industry-grade hardware stands up to high-volume use
Tracks expiration dates of perishable items
Supports case-breaking for case and individual bottle sales
What's Missing
Hardware prices are not listed publicly
Higher subscription tiers require a custom rate quote
No free trial
IT Retail Deciding Factors:
IT Retail POS: Starts at $99 per month
Installation fee: Optional, custom-quoted
Payment processing: IT Retail includes built-in payment processing; rates vary by business type, sales volume, and card mix. Flat and interchange-plus rates are available.
IT Retail is a comprehensive POS designed for markets and supermarkets. It includes essential grocery features like electronic benefits transfer (EBT) and Special Supplemental Nutrition Program for Women, Infants and Children (WIC) compliance and scale integration. On the inventory side, it also includes the ability to track products by lots and expiration dates. This is crucial for businesses like markets that sell perishable items and are sometimes bound by food safety laws to retain records of product's origins in case of recalls or foodborne illness outbreaks.
IT Retail earned a 4.40 out of 5 on our POS inventory scoring criteria. It earned massive points for its niche inventory functions like the expiration date tracking mentioned above. It also scored well for ease of use. Like competitor Revel, IT Retail stumbled a bit when it comes to price. Starting at $99 per month, it can't compete price-wise with others on this list that start at $0 or at least offer a free trial. But if you are a high-volume market that needs to track product expiration dates, IT Retail's cost is well worth it.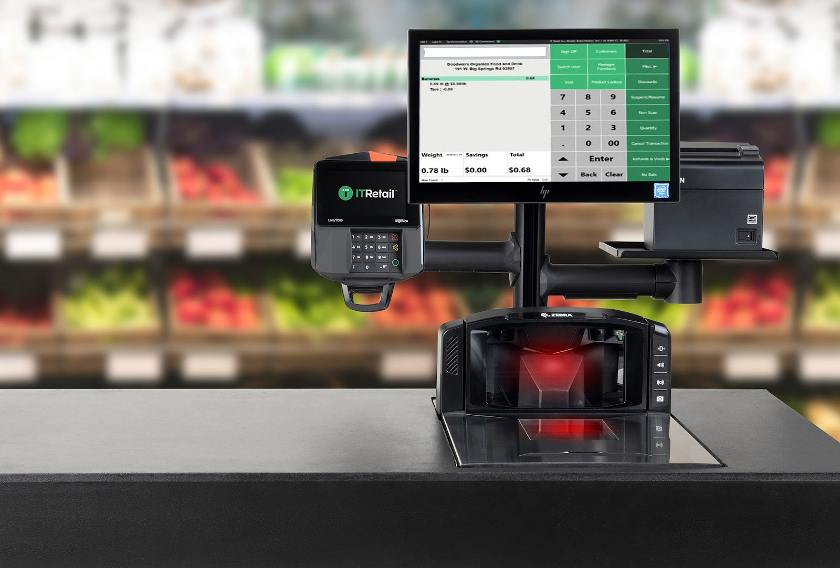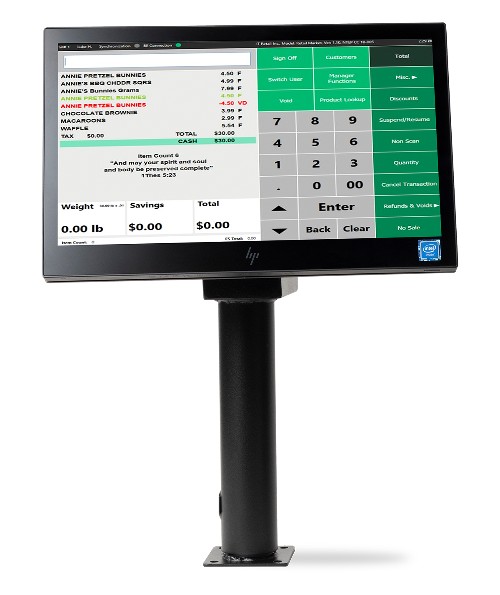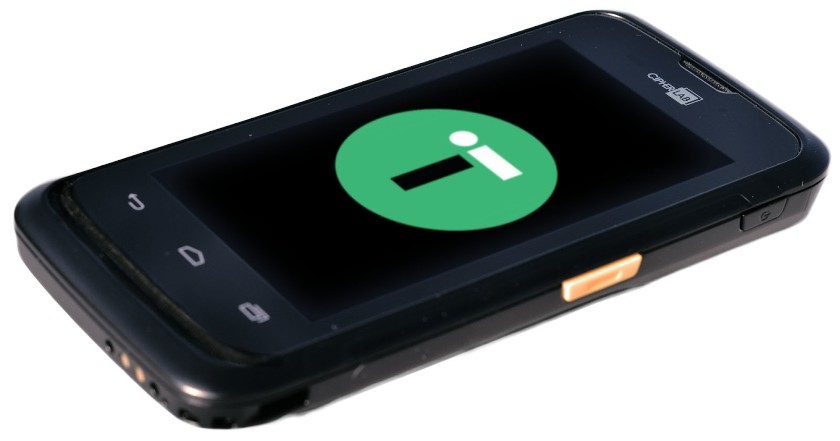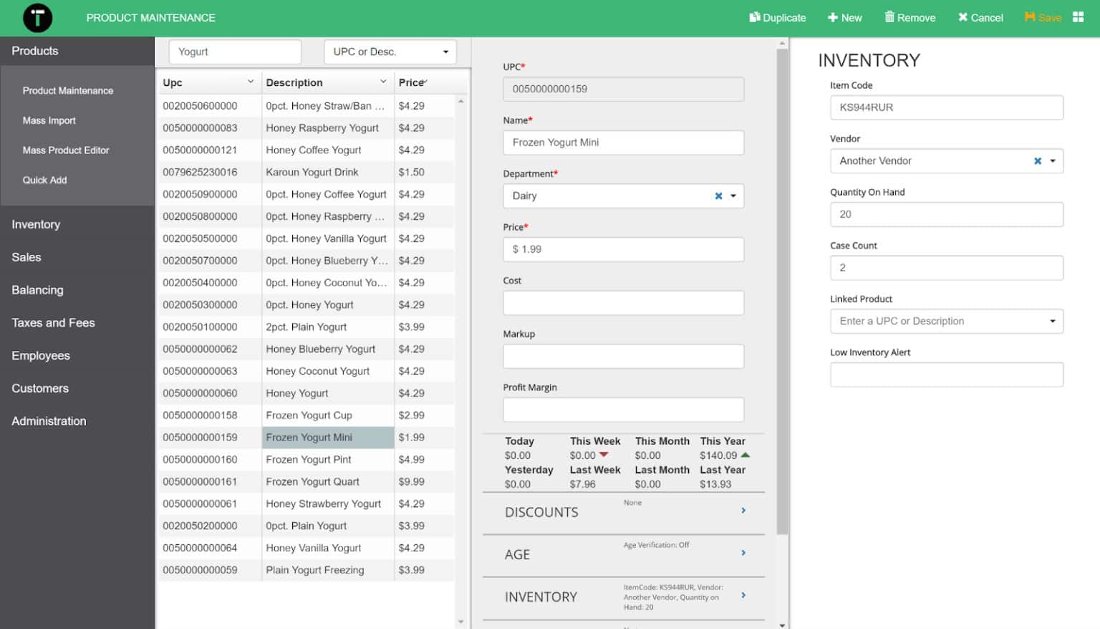 IT Retail's Standout Inventory Features
Unlike other systems that rely on smartphones for their stock-taking applications, IT Retail provides a purpose-built handheld device. This can help keep your team focused on inventory tasks, with no chance of being distracted by a text message or social media notification.
IT Retail's other standout features include:
PO management: You can create POs in your IT Retail dashboard, based on low stock alerts or generated from completely new items.
Shrinkage tracking: IT Retail generates a shrinkage calculation by comparing your sold items with items received and previous inventory counts. This can alert you quickly to spoilage, breakage, or theft.
Lot and expiration date tracking: Expiration date tracking helps your team adhere to the principle of first-in, first-out (FIFO). It also ensures that you sell items before they expire so you make your expected profit margin and keep your sales on track.
Mobile scanner: IT Retail's mobile scanner can speed physical inventory counts, receive orders, generate shelf tags, change product entries and even generate POs on the fly.
Toast: Best for Growing Foodservice Businesses
Toast

Overall Score:
4.37
OUT OF
5
RATING CRITERIA

Pricing
4.50
OUT OF
5
General features
5.00
OUT OF
5
Inventory features
3.75
OUT OF
5
Ease of use
4.00
OUT OF
5
Expert score
4.50
OUT OF
5
What We Like
Baseline POS is free
Pay-as-you-go options for hardware make the system affordable for small businesses
Extensive training and support
What's Missing
Inventory pricing is custom-quoted
Toast is the only option for payment processing
Requires Toast-specific hardware
Toast Deciding Factors:
Toast POS monthly software fees: $0 to $272
xtraCHEF by Toast: Add-on, custom-quoted price
Payment processing:

Standard: 2.49% + 15 cents for Standard users
Pay-as-You-Go: 2.99% + 15 cents processing rate for Starter kit users
Toast is a software solution specifically built for the food and beverage industry. Toast has recently sunset its original inventory module in favor of integrating the xtraCHEF inventory platform, which Toast acquired in 2022. While this inventory tool comes at a custom-quoted price, the underlying Toast POS is plenty affordable for small food businesses, even including pay-as-you-go options for your starter hardware. With vendor management, detailed reporting, and accounting tools in one package, the Toast POS with xtraCHEF is an ideal fit for small food businesses that plan to grow to larger operations.
Toast earned a 4.37 out of 5 in our evaluation. It recently joined Square in offering a free baseline POS for the smallest businesses, which earned it a lot of points. Toast's xtraCHEF inventory module supports extremely granular inventory tracking and control, best-in-class menu and food waste reporting, and a feature-rich, user-friendly interface. Toast lost some points because this excellent inventory tool is an add-on for all Toast accounts, and the pricing requires a custom quote. Toast also requires you to use its proprietary hardware. Meanwhile, Square allows you to use your own hardware.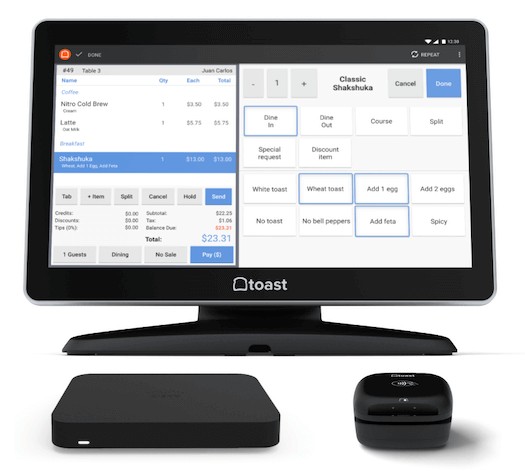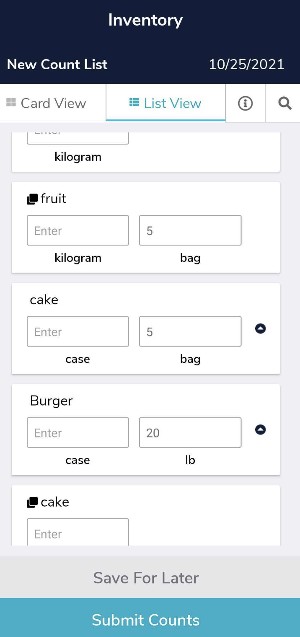 Toast's Standout Inventory Features
Toast has spent the past two years taking feedback from restaurant customers and developing new tools to strengthen its already popular POS. Acquiring and integrating xtraCHEF was one of those steps. Beyond simple ingredient-level inventory, which you can find in almost any restaurant POS nowadays, Toast's xtraCHEF module automates many tedious analytics. So, even small independent restaurants can get detailed profit and loss (P&L) statements and real-time cost of goods sold (COGS) reports that help larger operations budget, forecast, and remain profitable.
Some of Toast's standout features include:
Menu analysis: Best-in-class menu analysis report with recipe and food costing calculators, so restaurants can see what menu items to keep and which ones to remove. You can compare actual performance against theoretical performance.
Auto 86ing: Real-time ingredient-level tracking based on sales, countdowns to out-of-stock items, and integrated online ordering.
Ingredient ordering: Manage your distributors, create POs within the xtraCHEF dashboard, based on your sales in the Toast POS, and import invoices from distributors.
Reporting and analytics: Toast's xtraCHEF module syncs with QuickBooks and with Toast Payroll. So users who use all three can easily pull comprehensive, accurate P&L statements in real time. You'll also get detailed food cost reports and reports that track your costs per vendor and any price changes over time.
Shelf layout: Map your inventory count to your actual kitchen, bar, and storage setup for speedy physical counts. You can also count on the xtraCHEF smartphone app and spread the workload between multiple employees.
Are you hungry for more? See our full Toast review to learn more about this system and see a video walkthrough of the user interface.
Shopify: Best Multichannel POS Inventory System
Shopify

Overall Score:
4.32
OUT OF
5
RATING CRITERIA

Pricing
4.00
OUT OF
5
General features
4.50
OUT OF
5
Inventory features
3.75
OUT OF
5
Ease of use
5.00
OUT OF
5
Expert score
4.75
OUT OF
5
What We Like
User-friendly mobile app
Sync stock with Amazon, Facebook, and Walmart
Many add-ons and integrations available
What's Missing
Pricey, requires a Shopify ecommerce account
No automation features
Lacks back-office customization options
Shopify POS Deciding Factors
Shopify Ecommerce (required)*: $29–$299 monthly
Shopify POS: $0–$89 monthly
Shopify Payments:

Online Transaction Fees: 2.4%–2.9% + 30 cents
In-person Transaction Fees: 2.4%–2.7%
*A Shopify ecommerce account is required to access POS features.
Shopify is an ecommerce platform with an equally detailed POS app that has tools to manage inventory across all sales channels. If you sell online and in person, Shopify is the best POS inventory system because you can track all customer orders and on-hand stock in a centralized system. It includes integrated barcode scanners, detailed inventory reporting, and stock monitoring tools.
Based on our criteria, Shopify's POS inventory system received a score of 4.32 out of 5, leading popular competitors like Square and Lightspeed in cross-channel inventory management features. It earned high marks for the system's granular, multichannel inventory control, along with purchase ordering tools, mobile apps, and a user-friendly interface.
On the other hand, pricey software fees and a lack of customization options prevented Shopify from landing higher in our rankings. If you need a lower-cost option, consider Square. And, if you need greater flexibility, consider Lightspeed.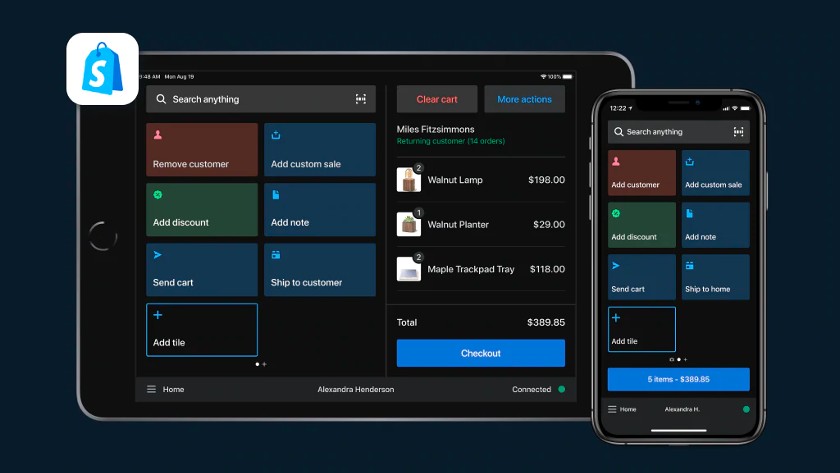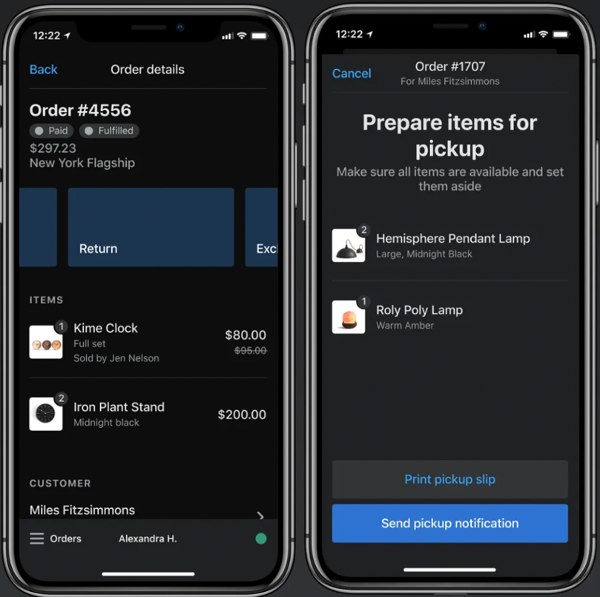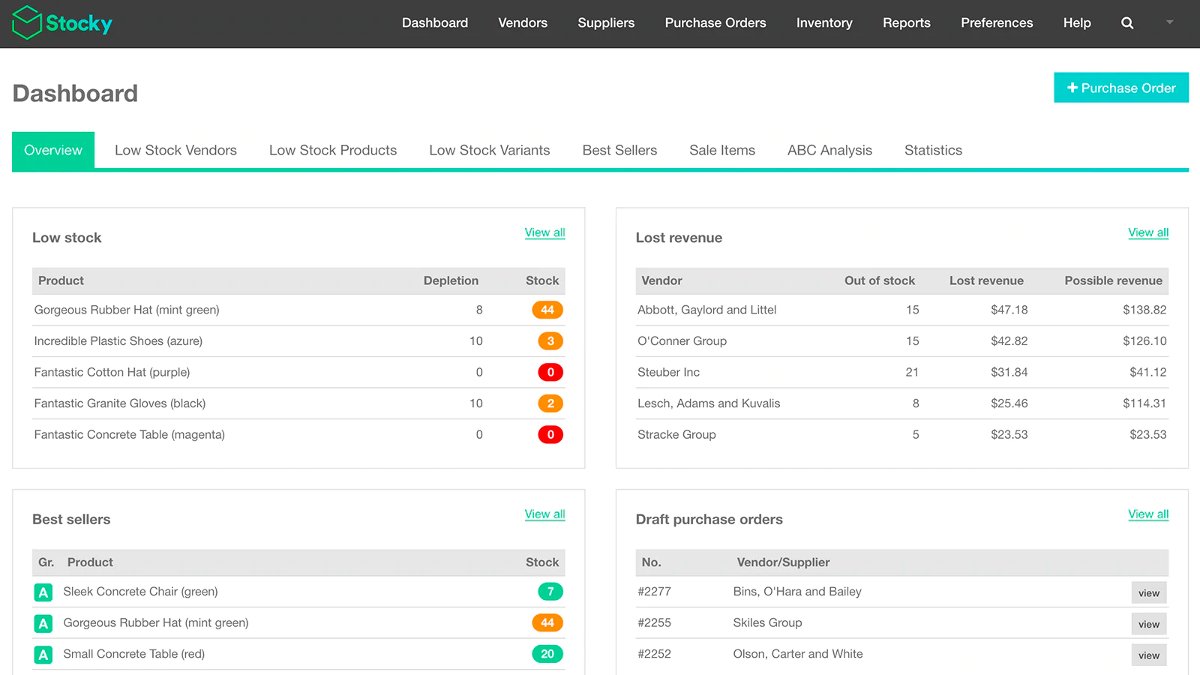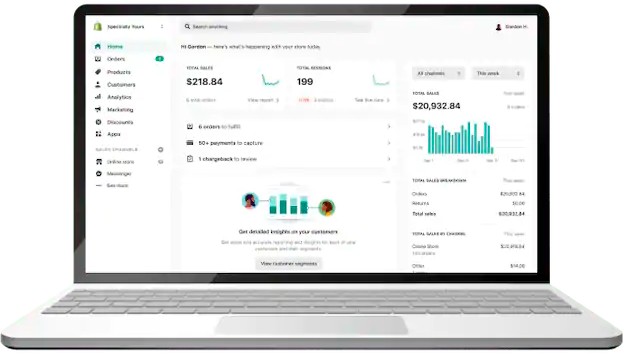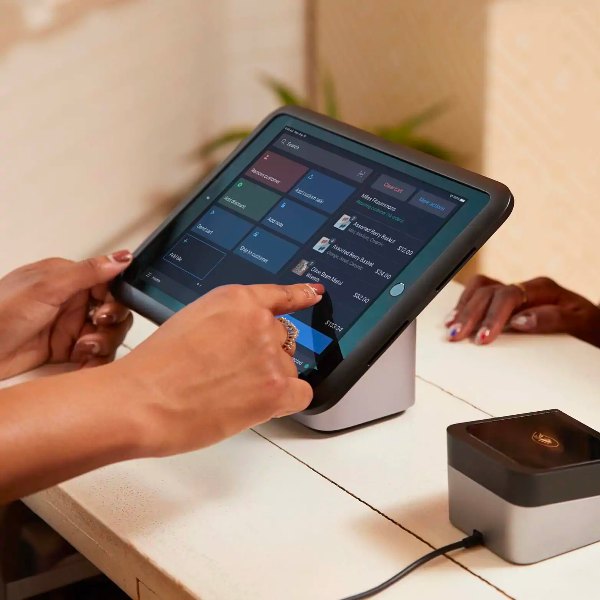 Shopify POS Standout Inventory Features
Omnichannel selling: Centralized inventory management allows for easy omnichannel transactions including buy online, pickup in-store; buy online, return/exchange in-store; and buy in-store, ship to customer.
Product organization: Create collections for different seasons or categories, manage multiple variants, and assign SKUs.
Inventory status: Track and share status/location of products as they are received and transferred and orders are fulfilled.
Smart inventory management: Transfer products between locations, perform quick counts using a barcode scanner, and receive orders with a barcode scanner.
Purchase ordering: Create and manage purchase orders; track vendors and suppliers.
Reporting and analytics: Demand forecasting, inventory analysis, sale item suggestions, low-stock reports, and more.
Stocky app: Stocky is an inventory management app by Shopify for POS Pro users. Many of the Shopify inventory features can be managed through Stocky.
The first step in using Shopify to manage inventory is building your online store—from there you can connect Shopify POS and manage multichannel sales. Read our guide to setting up a Shopify store. Or, if you want to dive deeper into Shopify POS's features and capabilities, read our detailed Shopify POS review.
Square: Best Free POS Inventory System for New & Small Businesses
Square

Overall Score:
4.30
OUT OF
5
RATING CRITERIA

Pricing
5.00
OUT OF
5
General features
4.25
OUT OF
5
Inventory features
3.75
OUT OF
5
Ease of use
4.50
OUT OF
5
Expert score
4.75
OUT OF
5
What We Like
Baseline POS is free to use
No long-term contracts
Multiple POS formats support all types of businesses, from retail to restaurants to service businesses
What's Missing
Advanced inventory features require third-party integrations
Few customization options
Live customer support is limited
Square Deciding Factors:
Square POS: Free
Square for Retail: $0 to $60 per month
Square for Restaurants: $0 to $60 per month
Square Appointments: $0 to $69 per month
Flat-rate transaction fee: 2.6% + 10 cents
Keyed-in payments: 3.5% + 15 cents
Volume discounts: Custom pricing available for business processing more than $250,000 annually.
See our guide on Square Pricing and Fees for detailed pricing information.
Square is a free POS system that includes features to manage payments, customers, orders, and products. You can create a product catalog with a few clicks in the browser-based Square dashboard and track inventory count based on sales. Square offers an unbeatable value for new businesses and businesses, such as salons and coffee shops, with few item variations. Square's Pro POS plans offer additional inventory management tools, and you can expand the inventory functions with several third-party integrations, such as Yellow Dog inventory, for example, which supports expiration date tracking and vendor management.
Like Lightspeed and Revel, Square includes multiple POS platforms for various business types. Unlike Lightspeed―which has stronger retail inventory than restaurant inventory―Square's inventory management is pretty much the same across the board. That's not to say it's perfect, however. Square's inventory is user-friendly, but it is not a good fit for established businesses with lots of SKUs or restaurants that need ingredient-level tracking. For matrix-level retail inventory, you're better off with Lightspeed Retail. Restaurants are better served by Toast or Revel.
In our evaluation of POS inventory systems, Square earned a 4.30 out of 5. Aside from its forever-free plan, its Pro-level tiers are priced at just $60 to $69 per month, making it the most cost-effective choice for startups. Square has basic inventory features like variant tracking and low-stock alerts. However, a lack of detailed purchase ordering, vendor management, customizable reporting, and unlimited phone support prevented Square from earning a higher score.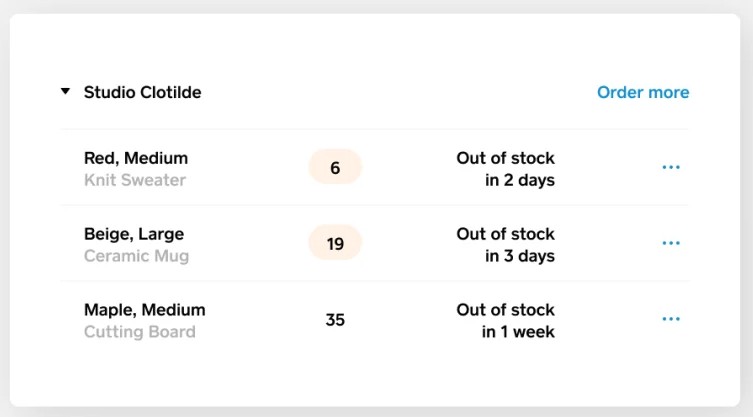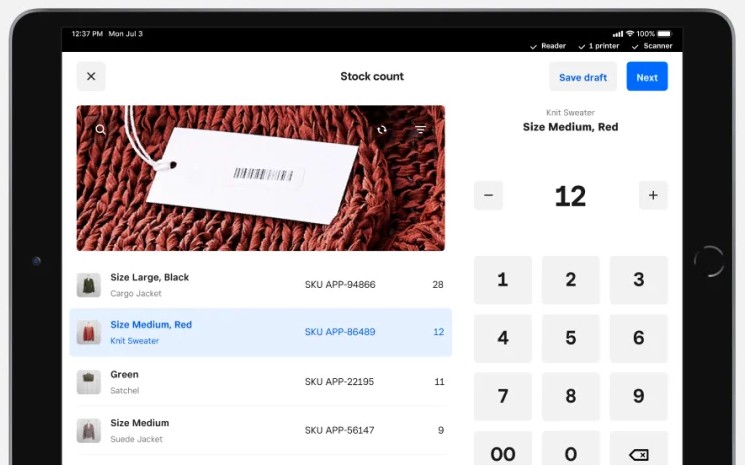 Square's Standout Inventory Features
The basic Square POS inventory is all most small independent businesses need. It supports unlimited SKUs and item categories and even has some ability to generate new items from scanned barcodes. The main reason larger operations may not feel well-supported by Square's inventory is that it isn't very automated. If you run through stock quickly or have a lot of item variations, a system that auto-generates POs and includes custom inventory fields like Lightspeed Retail will be a better fit.
There is still a lot to love about the Square POS system's simplified inventory:
Product catalog: You can add items individually or upload in bulk using a spreadsheet. Include details and variants, create product categories, and add designated products for sale exclusively in-store, online, or both.
Integrated ecommerce site: All Square accounts come with the free Square Online store. You can quickly build your site using Square's setup wizard and host it on your own domain or host it for free on a Square-affiliated domain. Your stock levels sync across your Square system, so if you sell out of an item in-store, your online store updates automatically.
Low-stock alerts: Receive daily emails that detail low-stock or out-of-stock products.
Downloadable reports: Export reports, including inventory levels, to a printable spreadsheet.
Integrations: For more robust inventory management, upgrade to a Pro plan or integrate with third-party tools like Stitch Labs, Shopventory, SKU IQ, Yellow Dog, or MarketMan.
Square for Retail Pro: The highest level Square subscriptions offer expanded inventory tools. Pro users can receive stock shipments, adjust stock levels for returns and exchanges, create and send POs by email, create vendor lists, create item libraries for each vendor, track inventory value by item, view COGS, and other advanced reports.
Revel Systems: Best Inventory for High-volume Restaurants & Independent Markets
Revel Systems

Overall Score:
4.25
OUT OF
5
RATING CRITERIA

Pricing
3.50
OUT OF
5
General features
4.50
OUT OF
5
Inventory features
5.00
OUT OF
5
Ease of use
5.00
OUT OF
5
Expert score
2.75
OUT OF
5
What We Like
Ingredient-level inventory included in baseline POS
Includes vendor and PO management
Smartphone StockTake app speeds physical counts
What's Missing
Pricey
Requires three-year contract
Expiration date tracking requires third-party integration
Revel Deciding Factors:
Revel POS: $99 per month for first terminal; two-terminal minimum
Custom-pricing for additional terminals; contact Revel for full price quote
Installation fee: Starts at $674
Payment processing: Varies by processor; choose from Revel Advantage, First Data, Heartland, TSYS, Worldpay, Chase Paymentech, and Elavon.
Revel was the first iPad POS developed for restaurants. Like Lightspeed and Square, Revel also has features for retail businesses. The inventory management features come standard with any restaurant or retail POS subscription and include matrix and ingredient-level inventory tracking, vendor management, PO management, and unlimited inventory items. With POS hardware that supports integrated scales and restaurant-specific needs like kitchen display systems, Revel is a great fit for high-volume restaurants and independent grocers that don't want to pay extra for inventory tools.
Revel earned a 4.25 out of 5 on our inventory POS ranking criteria, putting it just on Square's heels. Revel earned a perfect 5 out of 5 on inventory functions―the baseline inventory has virtually everything small businesses need―but it stumbled on price. At $99 per month for a single terminal and a steep $674 installation fee, Revel is one of the priciest systems on this list. The lack of a free trial or free baseline subscription was also a bummer. Businesses on a budget should look to Square or Toast for free POS software or Lightspeed and Vend for free trials.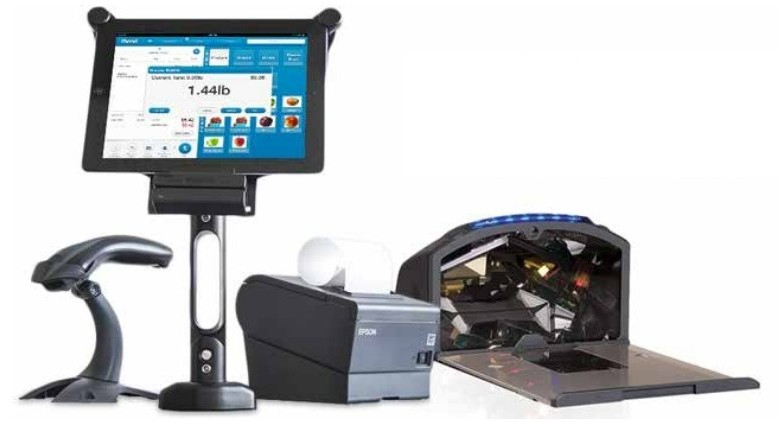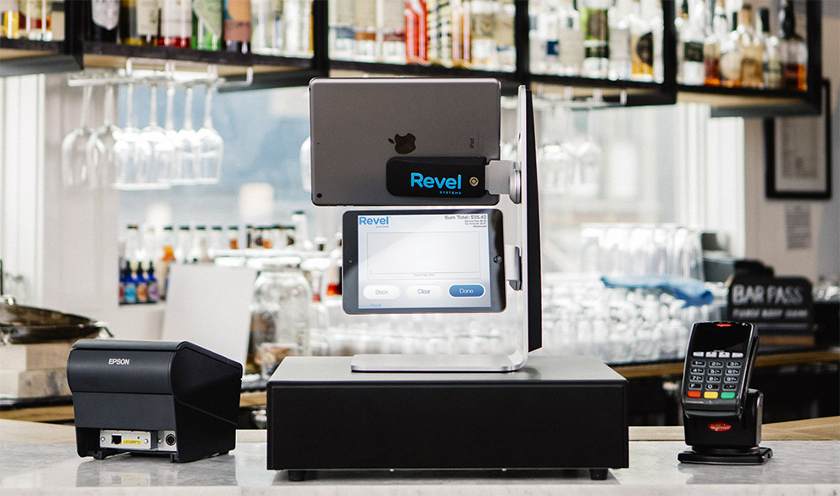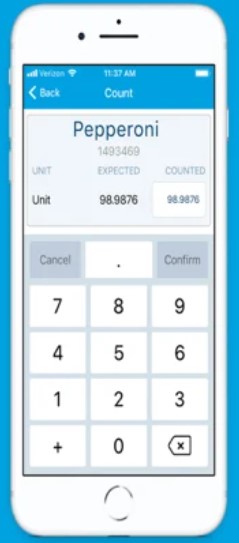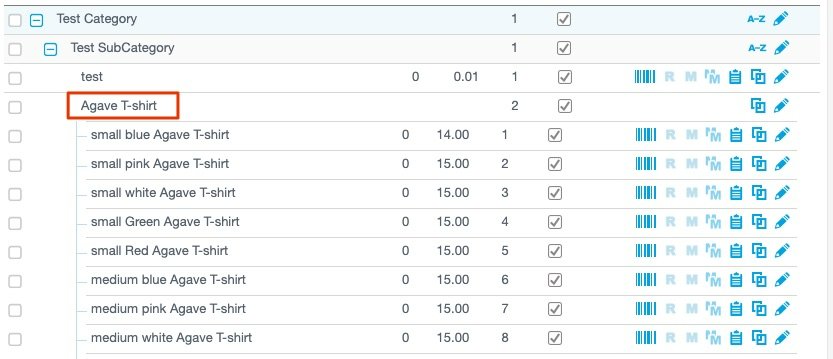 Revel's Standout Inventory Features
Revel's main drawback is the price and the contract length. The standard agreement is for a three-year term, so you should be sure this is the system for you before committing. If the long-term commitment doesn't scare you, there is much to like about Revel's comprehensive inventory management tools.
Revel's standout features include:
PO management: With Revel, you can create POs from the POS or management dashboard. You can base your orders on low stock alerts or add new products on the fly.
Vendor management: With your PO complete, you can send it directly to your suppliers through your Revel system. When orders arrive, you can receive them directly in the system, updating your on-hand quantities automatically.
StockTake app: Revel includes an affiliated smartphone app for taking physical inventory counts. You can set custom permissions so employees only have access to specific items or areas of your store. You can even control who can see the expected stock-on-hand amount to ensure that counts are accurate.
Expanded features: Revel's POS supports case-breaking, bottle deposits, and age verification settings, which are perfect for grocers who sell a variety of products. If you want to track lots and expiration dates of products, you'll need to add the integration with Yellow Dog, though. The comments field in each inventory item can be used to add information like ISBNs or book genres for shops that need customized tracking.
Take a deeper look at this massively functional POS by reading our full Revel POS review, complete with a video walkthrough.
KORONA POS: Best Inventory for High-risk & Specialty Retailers
KORONA POS

Overall Score:
3.76
OUT OF
5
RATING CRITERIA

Pricing
4.88
OUT OF
5
General features
3.75
OUT OF
5
Inventory features
2.50
OUT OF
5
Ease of use
5.00
OUT OF
5
Expert score
4.50
OUT OF
5
What We Like
Free trial has no time limit
Supports high-risk businesses
Includes shipment tracking so you know when to expect new stock
What's Missing
Does not track expiration dates
Item entries could be more customizable
Inventory tools require higher-tier subscriptions
KORONA Deciding Factors:
KORONA POS: $49 to $79 per month
Installation fee: $0
Payment processing: Varies by processor; KORONA is payments agnostic, so you can shop for the lowest rates and use your preferred processor.
KORONA is a cloud POS that serves a wide variety of industries. It regularly appears on our rankings for the best POS systems for liquor stores, convenience stores, vape shops, and bakeries. In addition to being affordable, operating on a wide variety of hardware, and integrating with high-risk payment processors, KORONA includes detailed inventory with case-breaking tools, vendor management, and shipment tracking. So, specialty retailers of all kinds can know exactly when to expect their supplies.
KORONA earned a 3.76 out of 5 on our POS inventory ranking. It earned points for its free trial subscription that has no time limits, and it is well-reviewed by real-world users. Where it stumbled is in the lack of a few niche functions. Currently, KORONA does not support custom inventory fields that would support unique identifiers like ISBNs or product expiration dates that would support booksellers and grocers. If you need those tools, you'll be better supported by Lightspeed and Vend, which support custom fields, or IT Retail which tracks expiration dates of perishable products.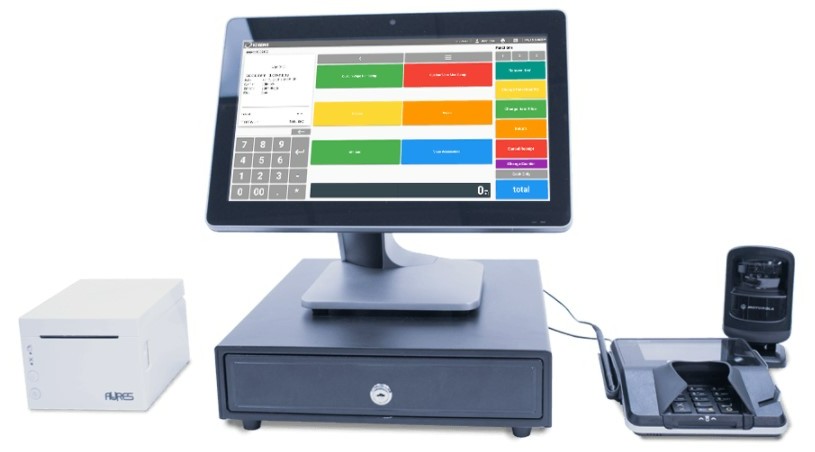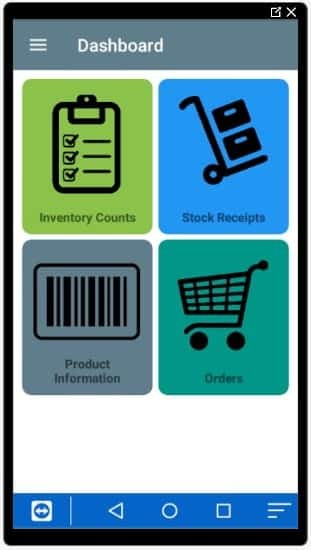 KORONA's Standout Inventory Features
Like Square, KORONA does not tie its customers to long-term contracts. You can use KORONA for as long as you like and move on without penalty if your business outgrows the system. KORONA offers an endless free trial; though it is only free for 30 transactions per day. If you stay under that threshold, however, you can use KORONA for free for as long as you like.
KORONA's other standout features include:
Smartphone inventory app: You can perform physical inventory counts directly in your POS or use KORONA's free inventory mobile app, KORONA.mde, which is downloadable from Google Play.
Shipment tracking: KORONA's Vendor shipment notification feature shows your shipping information in your POS so you and your staff can see when missing or low stock items are expected to arrive.
Label and tag printing: You can auto-generate price labels from supplier receipts and print price labels while you check in deliveries. You can also print shelf tags, so you can stock and shelf new items quickly.
Suggested reorder levels: Your KORONA POS will calculate a suggested reorder level based on your store's sales trends, current promotions, and customer purchase histories.
How We Evaluated
We considered dozens of popular and top-rated POS systems before narrowing down our list of software with standout inventory features and/or affordable price points. From there, we evaluated each system based on monthly fees, general features (including reporting), and inventory features (including low-stock alerts and purchase ordering). We also covered ease of use (such as whether or not the system is cloud-based). Finally, we looked at the overall value each software provides for its price point and considered popularity and user reviews.
Based on our evaluation, Lightspeed is the best POS inventory system, earning a score of 4.43 out of 5. This is also in line with our expert's personal recommendation after years of reviewing POS systems for Fit Small Business and working in small businesses and retail environments managing inventory. Lightspeed's granular inventory control features and comprehensive analytics are unrivaled at its price point.
Click through the tabs below for a full breakdown of how we evaluated POS systems with inventory management:
30% of Overall Score
Here we looked at harder-to-find features including a mobile app for counting inventory and/or receiving orders, built-in barcoding, purchase ordering, vendor management, and customizable fields. We also awarded bonus points for specialized tracking such as perishable goods, expiration dates, and case-breaking.
10% of Overall Score
Busy retailers need a POS system that is functional offline and has 24/7 customer support. We also awarded points to touch-screen systems because they are easy for employees to learn and use. Cloud-based systems earn points as they allow businesses to access data anywhere.
*Percentages of overall score
Bottom Line
Every retail and restaurant business needs to process sales and reorder supplies and products. A POS inventory system allows businesses to handle all of those needs in one place—you can ring sales, track products, analyze data, and reorder products easily.
Lightspeed includes standard features like payment processing, inventory tracking, and low stock alerts. It also offers unparalleled reporting and analytics with customizable reports, graphs and visual data, and tutorials on how to use reports. It's the only POS system with inventory management on our list to come preloaded with more than 3,000 product catalogs for easy product ordering. Visit Lightspeed for a free trial.
You May Also Like …