7 Best Winery POS Systems for 2022
This article is part of a larger series on POS Systems.
A winery point-of-sale (POS) system should help wine merchants manage inventory, sell wine on-site and online, and notify customers of allocated bottles, sales, and promotional events. If your winery hosts a tasting room, you'll also need to sell wines by bottle, glass, or tasting flights.
Subscription-based payments and robust customer relationship management tools help wineries grow their wine clubs. Wineries in scenic settings may also host private events and need to process party deposits. So, the best POS system for a winery must combine retail, wholesale, bar, and ecommerce functions.
Based on our evaluations, the best winery POS systems are:
Best Winery POS Systems Compared
| | Setup fee | Monthly software fee | Payment processing fees | Additional per-transaction fee | Integrated ecommerce site | Wholesale account support | Wine club management | Shipping integrations |
| --- | --- | --- | --- | --- | --- | --- | --- | --- |
| Visit WineDirect | $399–$2,500 | $79–$199+ | Varies by Processor | 1%–2% | ✔ | ✔ | ✔ | Built-in fulfillment services |
| Visit Revel Systems | $674 | $99 per terminal | Varies by Processor | None | Via Vines OS integration | ✔ | Via Vines OS integration | Via Vines OS integration |
| Visit Commerce7 | None | $99–$999 | Varies by Processor | 0.25%–1% | Integrates with your existing CMS | ✖ | ✔ | ✔ |
| Visit Square for Restaurants | None | $0–$60+ | 2.6% + 10 cents to 3.5% + 15 cents | None | ✔ | ✔ | Via Vincipia integration | ✔ |
| Visit KORONA | None | $49–$79+ | Varies by Processor | None | Integrates with WooCommerce | ✖ | Via bLoyal | ✖ |
| Vintegrate 360 | Custom quote | Custom quote | Varies by Processor | None | Integrates with your existing CMS | ✔ | ✔ | ✔ |
| Visit VinNow | Optional data conversion fee of $600 | $99–$489 | None | None | Integrates with your existing CMS | ✔ | ✔ | ✔ |
WineDirect: Best Overall Winery POS
WineDirect

Overall Score:
4.70
OUT OF
5
RATING CRITERIA

Pricing
5.00
OUT OF
5
Sales and Ecommerce
5.00
OUT OF
5
Tasting Room Features
3.75
OUT OF
5
Back Office
4.75
OUT OF
5
Expert Score
5.00
OUT OF
5
What We Like
Integrated ecommerce site
Built-in fulfillment services
Onsite "carrots" prompt additional web orders
Marketplace selling introduces your winery to a new audience
What's Missing
No offline mode
Cannot pre-authorize credit cards for bar tabs
Inventory has some limitations
WineDirect Pricing
Software subscription fee:

Starter – $79 per month + 2% of sales
DTC Pro – $199 per month + 1% of sales
DTC Advanced – Custom-quoted

One-time installation fees:

Starter – $399
DTC Pro – $999
DTC Advanced – $2,500

Hardware costs: Varies; WineDirect is browser-based, so you can operate the system from any internet-connected device
WineDirect is a great POS software for wineries that sell to customers through wine club, online, or third-party channels. It handles online ordering, gift cards, wine clubs, event reservations, tipping, and more. Plus, it has excellent inventory management and CRM features and supports wholesale customer accounts. Unlike others on this list, WineDirect also includes a unique Marketplace feature that enables wineries to showcase their wines to new customers.
In our evaluation, WineDirect earned a 4.7 out of 5, with high marks for online ordering and order fulfillment. But its lack of interactive floorplans, pre-authorized bar tabs, and offline mode kept WineDirect from earning a perfect score. If those features are important to you, consider Revel Systems instead.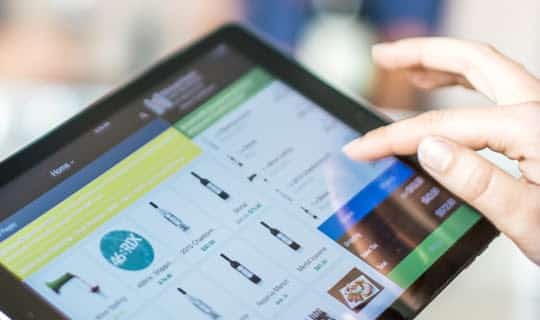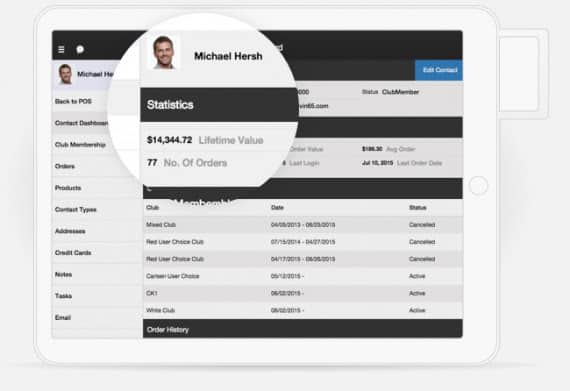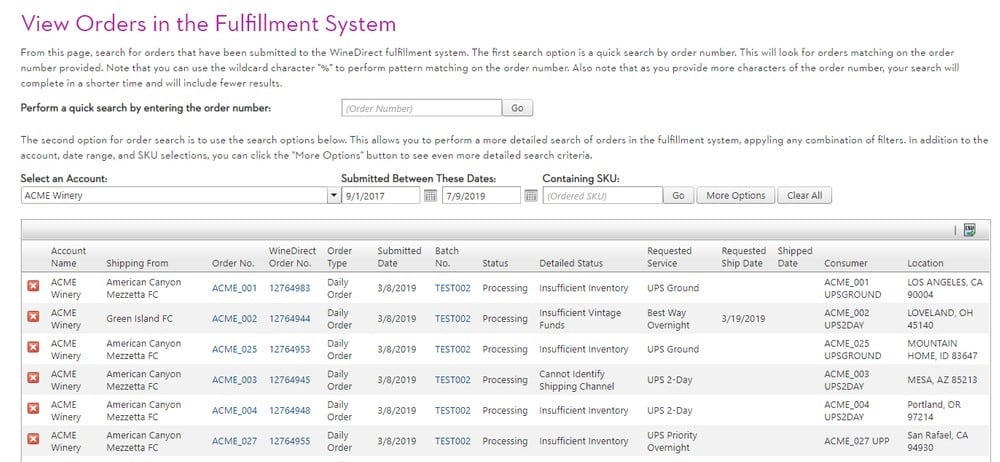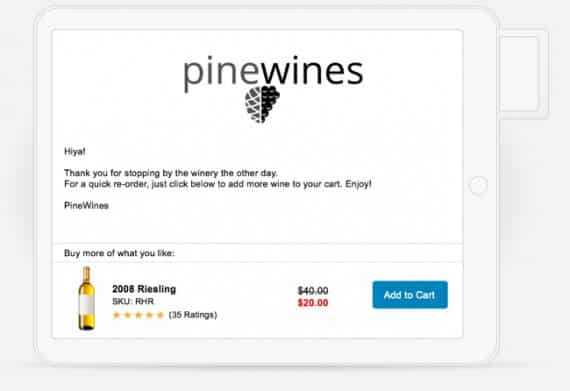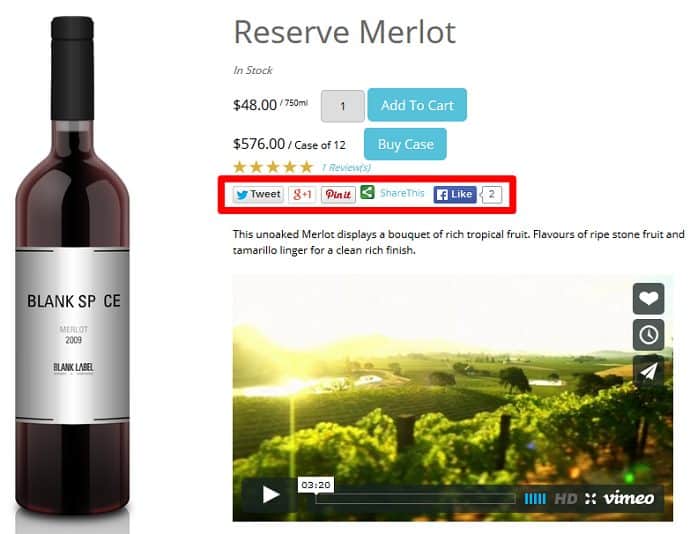 WineDirect Features
WineDirect's Marketplace Distribution sets it apart from its peers. You can cross-promote your products through its partners and manage sales through your ecommerce account. WineDirect promotes your products through sellers that match your winery in terms of lifestyle, attitude, and interest in wines. It handles payment processing and disbursements and supports compliance with liquor sales.
Coming Soon: The All-new WineDirect
WineDirect is updating its interface, adding new functionality, and streamlining features. It has announced a new CMS that makes it easier to customize your ecommerce website and integrate it with other web-building systems like WordPress. In June, it demonstrated some of the 50 new product fields. The system is expected to launch in mid-2022. WineDirect will migrate data for interested customers into the new system, but also have a dedicated team updating the old system for those not interested in changing.
WineDirect's standout features include:
Wine club management: WineDirect hosts a customer portal that allows your wine club members to manage their accounts from your website. An easy-to-use one-page signup sheet speeds the enrollment process. You can create welcome packages to reward new members immediately and track key club metrics like member cancellation reasons, online signups, active statuses, or credit card expiration dates. Also, it allows you to create multiple club types, including customer-choice clubs where members select their own bottles.
Personalized web experience: WineDirect includes automated upsells at critical moments of the online purchase process. It calls these message prompts "carrots." Carrots might encourage customers to add more bottles to unlock a full case price break or free shipping promotions. They can appear on-site as customers add items to their virtual cart, or even appear in the cart itself before shoppers finalize payments. In the customer portal, wine club members also receive personalized recommendations based on past purchases. This sets it apart from VinNow, Vintegrate, and Square—none of which offer personalized upsell capability.
Wholesale account management: In WineDirect, wholesale customers are treated similarly to retail customers. Your wholesale clients will have detailed customer profiles and can manage their accounts through the customer portal. On the back end, you can set wholesale clients to receive orders tax-free. There is no separate interface to manage. If you need bulk wine tracking for your inventory, however, consider Vintegrate 360 or VinNow.
Marketplace option: WineDirect maintains a virtual storefront on popular wine platforms like Vivino, allowing WineDirect wineries to promote their wines to Vivino's 58+ million wine-loving users. This can have a massive impact on your wine sales. WineDirect is the only system on this list with a marketplace feature.
Built-in fulfillment services: WineDirect customers can hold wine in a temperature-controlled WineDirect warehouse. WineDirect's staff will package and ship your orders from its warehouse. Packages are routed to your preferred shipper. Tracking numbers and order statuses are updated in your WineDirect system, and WineDirect automatically emails customers the same shipping information. You can monitor your WineDirect warehouse inventory in real time and even have branded cards, tasting sheets, and other collateral packed with your wines.
Tock integration: You can create custom tasting experiences and curate tasting packages via WineDirect's Tock integration. In addition to supporting customer-facing reservations and table management, Tock showcases your winery on a third-party platform alongside other experiences in your area. So, travelers may come across your winery while booking a dinner reservation at a nearby restaurant and choose to book a tasting with you on another day. Commerce7 also integrates with Tock.
Revel Systems: Best for High-volume Restaurant-style Tasting Rooms
Revel Systems
Overall Score:
4.58
OUT OF
5
RATING CRITERIA

Pricing
5.00
OUT OF
5
Sales and Ecommerce
3.75
OUT OF
5
Tasting Room Features
4.50
OUT OF
5
Back Office
5.00
OUT OF
5
Expert Score
4.63
OUT OF
5
What We Like
Invoicing features support wholesale order management
Wine club and ecommerce functions are supported by Vines OS integration
Robust restaurant features support high-volume tasting rooms
Integrates with UPS and FedEx for shipping
What's Missing
Many winery features require an additional integration
Personalized upselling tools are not robust
Revel Systems Pricing
Software subscription fee: $99 per month for a single terminal; additional terminals require a custom quote
One-time installation fees: $674
Hardware costs: Custom-quoted (the system runs on iPads, but for smoothest operation, they should be purchased via Revel Systems)
Flat-fee payment processing: Call for quote
Revel Systems is a hybrid POS system designed to support small retail and restaurant businesses. Hybrid POS systems operate via a local area network backed up by the cloud, giving hybrid systems like Revel excellent offline functionality. The software operates on iPads and offers excellent tasting room features like pre-authorized bar tabs and table management. Its built-in invoice management features support wholesale account management. A key integration with Vines OS ($299–$1,000 per month) adds wine club functions, customer-facing tasting room reservations, and an ecommerce site.
Revel Systems earned a 4.58 out of 5 on our winery POS ranking system, earning massive points for its restaurant features and offline functionality. The fact that many winery-specific features are only available with additional (pricey) integrations docked it some points, though. If you want winery features alongside table management in a single POS, Commerce7 might be a better fit. Crunch the numbers first; Revel Systems may be lower cost than Commerce7's higher membership tiers, even with the integration.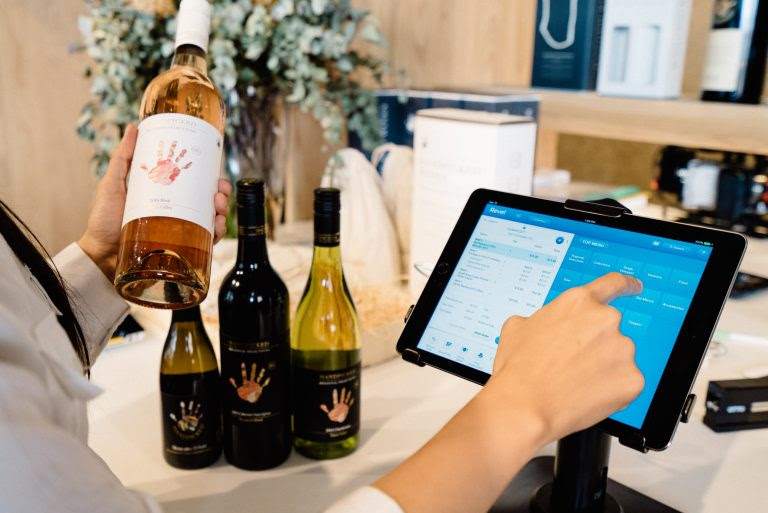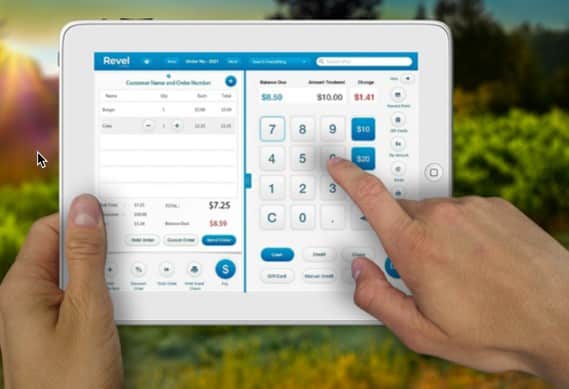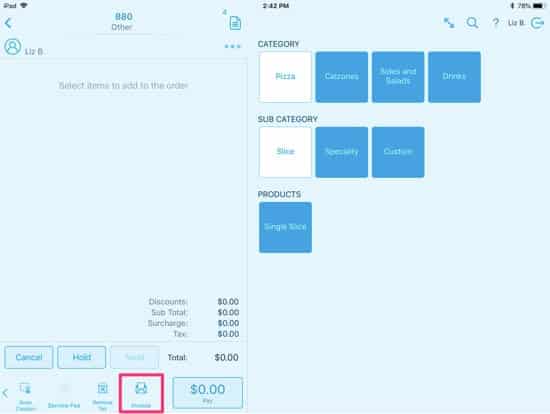 Revel Systems Features
As a purpose-built retail and restaurant POS, it should be no surprise that Revel Systems' tasting room features are excellent. Revel Systems users can run their tasting room with the efficiency of a full-service restaurant with pre-authorized bar tabs, customizable floor plans, and order tickets that print in kitchens and bars. The hybrid installation also gives Revel Systems something few competitors on this list have: offline functionality.
Since our last review, Revel has added a new loyalty program powered by COMO, Revel Loyalty XT. Revel has also partnered with a conversational text program, Voxie, to help customers increase online sales. It's had four updates, with improvements to many functions, and new integrations, including:
Improved combo tools for splitting, linking, and grouping combos in conversational ordering
New payment integrations: Adyen, IFCC, Freedom Pay, Apple Pay
Migrate customer information in your CRM
Delivery address confirmation; delivery zone service fees
86 items with a date to undo/mark available again
Discount Floors to set maximum allowed discount price
Improved modifier tools
New reports: Discounts and Adjustments and Labor
Revel Systems' standout features include:
Vines OS integration: This integration adds a wealth of winery features to your Revel Systems POS. The two apps sync in real time and share customer information, online orders, inventory, product information, and discounts. Club orders appear in your Revel POS in real time, so when members arrive for pickup, the order is ready and waiting. For shipping, Vines OS integrates with ShipCompliant—like WineDirect and Commerce7—so you can easily ship your wines to qualifying locations.
White-labeled ordering and club sites: Vines OS hosts your club, reservations, and online shopping pages. It will design these pages to look and feel like your main websites, with your logos and branding, so customers get a seamless experience.
Tasting room features: Revel runs on iPads, so the system is highly mobile. Card readers and iPads in a handheld case allow you to take your Revel POS tableside or curbside. You can open bar tabs with a credit card swipe and pre-authorize the card to retain payment information. (Something WineDirect does not do.) The system supports multiple floor plans so you can create table layouts that match all of your tasting rooms and event areas.
Workforce management: Like Square for Restaurants, Revel Systems includes workforce management functions. You can build your staff schedules directly in your Revel Systems management dashboard and use your POS as an employee timeclock.
Invoice management: You can toggle on invoice settings in your Revel Systems management dashboard. Once active, you can create invoices for wholesale orders directly in the POS and print or email invoices to your wholesale clients. You have the option to automate your invoices by pre-scheduling invoices to become orders in the system on their due date and set up wholesale clients with all future orders created as invoices. Vintegrate 360 offers wholesale sales and inventory tools, but not like the invoice system Revel has.
Shipping integrations: Revel integrates with UPS and FedEx to calculate shipping costs and generate labels and tracking numbers for in-store and online orders.
Commerce7: Best for Ecommerce Functions
Commerce7

Overall Score:
4.34
OUT OF
5
RATING CRITERIA

Pricing
3.44
OUT OF
5
Sales and Ecommerce
4.00
OUT OF
5
Tasting Room Features
4.50
OUT OF
5
Back Office
5.00
OUT OF
5
Expert Score
4.75
OUT OF
5
What We Like
Ecommerce tools include personalized customer recommendations and in-cart upselling
No setup/onboarding fee
Customer-facing reservations with table management
Operates via a browser on any internet-enabled device
What's Missing
Does not include a built-in website
No tools for wholesale account management
Cannot pre-authorize credit cards for bar tabs
Commerce7 Pricing
Software subscription fee:

Basic – $99 per month + 1% transaction fee
Pro – $499 per month + 0.5% transaction fee
Experience – $999 + 0.25% transaction fee
Enterprise – Custom-quoted

One-time installation fees: None
Hardware costs: Operates via a browser on any internet-enabled device
Commerce7 is browser-based winery software that includes POS tools along with ecommerce and wine club management functions. You can run the software from any internet-connected device, making Commerce7 an incredibly flexible system for wineries of all types. While Commerce7 does not host your ecommerce site, it integrates with most website content management systems (CMSs) to offer tools like personalized upsells and in-cart "carrot" messages that drive sales.
On our winery POS ranking criteria, Commerce7 earned a 4.34 out of 5. The strength of the system's upselling tools, wine club management, and detailed customer profiles earned high marks. Customer-facing reservations and table management also scored points.
But as its name suggests, Commerce7 is all about the commerce side of winery management; you won't find any built-in tools to support wholesale wine sales. If you sell directly to restaurants and resellers, you'll probably be happier with WineDirect or Revel Systems. If you need bulk wine management, check out Vintegrate 360 and VinNow.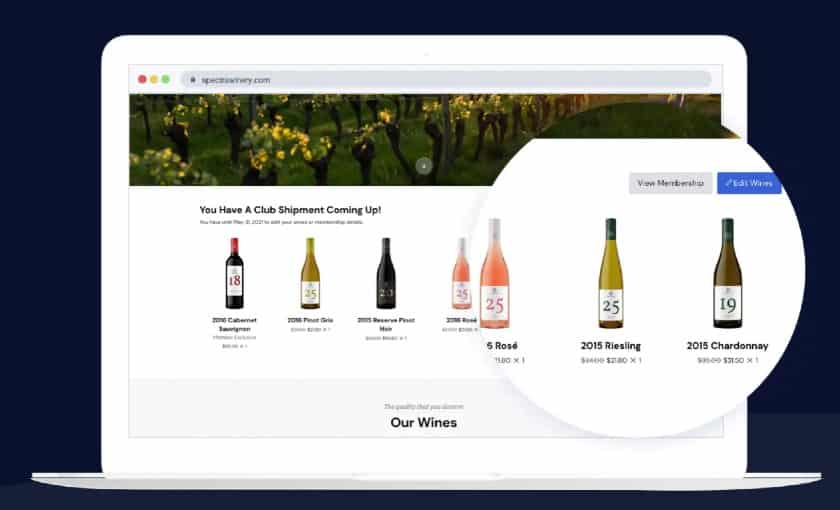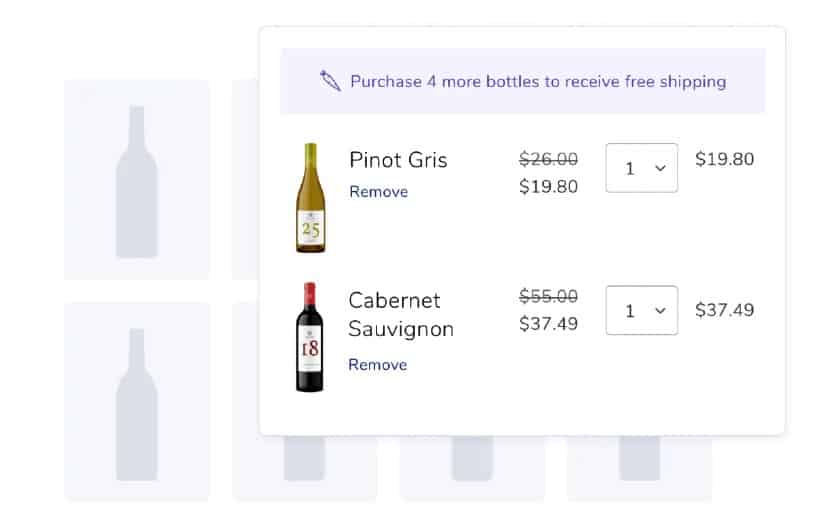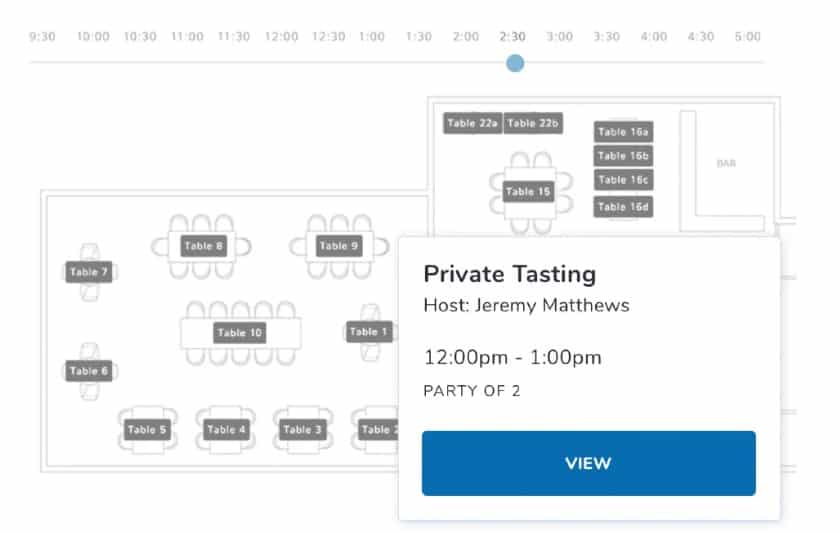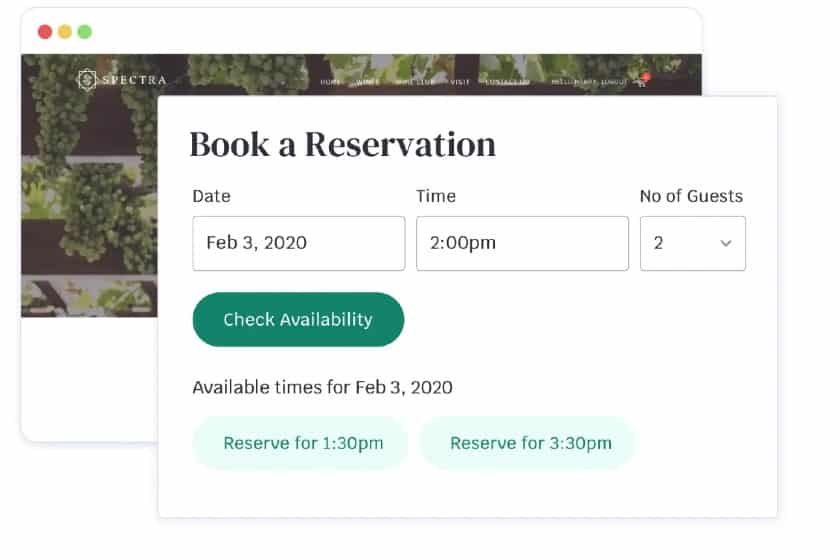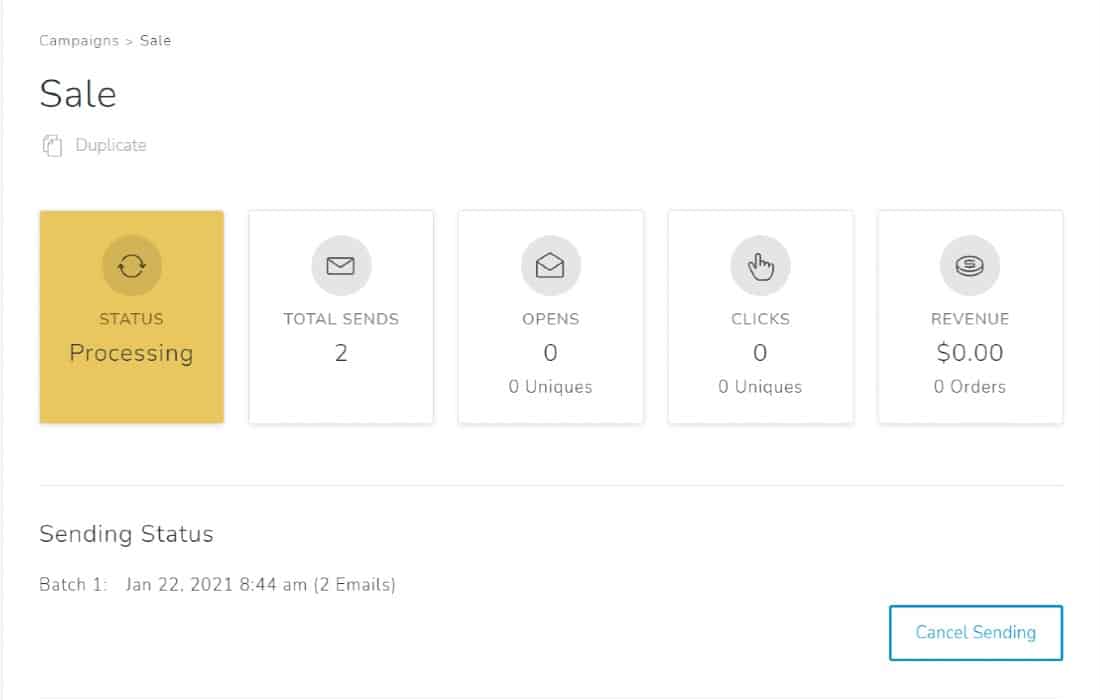 Commerce7 Features
With Commerce7, you can customize your wine clubs to a granular level. You can make products accessible online only to specific club levels and allow members to build their own boxes of club wines. Commerce7 works with most preexisting website builders, but if you don't have the bandwidth for a full site build, you can use one of their free site templates for your winery's online sales site. You'll be on your own for hosting services, though.
What's New with Commerce7: In April, Commerce7 acquired VineSpring, which provides subscription and ecommerce technology for wineries. VineSpring customers will be moving to Commerce7 over the summer while the companies look to combine their technologies.
Commerce7 released a POS version 2 in February and has also updated some of its features:
One-click payment
Create club memberships from an order
Smart notifications (like carrots) that set conditions to display messages to the staff
Improved loyalty program with loyalty tiers, coupons, promotions, and more
Preprint receipts with tip lines
Email capture for carts and club signups
Starting a new compliance area
Improved security measures
Pre-populate with customer information with email address
Improvements to product tools, club tools, coupons, and shipping
Commerce7's standout features include:
Partial offline mode: When you lose internet access—which can happen a lot when walking through a large winery—Commerce7 caches your POS data locally. When you regain internet access, the system will update from the cached information. This is not full offline functionality like Revel Systems offers. It can't spool credit card payments when offline. But, it can save you from losing valuable information as you move from vineyard to warehouse to tasting room.
Personalization: You can choose what information to display to online guest shoppers and wine club members of various tiers. Also, you get the ability to customize wine pricing to show members-only prices and even generate personalized wine recommendations based on a customer's past purchases.
Automated emails: With the click of a couple of buttons, you can send automated emails to club members when their cards on file are close to expiring. This saves a lot of time and potential headaches before you batch bill wine club runs. You can also create custom email campaigns when you release new vintages or offer promotions. Your email campaigns are trackable in your Commerce7 dashboard, allowing you to see how many emails were opened and what sales came from each email campaign.
Smart cart tools: You can create in-cart incentives in your online store and dangle them like carrots before customers finalize their orders. For example, you can remind customers with four bottles in their cart that they'll get a price break or free shipping if they make it a six-bottle case. Commerce7 also supports a single, consistent cart across multiple user devices. So, customers can start a purchase on your website, then complete it from their smartphone days later.
Detailed product listings: Adding new products to your online store and POS is easy. Commerce7's product entry page includes specific fields for teasers, product descriptions, tasting notes, shipping information, and various prices (for discounts, case prices, and club members). You can customize the slug for the product link and add a meta description to make your wine easily findable in internet searches. Users can also add custom templates to the product page, handy if your winery is known for detailed tasting notes or providing tech sheets to wholesale clients. The New WineDirect, with its 50+ product fields, is probably the only one that exceeds Commerce7 for product details.
Reservations: You can add reservations to your online site, allowing customers to book tastings themselves. The reservations are customizable; you can offer multiple tiers of tasting events or give guests the option to add additional bottles to their tasting or upgrade to reserve wines.
Table management: Commerce7 users can create detailed floor plans of tasting rooms and private event areas in the POS. You can automatically assign reservations to specific tables or tasting areas and view reservation trends over time.
Square for Restaurants: Best for Low-volume Wineries Needing a Low-cost POS
Square for Restaurants

Overall Score:
4.13
OUT OF
5
RATING CRITERIA

Pricing
5.00
OUT OF
5
Sales and Ecommerce
3.63
OUT OF
5
Tasting Room Features
4.25
OUT OF
5
Back Office
4.50
OUT OF
5
Expert Score
3.25
OUT OF
5
What We Like
Baseline POS is free to use
Square subscription includes free online ordering website
Wine club management and shipping tools are available via integrations
Square invoices support wholesale orders
What's Missing
Many winery tools require additional integrations
Cannot pre-authorize in-person tabs
Must use Square's payment processing
Customer support is not as robust as others on this list
Square for Restaurants Pricing
Software subscription fee:

Starter – $0
Plus – $60 per month
Premium – Custom-quoted

One-time installation fees: None; installation is do-it-yourself
Hardware costs: Varies; the system operates on iPads. You can bring your own or purchase through Square
Payment Processing fees:

Card present: 2.6% + 10 cents
Virtual terminal/keyed in/online: 3.5% + 15 cents
Invoices: 2.9% + 30 cents or 3.5% + 15¢ cents processed using card on file
Square for Restaurants is a cloud-based POS that runs on iPads. You can download the app from the Apple app store after you sign up for a Square account. Once you attach a card reader, you're good to go. Setup is easy, and you can do it yourself. Best of all, the baseline POS software and integrated Square Online Store are free to use; all you pay are credit card processing fees. However, unlike the others on our list, you are limited to Square's payment processing.
Square's pricing, easy setup, and a slew of winery-supporting third-party integrations earned Square for Restaurants an overall score of 4.13 out of 5 in our winery POS ranking. Like Revel Systems, Square for Restaurants is not purpose-built for wineries. So, making the system work for your wine club or wholesale operation requires add-ons and third-party integrations. While it has appointment add-ons and the ability to create a reservations page, it does not offer robust reservation management tools or add-ons. For those, you'll be better served by Commerce7, WineDirect, or VinNow.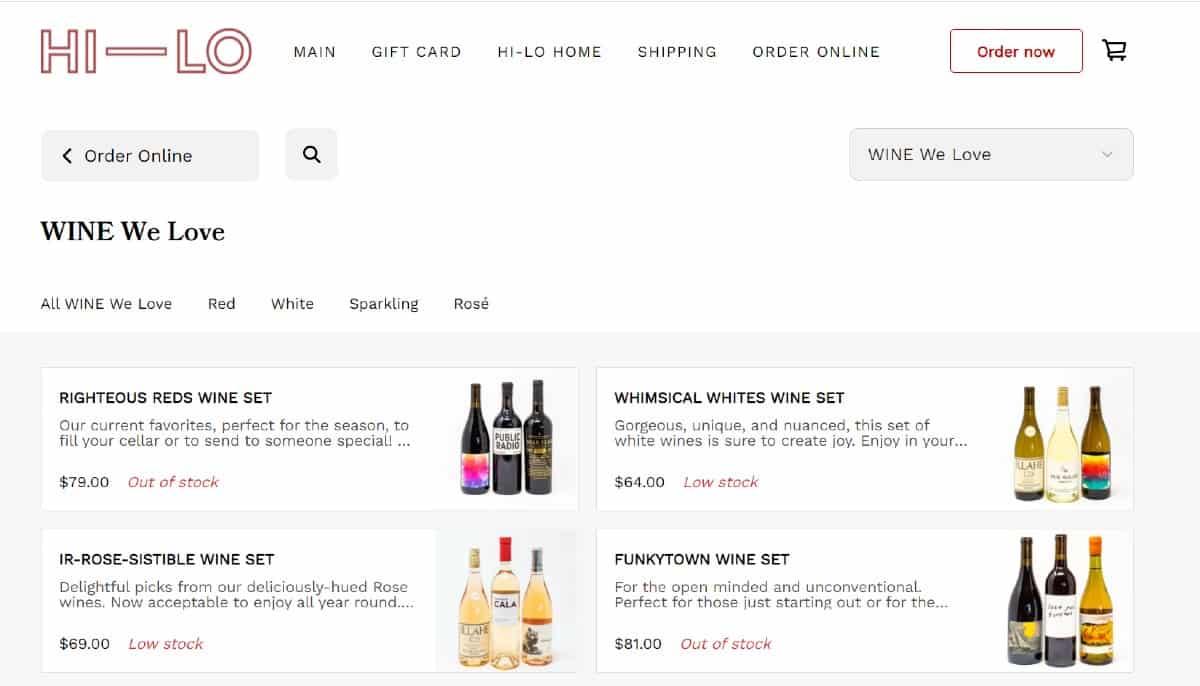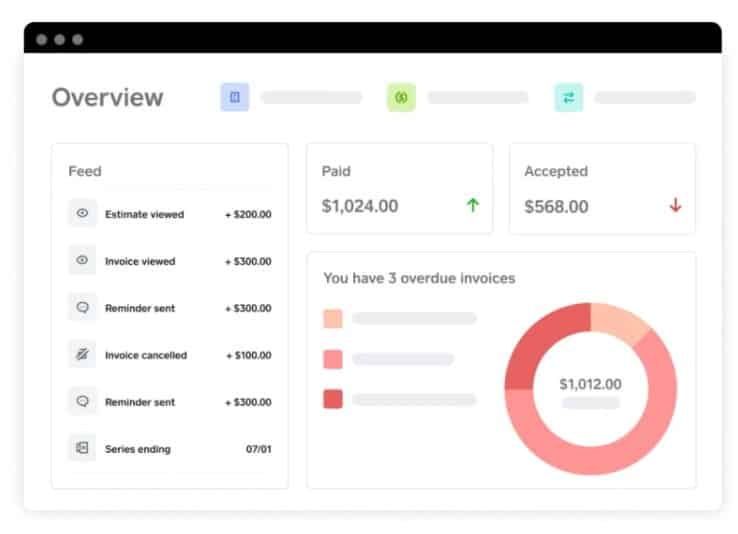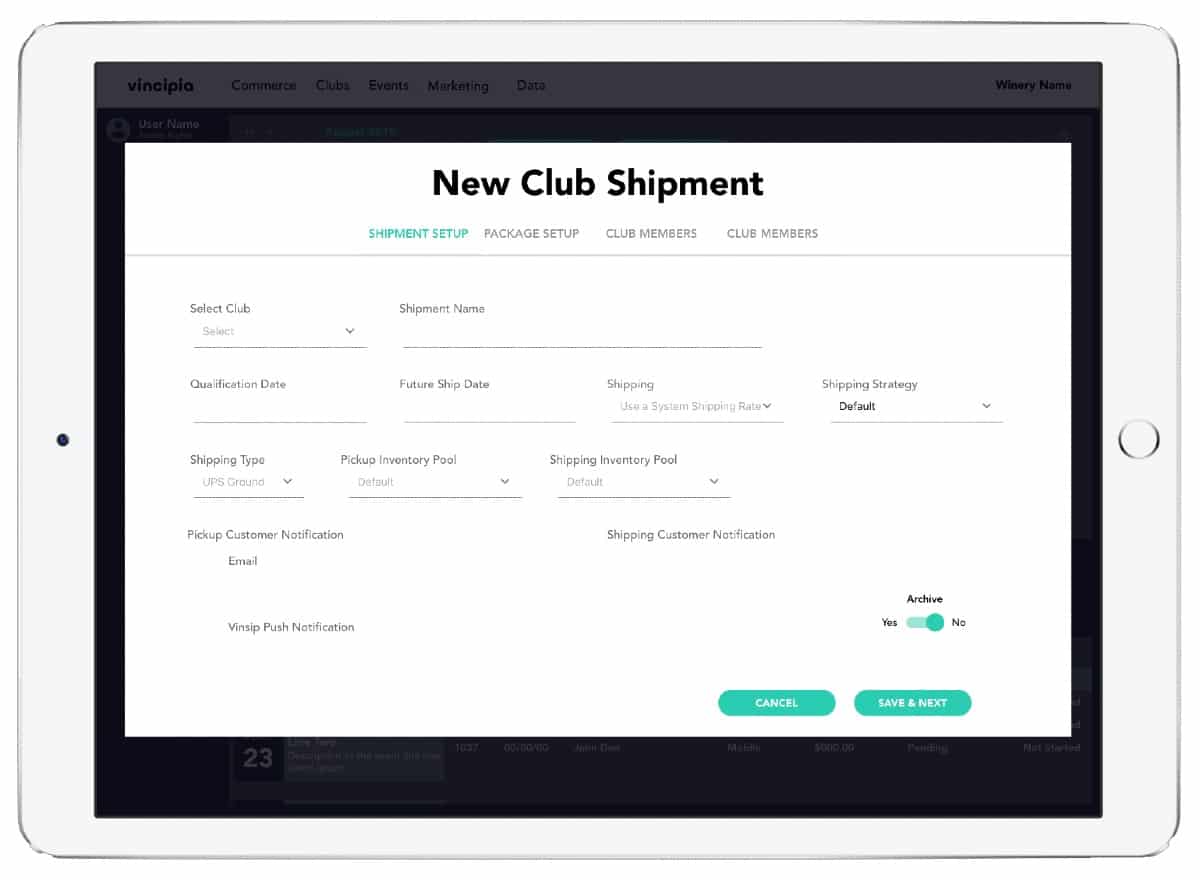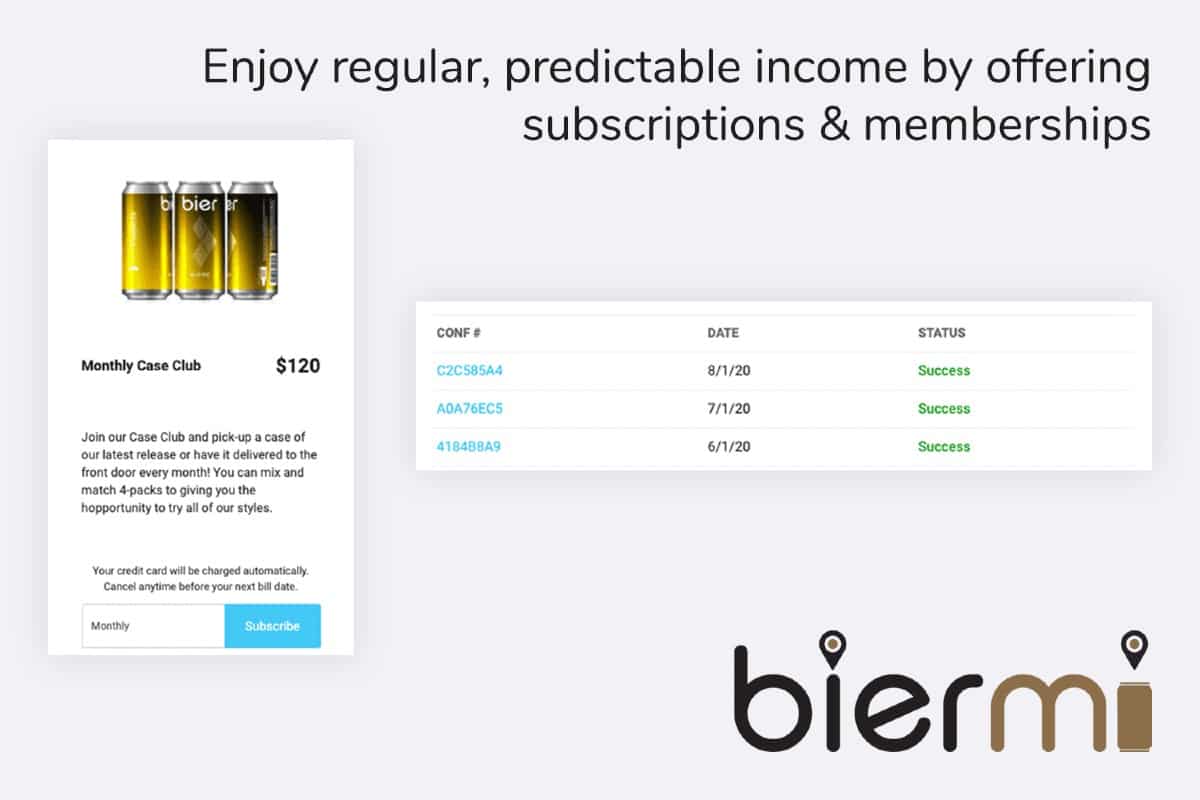 Square for Restaurants Features
Square for Restaurants excels as a low-cost POS solution for wineries. The baseline POS is free to use for unlimited terminals, and the system runs on iPads, which you can supply yourself. The free POS does not support customized floor plans; for that, you'll need to upgrade to the Plus level at $60 per month. But, that's still a lower cost than any of the other options on this list.
While many winery functions require additional integrations, these are easy to add from the Square App store. Considering the high cost of many systems in this list, putting in the time to customize a Square POS will likely be worth it for small wineries.
What's new with Square: Like WineDirect, Revel, and Commerce7, Square has been busy improving its services in 2022.
Mobile Square for Restaurants: In May, Square announced a new suite of software and hardware especially for restaurants which could benefit wineries as well. These include Square for Restaurants mobile POS, which runs on Square Terminal and will soon have a Restaurant Mobile POS kit.
Kiosk stand: The improved stand mount will let you use an iPad as a kiosk.
Personalized upsell: In May, it also acquired GoParrot, which offers advanced selling features and personalized upselling. It's currently available in the US, Canada, Australia, and the UK.
Buy Now Pay Later: Square has integrated Afterpay, which allows customers buying in the US and Australia to split a bill into four payments.
Tap to Pay on mobile: Square will begin testing Tap to Pay on the iPhone this summer.
Square for Restaurants' standout features include:
Free integrated online store: Your Square account comes with a free online store. All you pay are Square's processing fees for online payments, which are currently 3.5% + 15 cents per transaction. You can add this store to an existing winery website or host it for free on the Square domain. Additionally, you can sync products between your online store and your POS.
Square invoices: You can send invoices to wholesale clients from your Square dashboard. Like other Square tools, there is no monthly fee to use Square Invoice; all you pay are transaction fees on customer payments. Currently, those fees are 2.9% + 30 cents for online credit card payments and 1% on ACH transactions. You can track outstanding invoices, see when your emails have been opened, and send automated payment reminders to customers.
Unlimited terminals: Square for Restaurant's free baseline POS package allows you to download the Square POS app on unlimited devices. While only paying transaction fees on credit card payments, you can run the POS in your tasting room and event spaces and throughout your winery.
Tips and commission tracking: In addition to tracking tips, which most others on this list do, Square for Restaurant's users can add commission tracking to reward staff for selling wine club memberships or sales. You can tier commissions to award a bigger commission rate to more senior staff and exclude certain products or services from commission.
Vincipia integration: Vincipia is a Square partner app that allows you to synchronize sales, product, and customer information between Square and the Vincipia platform. With this integration, you can manage wine clubs and batch-process credit card transactions for wine club shipments. Vincipia users pay 2% plus 10 cents per Vincipia transaction. These fees are on top of Square's payment processing fees.
Biermi integration: Biermi is a free local online ordering and delivery app designed specifically for craft beverage makers. It is free to use and allows artisan beverage makers to create member clubs and deliver their products locally (where it is legal to do so).
Shipping integrations: Square integrates with UPS, FedEx, and DHL for shipping. You can print shipping labels for these services directly from your Square dashboard. For additional couriers and automated shipping tools, you can add the Easyship integration; free for up to 100 labels per month and up to $49 per month for 2,500 labels. Easyship allows you to offer a selection of delivery services at checkout, generate shipping labels in-app, schedule pickups with freight companies, and send automated tracking emails to customers.
KORONA: Best for Customer Referrals
KORONA

Overall Score:
4.10
OUT OF
5
RATING CRITERIA

Pricing
5.00
OUT OF
5
Sales and Ecommerce
3.00
OUT OF
5
Tasting Room Features
4.00
OUT OF
5
Back Office
4.25
OUT OF
5
Expert Score
4.25
OUT OF
5
What We Like
Easy to use
Referral system to grow customer base
Programmable discounts
24/7 year-round support
What's Missing
No personalized upsell tools
Limited integrations
No scheduling capability
KORONA Pricing
Software subscription fees:

Core – $49 per month
Advanced – $59 per month
Plus – $79 per month
Enterprise: Call for quote

One-time installation fees: None
Hardware costs: Call for quote
KORONA is a versatile and easy-to-use POS system with a great price. It tracks inventory wherever you sell your wine and has wine club integrations, a loyalty program, and age-verification tools. However, it stands out for its anti-theft features and its ability to leverage referrals to bring in more customers. You'll find it on several of our best-of lists:
In our evaluation, KORONA earned 4.10 out of 5 stars. It had a perfect score in pricing, which along with its value and popularity earned it a high expert score as well. While it was strong for POS tools and had a good set of tasting room features, its dependence on third-party software for many of the sales and ecommerce features we considered brought its score down.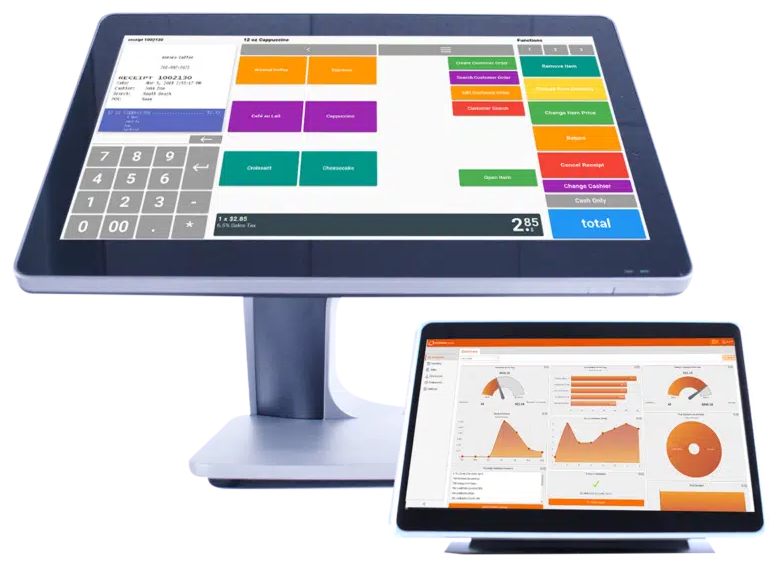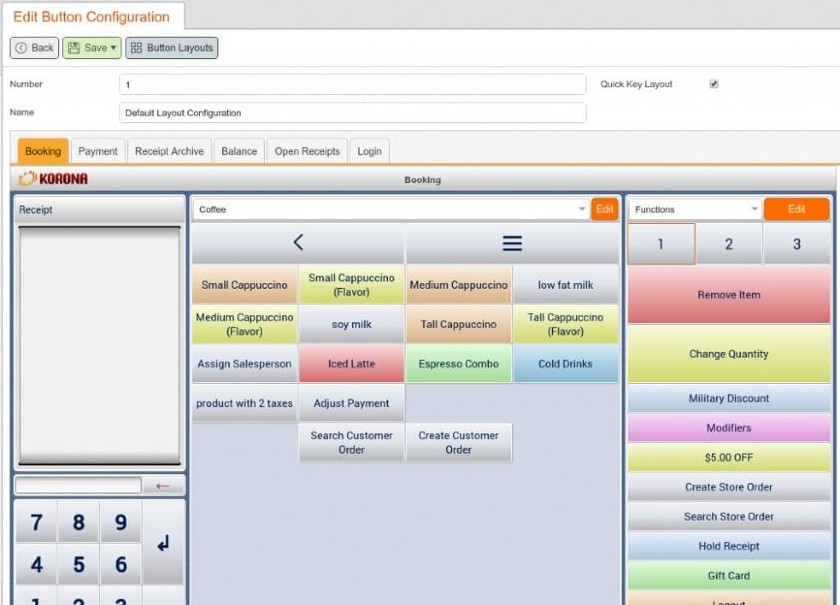 KORONA Features
KORONA has a bright and easy-to-use POS system that is highly regarded by real-world users. However, it depends on integrations for many of its additional tools. You'll need a payment processor, for example. (Want one integrated? Check out Square.) Also, the ecommerce is handled via WooCommerce, which is a free online store software. KORONA integrates fully with it for inventory tracking and sales. You will also need the bLoyal app to manage your wine club.
Nonetheless, KORONA has a lot to offer. Its standout features include:
Referral program: KORONA's loyalty program goes a little further than others on our list. It lets you create a referral program that rewards your customers for referring others who may like your wines. You can then send a special offer to the referred person to convert them into a customer.
Programmable promotions and discounts: Create case discounts, bundled deals, happy hours, or other special promotions. Do this easily with the Price Rule tool, which lets you set conditions. You can also give your employees control over discounting certain items by making a product price changeable in the inventory. For example, you can allow cashiers to give a discount for a customer's birthday, anniversary, or other special occasion. You can set a maximum and minimum price.
Anti-theft features: Hopefully, employee theft is not an issue with your winery, but if it is, KORONA's anti-theft tools can help you prevent retail loss. KORONA's software lets you monitor and set permissions to prevent such tricks as receipt voiding or cancellation and leaving the drawer open between transactions. It also has blind balance for end-of-day cash-outs and extensive inventory reporting.
Highly customizable interface: KORONA has one of the most customizable POS interfaces on the market. You can even change the size of the buttons and create custom workflows such as for wine tasting.
Events and ticketing: It has an extensive events and ticketing system, allowing you to sell tickets from your POS system or online. Create recurring events, add sizes and time restraints, sell merchandise along with events, and more. KORONA is used by museums and amusement parks and offers more than the other appointment-style event managers on our list. (Costs extra or comes with the Enterprise Plan.)
Vintegrate 360: Best for Virtual Tasting & Wholesale
Vintegrate 360

Overall Score:
4.01
OUT OF
5
RATING CRITERIA

Pricing
2.50
OUT OF
5
Sales and Ecommerce
4.00
OUT OF
5
Tasting Room Features
3.56
OUT OF
5
Back Office
5.00
OUT OF
5
Expert Score
5.00
OUT OF
5
What We Like
Includes tools to track wine making process
Supports multiple styles of virtual wine tastings
Wholesale account management tools
What's Missing
Pricing is all custom-quoted
Lacks personalized upselling tools
Vintegrate Pricing
Software subscription fee: Custom-quoted
One-time installation fees: Custom-quoted
Hardware costs: Browser-based system runs on any internet-connected device
Vintegrate 360 is an all-around excellent winery POS aimed at small and midsize wineries making up to $2 million a year. It offers a fantastic set of features for retail, inventory, wine clubs, events, and wholesale clients. Vintegrate 360 also includes insightful tools for virtual wine tastings, which can expand your winery's reach beyond your tasting room. Like Commerce7, Vintegrate 360 is a browser-based system. You can run the POS and management dashboard from any web-enabled device.
With 4.01 out of 5 stars, this system earned points in several areas. With Vintegrate 360, you'll find everything from wine clubs and online order management to wholesale and B2B sales. It offers reservation management down to the table and setup times, email marketing, and some of the best inventory control of all the winery POS systems reviewed.
It lost some points for pricing though; you'll need to call for a custom quote. Also, the personalized upselling features are not as robust as those offered by WineDirect and Commerce7. But, if you need tools to manage your wine-making process and B2B sales in addition to POS and ecommerce tools, Vintegrate 360 will be your best fit.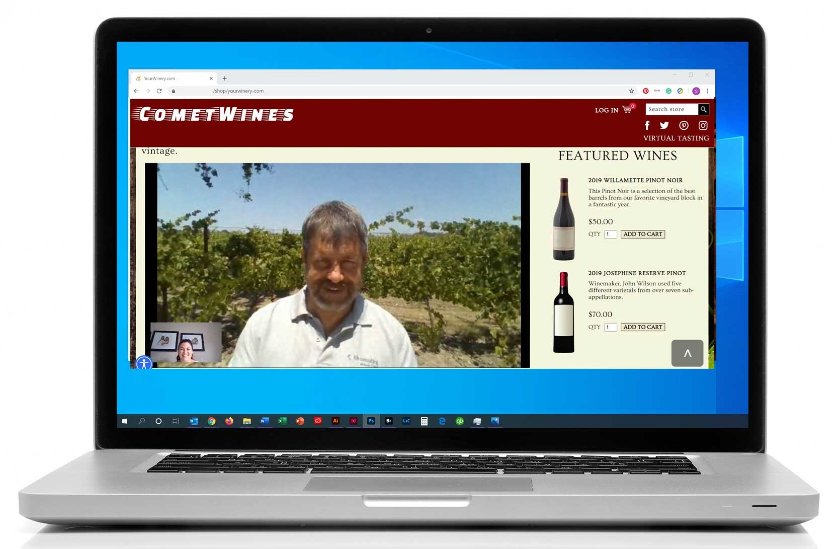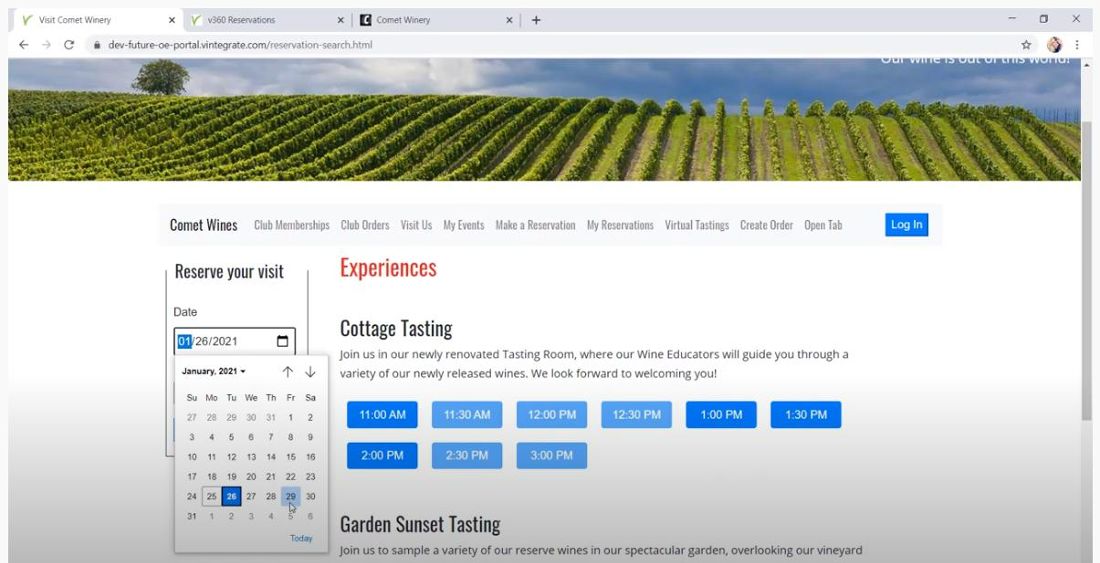 Vintegrate Features
As the name implies, Vintegrate 360 is comprehensive winery management software. The system includes tools to support virtually every task in a busy winery operation, from tracking your wine-making process to managing wholesale accounts and receiving in-person and online orders.
Vintegrate 360's standout features include:
Bulk inventory management: Manage your bulk inventory by wine program to maximize profits. Track intended use from grape-picking to blending and bottling. You can explore the impact of various bottling formats (750 mL, half bottles, or large format). Also, you'll be able to forecast how many bottles you will have of a particular vintage and identify your potential sellout date.
Wholesale account management tools: Beyond the basic invoice management functions that brands like Revel Systems offer, Vintegrate 360 includes a complete web portal for your wholesale clients. Clients can log in to their accounts to place orders, see open invoices, and make payments.
Virtual wine tasting events: You can host virtual tastings directly on your Vintegrate 360 platform. Tastings can be live-streamed or pre-recorded and either open to the public or private. You can ship wines to tasting attendees in advance so customers can follow along. Best of all, when your tasting is virtual, attendees have access to your ecommerce site the whole time. You can easily convert virtual tasting attendees into new customers or wine club members.
Wine production management: Like VinNow, Vintegrate 360 offers tools to track your wine production from field to bottle. You can forecast planned harvest tonnage and compare those projections to your actual harvest. Compare yields from individual plots year over year to identify trends. Vintegrate 360 helps you estimate the cost and composition of proposed wine blends and tracks vessels of various sizes throughout your cellar.
Workforce management: Like Square for Restaurants and Revel Systems, Vintegrate 360 includes built-in employee management functions like an employee time clock. You can also track sales by employee and view wine club sign-ups and other key sales metrics by staff member. While Vintegrate 360 does not appear to support credit card tips, you can award commissions based on individual staff sales reports.
Driver's license integration: Vintegrate 360 includes a function that they call "fast collect." This feature collects customer contact and age information from a driver's license swipe. With this information, Vintegrate 360 then generates a new customer profile so you can save preferences and payment information.
VinNow: Best for Custom Crush Operations
VinNow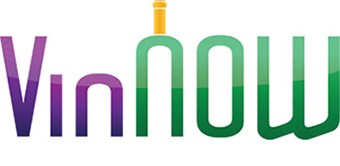 Overall Score:
3.90
OUT OF
5
RATING CRITERIA

Pricing
3.75
OUT OF
5
Sales and Ecommerce
3.63
OUT OF
5
Tasting Room Features
2.50
OUT OF
5
Back Office
4.63
OUT OF
5
Expert Score
5.00
OUT OF
5
What We Like
Operates on iPads
Unlimited number of terminals
Flexible retail and restaurant modes
VinTracker tool tracks bulk wine costs
What's Missing
User interface is dated
Does not include integrated ecommerce site
No on-site upselling tools
VinNow Pricing
Software subscription fee:

150 and fewer wine club members: $99.00 per month
151 to 500 wine club members: $249.00 per month
501 to 1,000 wine club members: $389.00 per month
1,001 and more wine club members: $489.00 per month

Bulk Wine Module: $69 per month
One-time installation fees: No installation fee, but if you need to convert existing data from another system there is a $600 fee
Hardware costs: Browser-based system runs on any internet-connected device
VinNow's pricing is based on wine club membership, as opposed to features or sales size. It works on iPads and, like Square for Restaurants, does not limit the number of registers. In fact, VinNow allows you to designate some iPads for retail functions and others for restaurant tools.
The VinNow system also includes the most robust bulk wine tracking features of any system on this list. The tools are specifically designed to track the most granular details of specific wine vats including tracking blending, chemical additions, and alcohol volume, making this an excellent system for wineries that make wine for other wineries under custom labels.
These detailed features earned VinNow a 3.90 out of 5 in our evaluation. VinNow offers many functions that make managing your wine clubs easier. You can create as many clubs as you wish and set tiers within them. The bulk wine tracking supports a whole additional revenue stream for your winery. But, a few missing features like customer-facing reservations and automated upselling tools lost this system some points. If you need these tools, try Commerce7 or WineDirect instead.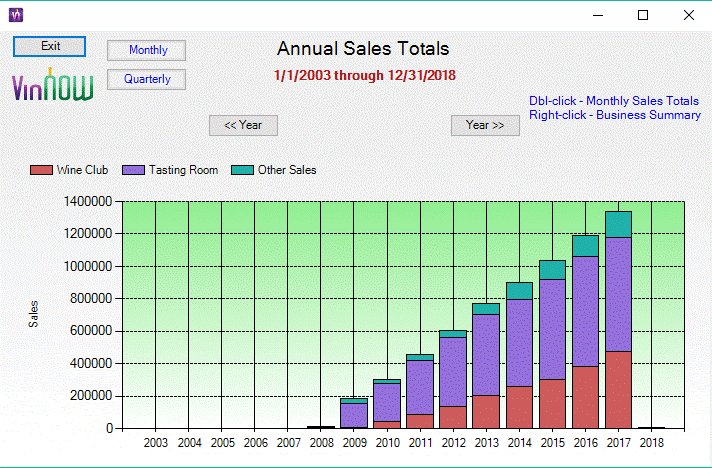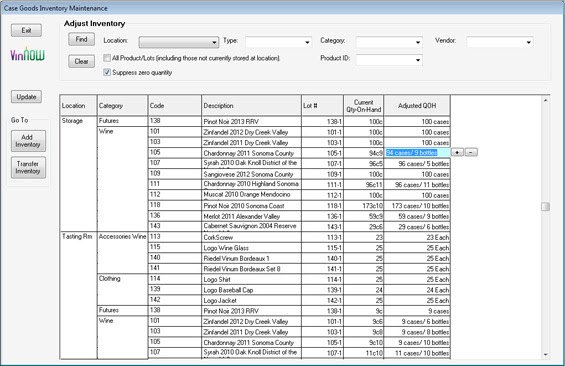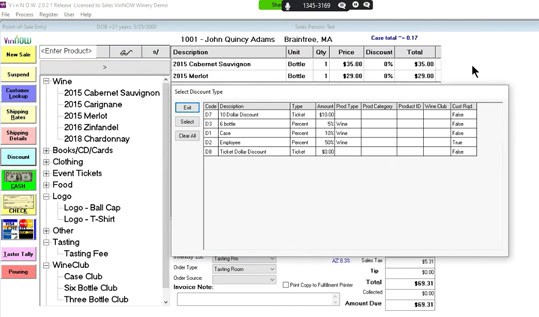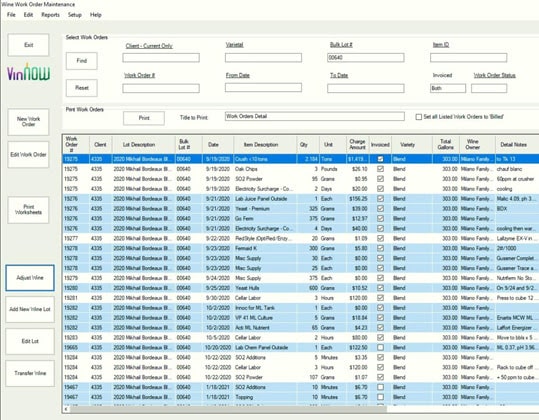 VinNow Features
VinNow's unique pricing structure is based on the number of people in your wine clubs. It does not limit the number of registers you can use. Like WineDirect, Vintegrate, and Commerce7, VinNow is browser-based and runs on any internet-enabled device. VinTracker, which manages bulk wine inventory and sales, costs an extra $69 per month. Considering the stackable pricing, wineries that are more ecommerce-driven will likely spend less with a system like WineDirect or Commerce7. But if you manage a custom crush facility, VinNow will be your best fit.
VinNow's standout features include:
VinTracker: For wineries that make their own wine on-site or custom crush wine for smaller winemakers, the VinTracker bulk wine tracking tools are invaluable. This system allows you to track wine vessels of any size throughout your winery—tank, vat, barrel, keg, drum, etc.—and assign work orders to specific staff to manage the winemaking process. You can track specific wine blends, when wine is topped off, when chemicals are added, and the amount of alcohol by volume (ABV). The system also includes detailed invoice tools to charge custom crush clients for the work you do on their wine.
Wine club customization: Customers can give memberships as gifts and join more than one club. Signing up is as easy as clicking a button, and the software will remind you and your members about expiring credit cards, declined cards, and more.
Order holds and email messaging: Customers can place holds on single shipments or put their club accounts on hold for a specific amount of time without canceling their membership. For members with second homes or who travel seasonally, VinNow can skip specific months each year. You can send emails to all customers with orders on hold for on-winery pickup or email all wine club members whose credit cards will expire before the next billing cycle.
Shipping integrations: VinNow integrates with UPS and FedEx so that you can print shipping labels for your wine club deliveries directly from your VinNow POS dashboard.
How We Evaluated Winery POS Systems
We looked for systems that help wineries support wholesale sales alongside in-person retail sales. Since online sales have become an essential lifeline for wineries, we also looked for robust ecommerce integrations and social media marketing tools. Inventory tracking, the ability to process recurring subscription payments, and customer relationship management were also considered. Finally, we awarded points based on our software experts' experience with the POS tools.
Based on the above criteria, WineDirect is the best winery POS. The software received the highest overall score according to our grading system for winery software (4.7 out of 5). Based on our personal experience testing different POS software and working in and with small businesses that use POS systems every day, WineDirect is also one of the top software that we would personally recommend.
Here's a detailed breakdown of our scorching criteria:
20%
Tasting Room Features
20% of Overall Score
We looked at the overall affordability of the subscription, whether there were setup and transaction fees and if the system included integrated payment processing. Revel, WineDirect, and Square had perfect scores.
20% of Overall Score
We favored POS software with online ordering, the ability to handle shipments, batch billing, and wine club features. Also, we awarded points to systems that have tools to process B2B and wholesale orders for wineries that sell to liquor stores and restaurants. Our evaluation considered systems that integrate with robust ecommerce websites. We awarded bonus points to systems that personalize upsell suggestions and "carrot" type reminders that encourage online customers to turn a few bottles into a case order. WineDirect had a perfect score.
20% of Overall Score
We looked at reservations, table management, tipping, general mobility, and credit card pre-authorization so tasting room guests can open tabs. Revel had top scores here, followed by Commerce7.
20% of Overall Score
In addition to our expert evaluation of features, we looked at experts in the field—winery publications and users themselves. This score also takes into account standout features and ease of use. We gave VinNow, WineDirect, and Vintegrate perfect scores.
*Percentages of overall score
Bottom Line
With over 7,000 wineries currently operating in the US alone, it's important that you choose a POS system with an online component to keep you competitive. The ecommerce portion is especially vital, as online sales have remained steady after jumping over 30% in 2020.
WineDirect received the highest score across our grading system for its comprehensive online and in-store winery management features alongside its affordable pricing. Starting at just $79 per month, plus 2% per transaction, WineDirect is affordable for small, fledgling wineries. Personalized upselling features drive web sales, and built-in fulfillment services make shipping a breeze. With three pricing levels, wineries of all sizes can find a subscription that works for their business. To see if WineDirect is a fit for your winery, visit WineDirect for a demo.