Types of CRM Software: Which One Is Right for Your Business?
This article is part of a larger series on CRM.
Customer relationship management (CRM) software is a tool that businesses use to manage and improve their relationships and interactions with prospects and customers. There are three fundamental types of CRM: operational, analytical, and collaborative. In this article, we outline the features and benefits of each type of CRM system, including their best use cases, to help you choose which one best fits your business needs.
3 Fundamental Types of CRM
There are three fundamental types of CRM, but all of them aim to improve customer relationship and service. Operational CRMs do this by automating your business processes to save you time and effort. Analytical CRMs focus on gathering data and analyzing it to help you deliver better service to your customers. Collaborative CRMs, on the other hand, bring together your sales, marketing, and support departments to help you better understand your customers' needs.
Operational CRM
An operational CRM manages and tracks your company's interactions with your prospects and customers to help you acquire new customers and retain existing ones. It automates business processes to save you time. Business owners also employ this type of CRM to generate leads, convert leads into customers, record contact details, and serve customers. It also allows you to facilitate accounting, inventory, project, and human resource functions from a single system.
Who operational CRM systems are best for:
Companies wanting to oversee and track business functions across departments within their CRM
Sales professionals needing to manage pipeline stages and perform sales activities like appointments and quotes
Teams that execute and track marketing campaigns and link them to leads and contacts
Sales professionals and business managers who need to manage post-sale projects for the products they are selling
Businesses that coordinate and execute inbound or outbound calling within their CRM
The core features of an operational CRM include sales automation, marketing automation, and service automation.
Sales Automation
Sales automation is the process of streamlining manual and repetitive steps in the sales process, such as appointment scheduling, pipeline management, lead conversion, and taking notes. This frees up your sales team from administrative tasks and allows them to focus more on selling products and interacting with customers.
Another aspect of sales automation is lead scoring, which involves ranking your prospects to let sales representatives hone in on which leads are worth pursuing or are ready to engage with your business. For instance, Salesforce Essentials, which is an example of this type of CRM, can be set up to monitor your leads and automatically update their contact details every time they interact with your company, so your team spends less time on data entry.
---
Marketing Automation
An operational CRM's marketing automation feature streamlines repetitive marketing tasks, such as email marketing campaigns, workflows, and social media posts. This process nurtures leads by identifying your audience, choosing the right content, and automatically triggering actions based on a set schedule or the customer's behavior. Effective marketing automation tools let you focus on growing your business without worrying about every message or post that you have to send.
---
Service Automation
---
Analytical CRM
An analytical CRM collects and organizes sales, marketing, and customer service data in a way that makes it easy to discover insights and displays detailed reports you can use to make strategic business decisions. In addition, it integrates with invoice software to let you generate reports on your company's cash flow.
Who analytical CRM systems are best for:
Managers who need information like performance metrics and dashboards for making data-driven decisions
Data analysts who monitor customer service efforts and make recommendations based on customer data
Accountants who need centralized data storage for their referrals, leads, partners, and clients
Business intelligence professionals who analyze sales metrics and trends, and use this data to formulate sales forecasts
The primary features of an analytical CRM include data warehousing, data mining, and online analytical processing (OLAP).
Data Warehousing
An analytical CRM, like Zoho CRM, acts like a data storehouse, which saves data from various sources in a centralized location. It also organizes the stored data so it can be easily accessed, analyzed, and used in generating reports. This could include details about your customers, business interactions, and even employee performance.
---
Data Mining
Data mining is the process of analyzing warehoused data to uncover meaningful patterns, trends, and relationships in your data. It automatically interprets the pieces of information so you can use it to improve your sales, marketing, and customer service strategies.
---
Online Analytical Processing (OLAP)
OLAP is technology that enables users to analyze information and extract business data from multiple database systems at the same time. It also gives your CRM forecasting capabilities, allowing you to make data-driven decisions concerning business trends, demands, and budget.
---
Collaborative CRM
A collaborative CRM, which is also known as strategic CRM, makes cross-team communication and collaboration systems more efficient, improving customer satisfaction, brand loyalty, and company profitability. It covers sales, marketing, customer service, and technical support teams, as well as customers, creditors, vendors, suppliers, and distributors. This type of CRM also uses automation to accomplish its goals.
Who collaborative CRM systems are best for:
Businesses with multiple locations or departments that heavily depend on cross-team communication
Teams that need to track customers across multiple channels, especially on the digital side
Companies that want to gain a better understanding of their customers and increase customer retention and loyalty
The three main features of a collaborative CRM are interaction management, channel management, and document management.
Interaction Management
To provide a better understanding of your prospects and customers, a collaborative CRM lets you log all of their touchpoints with your company in a centralized access point. This way, even if not all of your teams interact with the customers directly, everybody can see their customer journey and improve customer service based on the recorded facts.
---
Channel Management
A collaborative CRM, like Freshsales, makes it easy for your company to track and communicate with your customers via their preferred channels—be on the phone, email, or social media. It records how your customers get in touch with you and lets you respond to them using the same channel.
---
Document Management
Document management is a process or system used to capture, track, store, and share electronic documents, such as proposals, contracts, and digital images of your business files. A collaborative CRM allows your teams to access these documents from a centralized location without having to go through a department's desk or opening a separate software to retrieve the data that you need.
---
CRM Pricing
Pricing for the various types of CRM solutions can range from free to $99 or more per user, per month. Some vendors offer free plans for a limited number of users or features. Others offer basic packages that include only the essential CRM functions, like contact management, lead management, and standard reporting. Full-feature packages include advanced capabilities like pipeline management, sales automation, and wide customization options.
Download our free CRM e-book today to get a deeper understanding of CRM software features, integrations, strategies, and implementation.
Examples of Types of CRM Software
Below are examples of each of the three types of CRM software, which are also included in our list of the best CRMs for small businesses. Click through the tabs below to learn the basic details of each provider.

What it does: Salesforce Essentials allows you to track and manage your contacts, accounts, and sales. It also offers a case management system that lets you respond to customer feedback in an organized manner.
Starting price: $25 per user, per month*
Free trial: 14 days
*Based on annual billing. Monthly pricing is also available at slightly higher rates.
Check out our Salesforce Essentials review to learn if it is the right fit for your business.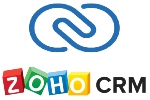 What it does: Zoho CRM offers advanced analytics and business intelligence that help you monitor the stages of your sales cycle and make data-driven decisions. Its features include lead analytics, deal insights, activity statistics, and email analytics.
Starting price: Free (for 3 users) or $14 per user, per month*
Free trial: 15 days
*Based on annual billing. Monthly pricing is also available at slightly higher rates.
Read our Zoho CRM review to learn more about its features and capabilities.

What it does: Freshsales allows your sales, marketing, and support departments to capture and view all customer interactions in one place. It also allows you to communicate with customers via phone, chat, email, and WhatsApp.
Starting price: Free (for unlimited users) or $15 per user, per month*
Free trial: 21 days
*Based on annual billing. Monthly pricing is also available at slightly higher rates.
Head on to our Freshsales review page to learn more about how this solution can help your business grow.
Looking for free or more affordable options? Take a look at our recommended free CRMs for small businesses or check out our guide to the top CRMs for startups.
Bottom Line
An operational CRM is best for companies wanting to use automation to make their business processes more efficient. An analytical CRM is recommended for businesses that need performance metrics and dashboards to formulate sales forecasts and make data-driven decisions. A collaborative CRM is for businesses that have multiple departments or locations that need an efficient system to have unified operations.
Many of the modern CRM providers offer some overlap in the features associated with the three types of CRM system. When choosing which type of CRM software you should use, it is important to know which one best addresses the needs of your business.