6 Best Keyword Research Tools for Small Businesses in 2022
Keyword research is essential for search engine optimization (SEO). The best keyword research tools not only show the potential for web traffic but also help you discover the best keywords for gaining more visibility on Google. After reviewing leading platforms, we ranked the six best keyword research tools for small businesses based on affordability as well as popularity, ease of use, and features.
Based on our comparison, here are the six best keyword research tools for small businesses:
Best Keyword Research Tools at a Glance
Keyword Research Tool

Free Plan

Starting Cost per Month

Chrome Browser Extension

Content Optimization Tools

✔

$99.95*

✔

✔

✔

$83*

✔

✕

✔

$55*

✔

✕

✔

$49*

✔

✔

✔

$69

✕

✕

✔

$29

✔

✕
*With annual billing
Semrush: Best Overall Keyword Research Tool for Small Businesses
What We Like
Free plan is limited as to number of requests but does allow access to many of Semrush's tools, including robust keyword research tools
One of the biggest keyword databases with nearly 21 billion keywords, much more than Ahrefs
All-in-one SEO tool for backlink analytics, site auditing, competitor research, Google ads data, content optimization, listings management, and more—the most comprehensive of any provider
Highly accurate keyword data
What's Missing
While the most comprehensive, it's also the most expensive on this list
Free plan limited to 10 requests/day
Having so many tools makes it harder to learn and navigate for beginners
Only provides Google search results, unlike Ahrefs and Keywordtool.io
Best For
Any business wanting its site to rank higher on Google
Digital marketing agencies looking to track client results or offer SEO reporting as a product
Google keyword research and insights (e.g., how hard will it be to rank for a given keyword, what would be needed, and alternatives)
Content ideation and planning
Checking and tracking the keywords each of your pages rank for, including position ranking changes
Competitive research to see what keywords competitor sites rank for and how their search ads are performing on Google
Discovering backlink opportunities and disavowing low-quality links
Auditing your website to spot and correct issues that can hurt your SEO
Starting cost
Free forever plan for 10 requests/day
Paid plans start at $99.95 per month with annual billing, or $119.95 monthly
Semrush is the most comprehensive SEO tool you can use to rank higher on Google. Although more expensive than competitor Ahrefs, it has everything you need to conduct keyword research, audit and optimize your site's content, benchmark competitors' rankings and Google ads, develop a backlink strategy, and more.
Semrush has the most extensive keyword database of any keyword research tool and its results are highly accurate. In addition, you can compare your site to up to four other competitors' sites domain-to-domain. This allows you to see what keywords competitors rank for and spot content ranking opportunities.
Keyword Research With Semrush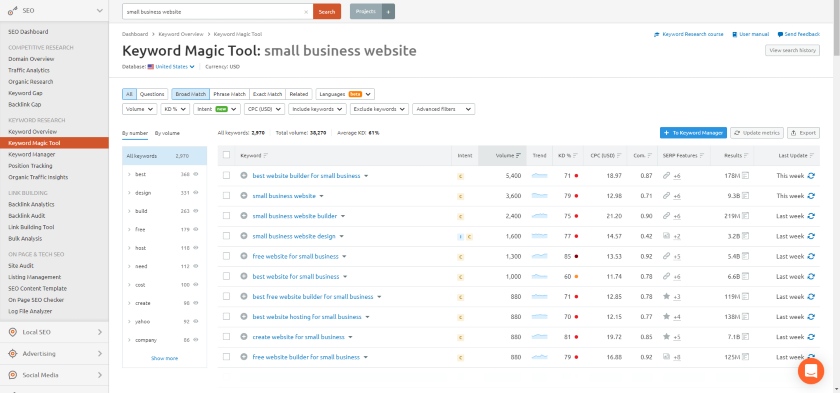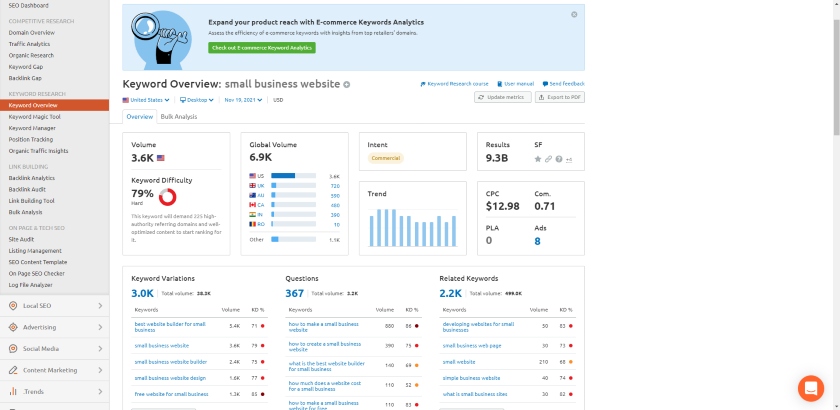 The keyword research capabilities of Semrush are extensive. You'll find the Keyword Research tools in the SEO menu. Enter a keyword from the Keyword Overview tab and get instant data as to how many searches per month occur for the exact match, what the average cost-per-click (CPC) is to drive traffic to your site with Google Ads, keyword variations, "people also ask" questions, and related keywords.
Use the Keyword Magic Tool to see all the keyword variations and top categories, which can help you discover the most appropriate variants based on search intent relative to your content. For each variant, you can also pull open the current search engine results pages (SERPs)SERP to see which sites rank highest, where your site ranks, and where your competitors' content ranks for specific keywords. This makes it not only a good tool for those wanting to optimize the content of a website, but also for digital marketing agencies needing tools to improve clients' websites or software that can be turned into a service, such as providing a competitive landscape analysis.
Use the Keyword Manager when you're ready to track your site's content against a list of targeted keywords or want to generate a list of keywords for Google Ads campaigns. Get reports that show keyword ranking position changes, brand visibility online, and more. Connect your Google Analytics and Search Console accounts to see which keywords are driving traffic to your website or landing your content in online search results.
Semrush is one of the few keyword research platforms with robust optimization tools for organic SEO content marketing. Use keywords to see how to improve your website's existing content or fully optimize new content before publishing it online. There are even WordPress, Google Docs, and MS Word plugins you can use to analyze and optimize your content while writing or editing a draft.
Add a keyword to the SEO Content Template and Semrush will pull the top SERPs, analyze them, and advise you on how best to optimize your content to rank for the keyword. This even includes suggestions about websites you should pursue in your SEO backlink marketing efforts.
As if all this weren't enough, Semrush also has a large library of articles, video tutorials, and even a Semrush Academy certification course. No matter what level of SEO knowledge you have, there is something for you there, including all you need to know to get maximum value from this amazing platform.
Semrush's keyword research results are highly accurate in terms of rankings on Google search engine results pages (SERPs), keyword volume, and difficulty. However, as Semrush only provides Google-related data, those needing data from other search engines should consider Ahrefs.
Our Expert Opinion
Semrush is hands-down the best keyword research tool for businesses of any size. Rich features make it a breeze to optimize your website, conduct competitive research, audit your site for potential issues, and plan your content strategy. See what it can do risk-free by signing up to use the limited free version or for a free trial.
Ahrefs: Best Keyword Research Tool for Multiple Search Engine Insights
What We Like
In-depth keyword data, similar to Semrush, but for 10 different search engines, including Google, Bing, Yahoo, Amazon, and more, the most of any other platform on our list
Beginner-friendly and intuitive
Database of over 7 billion keywords
WordPress plugin analyzes your content and backlinks
Additional SEO tools like backlink analysis and content gap analysis, making it an all-in-one SEO platform
Free plan for seeing what keywords your content ranks for
What's Missing
Free plan only gives you ranking data for your Google-verified websites; no competitor data, unlike Semrush
Pricey compared to Serpstat for comparable features
Data is reliable, but not as accurate as Semrush's
Fresh SERPs only shown in higher tiers; lower-plan tiers see cached search results
Best For
Small businesses and agencies looking for a robust free platform to view and track its or its clients' content rankings
Any business looking for a beginner-friendly, all-in-one SEO platform with reliable keyword research tools
Businesses wanting to implement marketing campaigns to gain more backlinks
Starting cost
Free forever plan limited to data on websites that you have Google Analytics permissions for
Free tools (limited use)
Paid plans from $83 per month with annual billing or $99 monthly
Ahrefs is arguably the most popular free keyword research tool for small businesses. In addition to offering highly accurate keyword research data, it's a solid backlink analysis and tracking tool, and with paid plans, can be used to research competitor keyword rankings. It's more visually oriented and doesn't have quite the breadth of tools as Semrush, so its interface is much easier for beginners.
Keyword Research With Ahrefs
Ahrefs has a comprehensive Keyword Explorer, which provides data for 10 different search engines, including Google, Amazon, Yahoo, YouTube, and Bing. With a simple keyword search, you can find the difficulty of your keyword, its search volume, clicks, and volume. Ahrefs can also help you generate content ideas to optimize your small business website with its Keyword Ideas feature. All this data is presented in a very easy-to-read dashboard.
One downside to using the free or Lite version of Ahrefs is that you can't compare domain-to-domain. Also, SERPs shown to you for keywords are cached instead of fresh unless you opt for a Standard plan or above. Semrush includes these tools in its entry tier as well as features like the content writing assistant and template that Ahrefs can't yet compete with.
Our Expert Opinion
With Ahrefs, you get keyword research and much more to power your SEO efforts. If you're already using another SEO tool like Semrush, however, we wouldn't recommend Ahrefs as complementary software. However, it's a fantastic growth hacking tool with some of the most accurate data we've seen, all in a readable database.
Serpstat: Best Low-cost Technical SEO Analytics
What We Like
Free plan available
A full SEO suite including keyword research, rankings, link building, competitor research, and pay-per-click (PPC) research tools
Much cheaper vs Semrush or Ahrefs
Similar interface to Ahrefs and Semrush, so you can easily switch
Local keyword research tools
What's Missing
Not as accurate as Semrush or Ahrefs as far as keyword traffic data
Lacks content optimization features
Only works with Google and Yandex
Best For
Small businesses and entrepreneurs looking for a low-cost, all-in-one SEO solution
Freelance and small digital marketing agencies looking for keyword research, rankings, PPC, and competitor insights on a budget
Starting cost
Limited free forever plan
Paid plans from $55 per month with annual billing or $69 monthly
Serpstat is a full suite SEO tool similar to Ahrefs and Semrush, but Serpstat is much cheaper than either of these competitors. Serpstat starts at $55 per month on an annual billing cycle, making it a more affordable option for freelancers or SEO technical professionals looking for the same types of tools.
Along with its SEO features, Serpstat has a very easy user interface to navigate, helpful customer support, and tools to help with local SEO. It's definitely worth looking into for beginners diving into optimization, although we found that its tools are not as accurate or robust as what Semrush offers.
Keyword Research With Serpstat
Serpstat has over 6 billion keywords in its database, rivaling the size of Ahrefs'. In terms of keyword research, it provides a comprehensive report of the keywords you need to be using to compete in your space, plus a nice competitor graph similar to Semrush. Its features are also similar; with Serpstat, you can find the volume, competition, cost-per-click, and keyword difficulty easily. You also get a list of competitors and related organic and paid keywords.
Our Expert Opinion
Serpstat is a low-cost solution for full suite SEO that costs far less than Semrush and Ahrefs. While we still highly recommend Semrush for those who need the most accurate data, if you're on a tight budget, Serpstat is a good alternative.
Surfer: Best Tool for Keyword Content Planning
What We Like
Chrome extension provides automatic keyword research data whenever you search a term on Google
Artificial intelligence (AI)-powered Article Outline helps you generate content ideas based on your target keywords
Works in multiple languages
Very beginner-friendly
Overcome writer's block right away with the AI Outline Generator
What's Missing
No free plan or free trial
Search volume data and word count aren't always accurate
Can't find competition keywords—purely for organic content planning and ideas
Only sources Google search data
Best For
Content marketers and SEO specialists looking to generate keyword-based content ideas
A supplemental tool to use in conjunction with Semrush or Ahrefs
Small businesses looking for AI-generated content to boost SEO efforts
Starting cost
Paid plans from $49 per month billed annually or $59 monthly
Surfer is a keyword content planning and artificial intelligence (AI) content generation tool. As with other platforms, there is a free Chrome extension to provide data and insights as you surf online. While the keyword research data itself isn't as accurate as Semrush or Ahrefs, Surfer's value lies in its content planning and optimization tools. For best results, use it for keyword and content ideation and optimization alongside a tool like Ahrefs and Semrush.
Keyword Research With Surfer
Unlike the other tools on this list, Surfer isn't software you use to get a list of keywords. Instead, it's a plugin that you download and install in your browser to perform keyword research. It uses artificial intelligence to generate an outline whenever you search for a keyword on Google or by entering a keyword into the site's free Outline Generator tool.
All paid plans include Surfer's AI-powered content planning and optimization tools so that you can better optimize your site's existing content and plan your keyword strategy for the future. However, we recommend that you only look to AI-generated content for guidance rather than cutting and pasting it into your content. It can result in duplicate content on other websites, which hurts your SEO efforts, and it's highly likely that Google's system will detect it.
Our Expert Opinion
You can use some of Surfer's tools for free, with paid plans starting at around $50 per month. It's especially useful when looking for ideas to create content as it works passively whenever you use Google Search. It's also a great supplemental keyword research tool when paired with more advanced software like Ahrefs and Semrush.
Keywordtool.io: Best for Identifying Long-tail & LSI Keywords
What We Like
Free version, albeit very limited
Uses Google auto-fill and related questions to generate long-tail keyword ideas
Very easy to use, with a very user-friendly interface
Offers results for 8 different search engines, including Google, Bing, and Amazon, plus different languages
What's Missing
Capped searches, even on the most expensive plan
Extremely gated content for free searches
Not a complete SEO tool, best used in conjunction with a tool like Semrush
Expensive premium plans, especially vs Serpstat, which has comparable features in its base plan
Best For
Use as a supplemental keyword discovery tool alongside Semrush or Ahrefs
Discovering long-tail keywords and LSI keyword variations through search engines' auto-fill and "people also ask" data
Amazon, Google Play Store, and eBay sellers
YouTube keyword research
Starting cost
Free forever plan with limited searches
Paid plans from $69 per month billed annually or $89 monthly
Keywordtool.io is software that uses auto-fill data to generate keyword ideas across eight different search engines and in different languages. Like Surfer, it's a supplemental SEO tool rather than an all-in-one solution for keyword research. And similar to Ahrefs, it works across multiple search engines.
It's a great alternative for eBay, Amazon, and Google Play Store sellers who want to optimize their offerings for search on these platforms. YouTube video content producers can use it to identify popular search terms to infuse into their descriptions and titles. Any small business can use it to generate keyword ideas for organic search content planning or to enrich content with semantic keyword variants.
It's a great tool purely for finding keywords—especially long-tail keywords and LSI keywords. LSI (latent search intent) keywords are semantic variations of your main keyword. Long-tail keywords are very specific, or narrow, as relates to search intent, compared to broad keywords. Using them in your content helps search engines accurately index your web pages and blog posts to align with search intent.
Keyword Research With Keywordtool.io
Keywordtool.io makes it extremely easy for anyone to find related keywords. From there, Keywordtool.io will give you a list of long-tail keywords plus questions to generate content. While it's easy to use and has a completely free plan, it's also very basic. Plus, on the free version, you don't get access to data like search volume and trends, both of which you get with a free Ahrefs or Ubersuggest plan.
Our Expert Opinion
Keywordtool.io is a great tool to use if you're looking for content ideas and to generate long-tail keywords for already existing keywords you may have. It's still a nifty tool to use in conjunction with a more robust platform like Semrush, especially since it sources data from multiple search engines, including Google, Bing, YouTube, Amazon, eBay, and more.
Ubersuggest: Best for Beginners Diving into SEO
What We Like
Free for 3 searches a day (vs 10 with Semrush)
Cheapest keyword research tool starting at $29 per month
Very easy interface and dashboard
Besides keyword research, has website traffic tracking and content generation tools
What's Missing
Only 3 free keyword searches per day
Gated content for free searches and a lot of promotional material
Not as comprehensive as Semrush or Ahrefs
Best For
Absolute beginners looking to learn the basics of SEO
Small business owners who only want basic data and site tracking metrics
Solopreneurs looking for a low-cost SEO solution for auditing and tracking their website's performance
Starting cost
Free forever limited to 3 searches/day and 1 tracked project
Paid plans from $29 monthly
Ubersuggest's free plan allows you to search up to three keywords a day for free. It's not as comprehensive as Ahrefs or Semrush, but it's a very easy-to-use tool that tells you enough about keywords while giving you content ideas. In fact, what we like about this tool is that it's easy to use and understand.
The interface is extremely clean, and everything about it is visually oriented and beginner-friendly. Plus, Ubersuggest is the cheapest all-in-one keyword research tool for SEO. At $29 per month, it's very budget-friendly even for startups and solopreneurs.
Keyword Research With Ubersuggest
Ubersuggest has a detailed keyword overview page that's simple to use. It shows keyword volume, difficulty, and cost-per-click at the very top, plus some historical data. You also get keyword and content ideas and their corresponding data at the very bottom of the page. The data presented isn't as exhaustive as what you'll see with Semrush or Ahrefs, but it's easily digestible in part due to Ubersuggest's very clean dashboard.
Our Expert Opinion
Ubersuggest is useful if you don't need quite as robust data as Semrush provides. Outside of Google, it also works with Amazon and YouTube for relevant keywords. If you're a beginner starting out in the world of keyword research and marketing, we suggest giving Ubersuggest a try to get comfortable with the terms you need to know.
Honorable Mention: Google Keyword Planner
What We Like
Completely free to use
Uses Google search data (useful if you're looking to rank on Google)
Includes related keywords so you can expand your search
What's Missing
You'll need to create a Google Ads account with payment details—you won't be charged unless you set up and launch a campaign
Designed mainly for advertising on Google vs a keyword research tool
No data from other search engines
Keywordtool.io has a much easier interface for similar data
Best For
Any business wanting the most accurate keyword data relative to Google search and ads
Small businesses running Google search and display ads
Google Keyword Planner is a service offered by Google mainly for advertising purposes. You'll need to create a Google Ads account or have one already before accessing the keyword research tool. However, you won't need to pay anything to use the research tools.
It's very basic. All you need to do is type in a keyword, and you'll see its monthly searches on Google plus related keywords you can use. If you're looking to rank on Google, it's a good place to double-check data gathered from Semrush or Ahrefs to ensure you are targeting the best keywords to get your site ranking higher on Google.
Feeling overwhelmed with all the options and the scope of keyword research and content planning? The pros at Hibu, which tops our list of the best local SEO services, can take this work off your plate and get your site ranking quickly.
How We Evaluated the Best Keyword Research Tools
We looked at all the popular keyword research tools available and narrowed it down to our top six. The best keyword research tools will allow anyone to find relevant keywords to insert into their content. We also looked at pricing, its ease of use, and our experience with using these tools. Here's the criteria we considered when ranking the best tools for keyword research:
Cost: Fortunately, many keyword research tools are free or extremely affordable. We judged paid versions based on whether or not a typical small business could afford them.
Features: Features analysis included whether they work and how accurate they are. We also took into consideration other SEO features offered in all-in-one solutions or as a value-add.
Ease of use: We judged the tools by how simple they are to use. We also took into account its interface, and whether or not an absolute SEO beginner would be able to successfully navigate and analyze the data presented.
Expert score: Our final criteria weighed each tool against our firsthand experience, platform popularity, and customer reviews to narrow the list to the tools most worth investing time and money in.
Frequently Asked Questions (FAQs)
How do I find high-ranking keywords?
Any of the keyword tools on this list can help you find keywords that present high-ranking opportunities, but Semrush has the most accurate data. Ideally, a target keyword will have a high search volume and low competition, or difficulty rating. However, you can also rank for higher-difficulty keywords by publishing new content on a regular basis and infusing your content with keyword variations.
You can also get keyword ideas from many other sources, from competitor research (the keywords competitors' sites rank for) to tools like Keywordtool.io that gather data from search engines' auto-complete answers and commonly asked questions. You can also use tools like Surfer to provide insights when you search on Google.
How do I insert SEO keywords into my content?
Inserting SEO keywords into your content is as simple as typing them into text on your web pages and blog articles. To do this strategically, identify one main keyword and two or three related semantic variations for each page and article on your website. Your main keyword should be used in the page title, URL, and meta description, and occur a few times throughout the text, including a high-level placement in non-headline content, such as the introductory paragraph.
How can I improve my SEO organically?
Organic SEO, which is one aspect of search engine marketing, takes time to execute as it depends on a long-term content marketing strategy that optimizes not only for online search but (first and foremost) for site visitor experience. In addition to content, there are technical SEO issues to address, such as ensuring your site is mobile-responsive, loads fast, and doesn't have a lot of spammy backlinks coming in.
How can I find popular keywords to rank for?
Google provides a lot of free data, including tools that can help you identify keywords that are very popular or trending. Google Trends is a free research platform that will show you current and historical search data relative to a given keyword. Think With Google is another option for gaining insights into what Google wants in your SEO strategy as well as trending topics.
Bottom Line
Keyword research is important since keywords let both humans and search engines know the content on your site, improving online visibility. The first step to any well-grounded search engine marketing strategy is finding the right keywords to rank for, and the best keyword research tools make it easy to do just that. You'll find the most robust SEO keyword research tools in Semrush, and you can try it risk-free at no cost.
You Might Also Like…