Top 9 Ways to Generate Real Estate Seller Leads in 2021
Real estate seller leads are individuals who may hire you to represent them when listing their homes for sale. It can be difficult for inexperienced agents to generate this type of lead. But by employing techniques such as using social media marketing strategies, investing in lead generation tools, and accessing your referral networks, you can generate seller leads and convert these prospects to clients while navigating the challenges of today's super-competitive market.
The following tips will assist you in generating and capturing real estate seller leads to build your real estate business:
1. Request Referrals From Past Clients & Your Network
Your number one resource for generating real estate seller leads is through past clients who know, trust, and love your work. There is no one better to sing your praises than a previous client who understands the value you bring to the table.
It's especially important to provide top-notch service all throughout the sales process. Providing the seller with consistent updates on progress, advertising and marketing their listing professionally, delivering knowledge through comparative market analysis (CMA) reports, and ultimately selling their property demonstrates your expertise. This will also give past clients confidence in referring your service to others.
Pro tip: Once you've closed on a property with a seller, give them a gift to commemorate your experience together. They will take it to their next home and it will be a talking point to anyone who steps foot in their new home, and therefore, a great source of referral business for you. Check out our article 23 Best Real Estate Closing Gifts for fun and unique gift ideas.
In addition, your friends, family members, and colleagues—also known as your sphere of influence (SOI)—are a great resource to generate real estate seller leads. Similar to past clients, these individuals already know your value and trust you to get the job done. Make sure to touch base with your SOI at least once a quarter to remind them that you are their go-to real estate professional and are always willing to take on a new client.
2. Showcase Your Value on Your Website
When a seller decides to list their home and they don't have a preferred real estate agent, they usually turn to the internet to do their research. It is important, and necessary, to have a comprehensive and visually appealing website to improve the frequency of lead generation among people who visit your website.
Your site needs to feature information that shows you are an expert who provides value to potential sellers. This may include past listings that you've sold, testimonials from past clients, example CMA reports that you've produced, or blog posts that provide tips, tricks, and market trends for the areas you specialize in. Make sure to review your website every quarter (at least) so that you can be sure its content remains relevant to the present market.
Of course, your website also needs to give potential sellers enough information about you and your services so they feel compelled to reach out directly to you for more information or to set up an appointment. It is important to note that the seller needs to feel that you are in the business of selling homes, not selling yourself, so always use language that makes it clear what you can do for them.
There are many real estate website builders to choose from, but if you're looking to start right away, we recommend GoDaddy to begin creating your website. GoDaddy offers premade real estate templates, Facebook and IDX integration, and 24/7 customer support, all for a low monthly fee.
3. Be Active on Social Media
According to the National Association of Realtors, social media is the best tool for generating high-quality real estate leads, so if you are not on social media, it's time to get to it. Social media can be a great avenue to show your continued efforts in selling properties and to attract not only potential real estate seller leads, but buyer leads as well.
On Facebook, Instagram, LinkedIn, Twitter, and other social media platforms, a picture or video is worth a thousand words. Showing off your listing or a company-owned listing by sharing professional-quality photographs and videos improves your chances of generating more leads.
You can also capitalize on personal branding to showcase your value as a seller's agent. Videos and photos that offer priceless tips for homesellers based on your expertise, such as your top home staging techniques for brightening a home, the best time of year to list a home in your area, or market trends specific to your region, can showcase your expertise and bring sellers knocking on your door to list their home.
Example of Social Media Promotion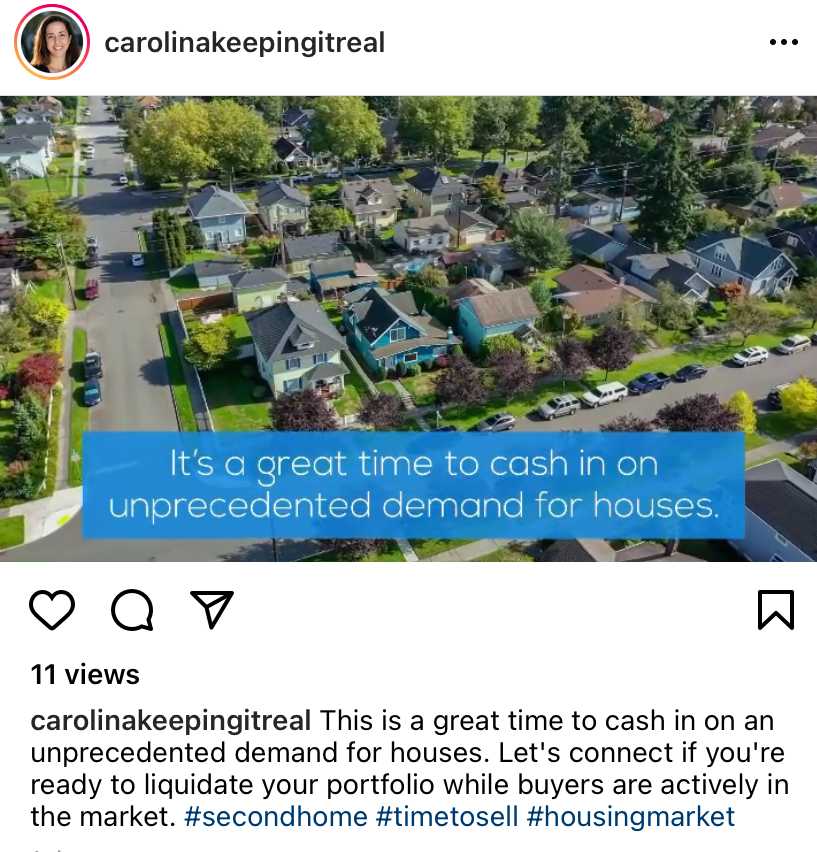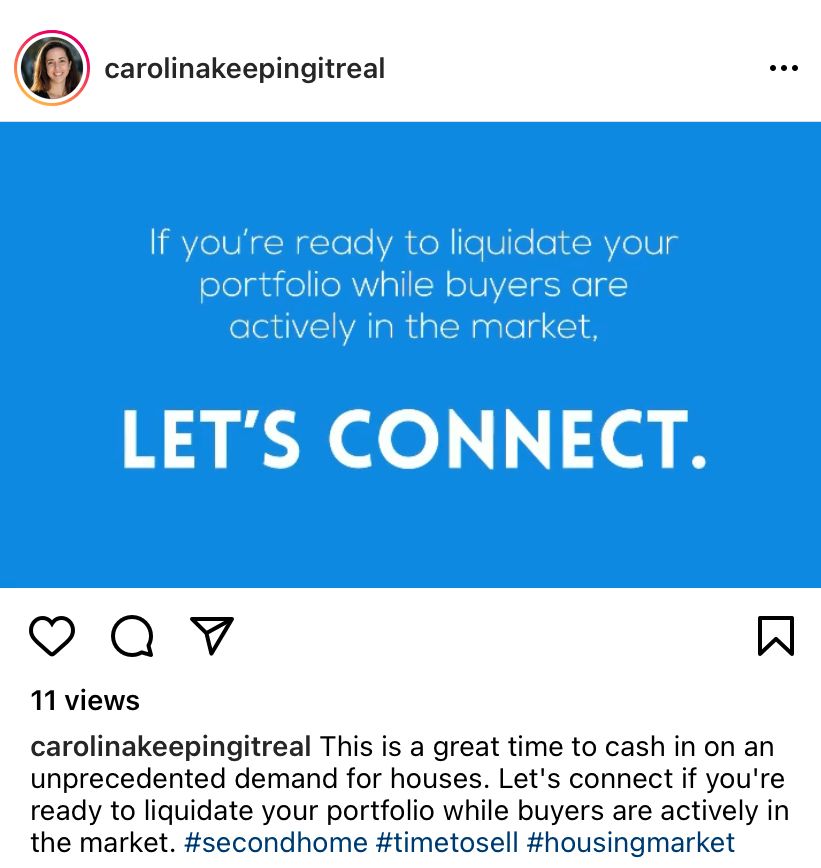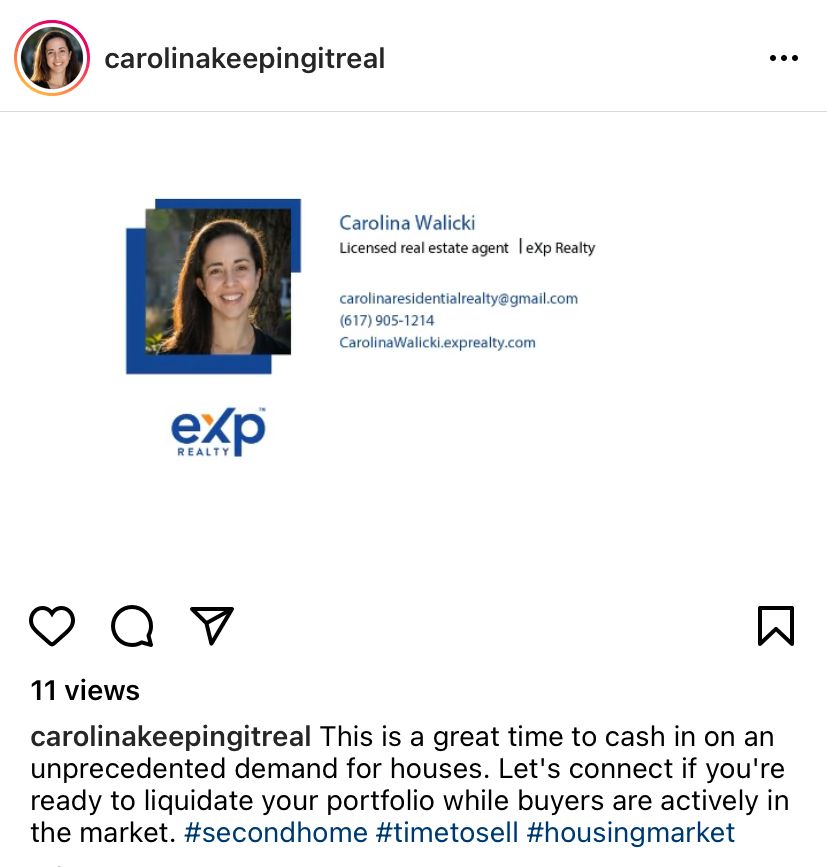 You need to determine if you want to manually create and post content for each platform or if you will automate posting to multiple platforms at once. If you'd like to use a platform to help automate your social media marketing, consider Loomly or IFTTT. Either way, you must show consistency and diligence in posting and reviewing the material to ensure it is displaying the brand image you want your future clients to see.
For more tips on how to improve your social media presence, read Top 15 Ways to Crush Your Real Estate Social Media Marketing.
4. Invest in Lead Generation Software
Naturally, it is preferable to bring in organic leads from referrals, your website, and social media efforts. But purchasing lead generation software to generate, organize, and nurture real estate seller leads is another effective way to grow your business. What you are spending in money, you are making back by saving time in capturing leads quickly and consistently. Here are a few of the lead generation companies we recommend for capturing seller leads:
For a full breakdown of each of these lead generation companies and more, check our guide to the 6 Best Real Estate Lead Generation Companies.
5. Target a Farm Area With Direct Mail
Real estate farming is a prospecting strategy you use to focus your lead generation efforts in a particular area. It is typically done using direct mail: postcards, letters, flyers, brochures, and so on. Farming can be a useful tool for generating seller leads, and works best when you are consistent and purposeful when sending marketing collateral through direct mail.
There are several real estate farming strategies you can employ when sending direct mail to obtain real estate seller leads. With the lack of inventory of homes—but a good amount of buyers looking for homes—sending an "I have a buyer" letter to the neighborhood can prompt conversations with other potential sellers who are eagerly trying to bring in a buyer for their listing.
Another strategy is to send "Just Listed" or "Just Sold" postcards to a whole neighborhood. It's a great way to show that a nearby home is available or was just sold, and how much that home is listed or was sold for. Include market statistics so people see the value of their home compared to the other homes nearby.
Many homes for sale in the current real estate market are generating bidding wars and going over the asking price. So sending "Just Sold" postcards showing potential profit could be just the push a homeowner needs to decide to sell.
Pro tip: When mass-mailing postcards or other direct mail, make sure to include a caveat saying that if a seller is already working with another agent to please disregard the postcard. Typically, seller's agents require clients to sign an exclusive agreement that they will work with only that agent, and you don't want to step on other agent's toes or cause issues for a seller.
You can do research to find addresses and send direct mail on your own, or you can employ a company like ProspectsPLUS! to assist you. With ProspectsPLUS!, you can create mailers using premade templates or create your own design. More importantly, you can schedule a series of mailers to be sent automatically to maintain consistency in your real estate farming outreach to potential sellers.
6. Offer a Comparative Market Analysis (CMA)
Everyone wants to know the current value of their home. A CMA report shows an estimate of the value of a home in comparison to other homes in the area, its current condition, and features of the home and property. Offering to provide a free CMA to a potential or past client is another way to generate a lead or spark interest in someone who is thinking about selling their home.
A great time to send your client a CMA is on their yearly home anniversary. Email the CMA to your client and attach a short video explaining what it is and what the information means to them. In the video and email, make sure you give them enough information to pique their curiosity so they are prompted to contact you to set up an appointment.
It is most important for you to include updated information about the potential seller's neighborhood and how their home fares in comparison. Other information to share could be the lack of inventory in the present market, homes you've listed or sold that received multiple offers, and the average percentage of what homes are going for over asking price. Even if the client meets with you but chooses not to sell their home, they will not forget the valuable information you gave to them at no expense. This will set you apart from other real estate agents.
7. Seek Out For Sale by Owner (FSBO) & Expired Listings
FSBO
Prospecting for FSBO and expired listings is another helpful way to generate real estate seller leads. Some owners take the risk of attempting to sell their own homes, which can sometimes work out well, but sometimes not. As agents, we know there are many more components to selling a home than just listing it online and hoping for the best, and that FSBO listings will often not sell as quickly or efficiently as homes listed by an agent.
Getting FSBO listings can be difficult because owners choose to sell their home on their own for a reason. Maybe they had a bad experience previously, they don't want to pay a commission, or they just prefer taking the reins themselves. These listings often get bombarded by agents who also want to list the property, which can irritate sellers. Be careful in your approach and use an FSBO script to show the owner you respect their decision, but should they change their mind, you can add value and assist them in the selling process.
Expired Listings
Similarly, expired listings require careful consideration before speaking with an owner, but they can be lucrative in bringing in seller leads. While FSBO listings are currently on the market, expired listings were previously on the market but for some reason did not sell before the listing expired, and the listing was not renewed.
Expired listings can be found on the multiple listing service (MLS), including the information you need to reach out to the owner (or prior listing agent) to pinpoint the reasons why the property went unsold. Just like with FSBO listings, be sensitive and consider using an expired listing script or expired listing letter to assist with your approach.
You can also identify FSBO and expired listings on Craigslist or through a paid service like REDX. For the low price of $39.99 per month, REDX uses specific search parameters to scour the MLS for expired and FSBO listings, and will import your leads directly into your customer relationship manager (CRM) software. To learn more about REDX, visit their website:
Pro tip:
For additional information on FSBO and expired listings, take a look at:
8. Professional Referrals
In real estate, we connect with different professionals and local businesses every day, including doctors, lawyers, loan officers, financial advisers, accountants, and teachers (to name a few). These folks cross paths with potential real estate seller leads every day. Make an effort to reach out to them and introduce your services. It is important to stay in touch with these individuals and offer referrals to them in turn.
Another extremely valuable professional referral source is agent-to-agent referrals. If you work at a large firm, you may already have a built-in referral network; if not, you can use social media platforms like LinkedIn to connect with other real estate professionals.
Often when people move, unless you have real estate license reciprocity with that particular state, you will not be able to assist someone with buying or selling a property in another jurisdiction. In cases like that, agent-to-agent referrals can bring in additional seller and buyer leads, and you can also send clients to agents in other states to make passive income.
To learn more about real estate referrals, read our Ultimate Guide to Real Estate Referrals.
9. Join a Real Estate Team
Joining a real estate team brings with it connections that generate real estate seller leads. As part of a team, you will share listings, clients, and attend open houses with more experienced agents who have large contact bases to work from.
Many teams also specialize in working primarily with sellers, so you will be able to participate in open houses, listing presentations, and create CMA reports specifically for sellers. Not only will you gain valuable knowledge on how to work with them, but eventually you will also be in charge of handling clients like these on your own.
Bottom Line
While prospecting for real estate seller leads can be difficult, the end value is well worth the time and effort. It is always advisable to diversify your approach so you attract the attention of potential sellers from a variety of different mediums. Ideally, you will employ a mixture of the suggestions outlined above—but no matter which you choose, it is important to remain consistent in your outreach.
For more tips, take a look at our article Top 25 Expert Tips on How to Get Real Estate Clients.