SBA Business Plan Template & Checklist
Businesses applying for a loan through the Small Business Administration (SBA) can benefit from a well-prepared business plan. An SBA business plan is a strategic document that lays out the objectives of your business and the steps you will take to meet those objectives. Using an SBA business plan template can simplify the task of creating your business plan and possibly improve the odds of your loan application being funded. To assist you, we've defined the key components that should be included in your SBA business plan.
Why an SBA Business Plan Is Important
An SBA business plan is important because it provides a strategic framework for how your business will operate. Taking the time to do research and assemble the various aspects of a business plan forces you to focus on areas of your business operations that you may have otherwise overlooked.
Analyzing each section of the business plan and following an approved SBA business plan template can provide answers to questions you weren't aware you should be asking. Entrepreneurs that take the time to create a business plan are 16% more likely to succeed than their counterparts that don't put in the effort.
Small businesses that seek funding, especially in the form of SBA 7(a) loans, will find that SBA lenders require the submission of a business plan with their SBA loan application. Lenders want to be assured you have a viable plan for success. Your business plan, if properly researched and prepared, can provide that assurance.
SBA Business Plan Template Components
An SBA business plan template follows the same format as most traditional business plans and is composed of nine major sections that describe your business. We have created a downloadable checklist and SBA business plan template to help assist you.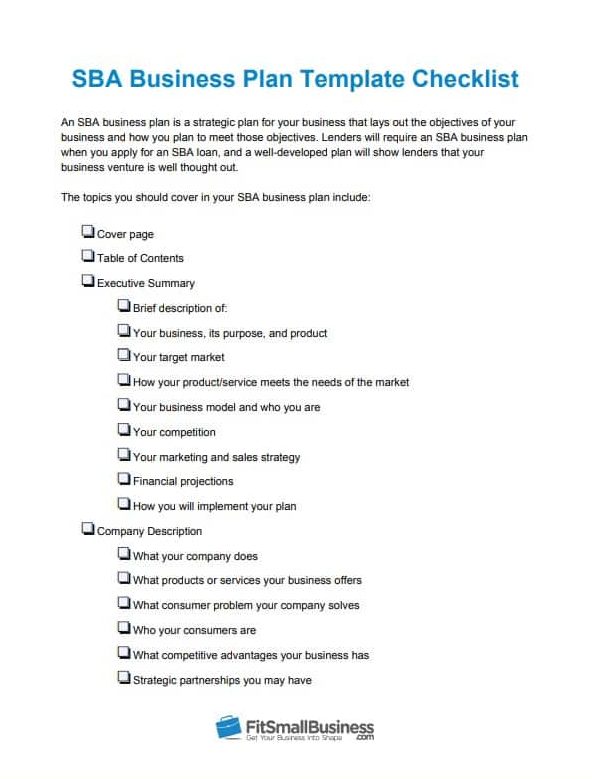 Free SBA Business Plan Checklist
The key components you need to include in your SBA business plan are executive summary, company description, market analysis, organization and management, product or service offered, marketing and sales, financing request, financial projections, and supplemental information.
1. Executive Summary
An executive summary is an introduction to your business plan. This summary should not exceed two pages. The aspects of your business that should be mentioned in the executive summary include:
Introductory sentence introducing your business, its purpose, and product
A short description of the business opportunity
Your target market
How your product or service meets the needs of the market
Your business model and who you are
Market competition
Your marketing and sales strategy
Financial projections
How you will implement your plan
Save the executive summary for last: While it serves as an introduction, it should be the last part of the business plan that you write. This is because the summary is a synopsis of the information detailed in the rest of your business plan and highlights key points for anyone reading the document.
Use only a couple of sentences to address each aspect of your business. You will explain those in greater detail in the sections that follow the executive summary. This section of your SBA business plan is an opening overview that sets up the rest of your plan.
2. Company Description
The company description is the area of your SBA business plan where you detail how your business' product or service solves a specific consumer problem, who your consumers are, and any competitive advantages your business has. Your company description should emphasize the strengths of your business.
The key aspects of your business that should be addressed in the company description are:
What your company does
The products or services your business offers
What consumer problem your company solves
Who your consumers are
What competitive advantages your business has
Strategic partnerships you may have
Be specific as you discuss these aspects of your business, and highlight any strengths your business has over its competitors. This section of your SBA business plan lays out the basic framework of your business and sets the stage for the sections that follow.
3. Market Analysis
In the market analysis section of your SBA business plan, you will detail the market your business is competing in. This analysis explains to your readers your overall understanding of the current market and how your business fits within this market.
The questions you should address in the market analysis section include:
What are other businesses in your industry doing?
What are the strengths of your competitors?
What are the competitors' weaknesses?
Are there market trends and themes occurring?
Why are others successful?
Can you do what the competitors are doing and do it better?
Do other businesses have strategic advantages, such as a great location?
In some industries, such as restaurants or retail, you should also discuss the number of direct competitors that offer similar products or services within your community. If there are no direct competitors, highlight this as a competitive advantage since your venture will be unique to the community.
The intent of the market analysis is to show the reader you have done your research on the current market for your product or service. This section speaks to the viability of your business in the current market, the amount of competition, and how you will position your business for success in the industry.
4. Organization and Management
The organization and management section of your business plan is where you will describe how your business is structured. You will want to describe the legal setup of your business, the organizational structure, and the management team of your business.
The two most important pieces of this section are:
Legal structure: Describe the legal business structure of your company. Will your business be set up as a general or limited partnership, a limited liability company (LLC), a sole proprietorship, or be incorporated as a C corporation (C-corp) or S corporation (S-corp)?
Organizational chart: You should include a copy of your business' organizational chart. The organizational chart for your business shows the management and organizational structure of your business, with job titles and the hierarchy of your management structure.
You will also want to describe how the management team of your business will contribute to its success. Provide a background of your management team's successes and experience. This information will help convince lenders that you are prepared to run your business successfully.
5. Product or Service Offered
This section will provide insight into the product or service your business offers. The aspects of your business that should be discussed in this section of your business plan include:
A description of the product or service you are offering and its pricing
How it benefits the customer
Explanation of the product life cycle
Plans for handling intellectual property, copyright, and patent filings
Discussion of any research and development efforts
Providing additional information regarding how you plan to protect intellectual property will give funders the assurance that you have a plan to secure these intangible assets for your business. Additionally, research and development efforts show that you are continually evolving and improving your product or service.
6. Marketing and Sales
The marketing and sales piece of your business plan will detail how you intend to attract business and generate revenue. This section should include:
Information on how you will market toward your target customers
A description of the sales process
Details about your marketing and sales budget
Your sales and marketing goals
A discussion of your pricing strategy as it applies to sales and marketing
In addition to describing your sales and marketing goals, you should also discuss the efforts you will take to meet those goals. Consideration should also be given to how you will track goal progress for both sales and marketing.
7. Financing Request
One of the primary reasons business owners create an SBA business plan is to show lenders they have a viable business. The funding request section of your SBA business plan should include details of:
The amount of funding you will need
How the funding will be used
The type of funding you are seeking
Any future financial plans for your business
In addition to your current financial needs, you should also use this section to describe future financial plans, including how you will repay debts. You should address both the repayment of existing debt and the repayment of the funding for which you are applying.
8. Financial Projections
The financial projections section of your business plan is intended to convince potential funders that your business is financially stable and projected to remain solvent. The information that should be addressed in this portion of your business plan includes:
Income statements for the last 3 to 5 years
Balance sheets for the last 3 to 5 years
Cash flow statements for the last 3 to 5 years
Any collateral available
Financial projections for the next 3 years, including income statements, balance sheets, cash flow statements, and any budgeted capital expenditures
Explain Your Projections: With your projections, explain how you derived the information you are presenting and how these projections are tied to your funding requests. Growth projections should be realistic and, if above normal market growth rates, explained with additional context.
When projecting future financial performance, we recommend you use monthly projections for the first two years and annual projections for the third year. You can use our SBA loan calculator if you intend to apply for the SBA 7(a) loan. Be sure to consider SBA loan rates and the guarantee fee when projecting your loan payment amounts.
9. Supplemental Information
The appendix of your SBA business plan is where you can include any additional documentation that may be pertinent to your business or that addresses specific lender requirements. This section may include documents like your credit history, resumes of owners, photos of products, or letters of reference. The appendix is also the proper place to include any legal documents, contracts, licenses, or permits pertaining to your business.
Occasionally, a lender may ask you to provide additional information that is not typically part of a business plan, or that you may not have included when drafting your plan. Any information that does not fit into one of the pre-defined sections can be included in the appendix as needed.
Resources to Assist With Creating an SBA Business Plan
There are several resources available to assist with preparing your SBA business plan. These resources offer free or low-cost guidance that can help in the preparation of the plan, in the vetting of the plan, and possibly in connecting to local lenders.
Bottom Line
Using an SBA business plan template can help ensure that you have addressed all the required information in your business plan when applying for an SBA loan. Business plans address all the major aspects of your business and serve as a roadmap for how the business will operate. Putting in the time to research and thoughtfully write your business plan can help increase your odds of getting funding.