What Is Unified Communications? A Guide for Small Businesses
Unified communications, or UC, merges voice and video calling, messaging, and file sharing into one platform. It gives your team a single tool for collaborating across multiple channels, resulting in productivity and user experience improvements. This small business guide to UC discusses what's included in a UC system, how it can help your business, and what to look for when choosing a provider.
How Unified Communications Systems Work
Unified communications systems work by sending and receiving voice, video, and text data from a single application over the internet using voice-over-internet-protocol (VoIP) technology. This then allows the system to become the central hub for your team, enabling them to shift between communication channels and share files without switching applications. For instance, they can make calls to colleagues, switch over to a group chat, or initiate a video conference, all from the same app.
This interconnection between communication channels also offers other benefits. For example, RingCentral's MVP platform makes its already robust business phone system even more powerful by letting team members see which co-workers are online and free to collaborate versus which are busy in other meetings, which can reduce the risk of lost time playing telephone tag.
Top Features for UCaaS
Cloud-based systems, commonly referred to as Unified Communications as a Service (UCaaS), use voice-over-internet-protocol (VoIP) technology to send and receive data over the internet. However, the way it manages other communication tools and the cost varies by provider. That said, each feature added improves the usability for remote and hybrid work-from-anywhere teams and reduces the need to open multiple applications.
Some of the most useful features of UCaaS systems include:
Team Collaboration
On a basic level, most UCaaS systems support file and screen sharing. In addition, cloud-based private branch exchange (PBX) systems also support team collaboration. In either case, teams interact in real time using the united communications app to chat, talk, and work together on projects.
As the number of hybrid workplaces increases, having a central hub for collaboration improves both customer and employee experiences. Your UC platform becomes a virtual, digital workspace where team members can use their preferred devices and communication methods. Therefore, UC systems are essential to employers wanting collaborative, yet adaptive digital environments.
However, it is worth noting that many of these systems work best for internal team meetings because they do require each participant to have access to a desktop or mobile app. This is why some businesses may choose to also integrate their UC system with other platforms customer-facing agents use, like Microsoft teams or its alternatives.
SMS Business Texting
All unified communications systems support business text messaging. UC users can send and receive text messages using any internet-connected device. Plus, since conversations reside on the UCaaS platform, your team can view text communications in one spot.
It also unifies other conversations. A customer's text can be added to their record and show up alongside their phone calls, help desk tickets, and emails. In some cases, business owners can even drop their business cell phone plans altogether and replace them with a UCaaS or VoIP softphone app.
Virtual Fax
Like text messaging, sending faxes used to require a separate device (a fax machine.) Then unified communications built virtual fax capabilities into the app, allowing team members to incorporate fax communications into customer records and send a fax without bulky equipment. Most VoIP plans let users send or receive faxes using their business phone number.
Conferencing Tools (Video & Audio)
Your company may already use video conferencing software to host large meetings or face-to-face online collaboration sessions. But UC puts these capabilities into your UCaaS app so your team no longer needs to open and log into a second application. Instead, they can jump into a meeting while keeping track of incoming messages without switching programs.
In addition, UC systems may integrate with your current video conferencing software. In this case, your staff may schedule and join a call using their preferred platform.
Why Your Business Needs Unified Communications
According to Gartner, 53% of the U.S. workforce will soon be "a mix of hybrid and fully remote" workers. The shift to flexible workspaces makes unified communications more important than ever before. Your team likely already depends on cloud-based platforms like accounting and customer relationship management (CRM) software in addition to your business phone service.
In each case, information gets siloed in those systems. If a customer calls, your team may need to open several programs to fully understand their background and current situation. This is time-consuming for staff and frustrating for callers.
You can run into other issues as well. If your employee is chatting with a client and wants to speak with them via video, they may need to switch platforms, risking a dropped call during the transfer.
On the other hand, a unified communications platform lets you jump seamlessly between phone, video, and chat tools within the same system. Many UCaaS solutions also integrate seamlessly with popular business software, which still gives you a central spot for customer data as well as communications.
Benefits of Unified Communications
The advantages of using unified communications within a UCaaS system are vast, especially in the digital age where there's a risk of disjointed communications and a drop in spontaneous collaboration with online workplaces. Companies can mitigate these effects by using a UC platform.
Unified communications benefits include:
Increased productivity: Switching apps reduces focus and eats away at your time. In contrast, UC puts information from multiple channels at your fingertips. You can complete a task and solve a problem without opening different programs or browser tabs.
Improved experiences: Positive employee and customer experiences are both vital to the success of your small business. A centralized platform is more convenient, easy to use, and gives your team faster access to managers and co-workers. Plus, having access to prior conversations helps agents tailor messages and respond to problems.
Decreased business silos: Siloed systems tend to isolate information. Your CRM holds contact information, accounting tools capture billing data, and your VoIP system tracks calls—but don't share information between them easily. UC lets teams access all these types of details in one place online.
Reduced costs: A VoIP-based unified communications platform reduces business expenses by eliminating the need to pay for separate video conferencing, texting, and instant messaging tools. You may also be paying for various cloud tools that enhance your phone system, such as an auto-attendant phone system, that can be replaced by a UCaaS system.
Ensured business continuity: Adaptive workspaces allow teams to access data and work from anywhere they have a high-speed internet connection. Since UC systems work equally well during disruptive times, staff is still able to interact with customers and each other, even when your physical workplace is unavailable.
Where Unified Communications Falls Behind
Although unified communications is an excellent option for most small businesses, there are challenges. Additionally, all UCaaS platforms aren't created equal. For example, a virtual business phone number provider may offer some UC features, like file sharing, yet not integrate with calendars or CRMs.
The potential challenges associated with unified communications include:
Slow adoption rates: Your team may be comfortable with their existing tools and unwilling to shift to a new platform. If everyone isn't on board, it's harder to ensure consistent experiences.
Learning curves: You may need to train employees and reconfigure workflows to suit a digital workplace. Plus, your information technology (IT) team may require guidance to properly connect and troubleshoot your unified communications platform.
Interoperability: While most UC tools include softphone apps for cell phones, tablets, and computers, you may need adapters for non-IP desk phones. Also, your VoIP system may not integrate with your mission-critical tools, leaving a good chunk of data and workflows dependent on opening other apps.
Infrastructure: All of your company's UC users need high-speed wired or wireless internet connections and some may need new equipment to use your UC system's features. Areas with spotty service face barriers when adapting VoIP and unified communications technology.
How to Choose a UCaaS Platform for Your Business
Unified communications systems differ when it comes to features, functionality, and scalability. A company looking for a small business VoIP service with file and screen-sharing capabilities for on-site employees may have fewer requirements than an organization with a fully remote, global workforce.
Before comparing UCaaS platforms, consider the following questions:
How many employees and devices will access your UC solution, and are they on- or off-site?
Do you need a solution that works for international employees or customers?
Will you use existing handsets or do you want new equipment?
Can your current internet and Wi-Fi support UCaaS or do you need to upgrade your infrastructure?
Will your IT team need help with implementation and migration?
What features does your business require and which would be nice to have?
Do you expect the UCaaS to replace current technology services, such as Zoom?
What types of integrations do you need, and will application programming interfaces (APIs) be necessary?
Do you need to comply with privacy or security standards such as HIPAA-compliant video conferencing or FedRAMP for cloud storage?
What types of customer service does your business need to provide, and during what hours?
Do you need cloud file storage and backup capabilities for voice and video recordings?
What types of remote management and reporting options does your business require?
Once you have the answers to these questions, you can look for solutions that closely fit your needs. Take advantage of free trials and UCaaS demonstrations to see how a service will work for your team. Plus, check for customer reviews and available self-service and support tools.
UC Risks & Security Issues
Cloud-based tools and remote workforces can increase the number and frequency of cyberattacks. There are simply more endpoints to track and update, making it harder for small businesses to oversee and manage.
The most significant security issues include:
Denial-of-service (DoS) attacks: These attacks flood your cloud services with traffic or requests, slowing them down or halting access altogether.
Unsecured apps on remote devices: Employees may use unapproved applications or fail to use adequate security tools on their devices, giving hackers opportunities to breach your network.
VoIP fraud: Also known as theft of service, VoIP fraud occurs when cybercriminals access your system to make scam calls.
Data center threats: Providers store your data in various locations which, even though secured, may still be vulnerable to hacking or natural disasters.
You can reduce your risks by developing password and app security policies and ensuring user access permissions match each employee's role. You can also help mitigate security risks by choosing a reputable VoIP provider for UC and deploying robust security tools to protect your system.
Unified Communications Platform Providers
Several VoIP providers function as unified communications platforms. UC VoIP providers offer plan tiers that provide more capabilities, such as custom integrations and call recording, in higher-priced packages. Explore some of the most popular UCaaS platforms below and compare their solutions to your UCaaS checklist.
RingCentral Overview


RingCentral MVP offers four VoIP plans with a local or toll-free number and unlimited calling within the U.S. and Canada. Its features include vital unified communications tools like document and calendar sharing, team messaging, and task management.
However, subscription to an upper-tier plan is required to access CRM and custom integrations. Prices start at $29.99 per user, per month for two to 20 users, but you can save up to 33% with annual prepayment.
PROS

CONS

Tons of how-to guides, videos, and courses
Higher price for solo users compared to other solutions
Visual voicemail comes with all plans, including transcribing voice messages to email or text
CRM integrations only included in the top two tiers
Easy-to-implement integrations
Unlimited virtual fax isn't offered on the entry-tier plan
RingCentral Features
Out-of-box integrations: You won't need an IT team to connect some integrations to your RingCentral MVP account, including Asana, Jira, Box, OneDrive, and Google Drive.
Team collaboration: Chat with teams, view presence information, and assign tasks within the RingCentral app. Use whiteboards and private messages to interact together in real time.
Call flip: Switch devices mid-call without putting your customer on hold or transferring them to another user, and move seamlessly between chat or voice calls to a video meeting.
Nextiva Overview


Nextiva is a top VoIP provider offering four plans. Each comes with a toll-free and local number, unlimited calling to the U.S. and Canada, and several unified communications features. Like RingCentral, Nextiva users can chat privately or as a group and share screens and documents.
Subscription to an upper-tier package is needed to access call recording or advanced integrations such as HubSpot and ServiceNow. Prices start at $29.95 per user, per month for five to 19 users, and Nextiva also offers both prepayment and volume-based discounts.
PROS

CONS

Entry-level plan includes unlimited virtual faxing
Entry-level plan doesn't include unlimited SMS and MMS texting
Higher allotment of toll-free minutes than RingCentral or 8x8
No in-app document or screen sharing on the cheapest package
Unlimited video and audio participants on higher plans
Doesn't offer a low-priced entry-tier version
Nextiva Features
Customer support: Nextiva has an extensive knowledge base and supplies customer service through live chat, a toll-free phone number, email, and help desk tickets.
Toll-free minutes: All Nextiva plans provide from 1,500 to 12,500 toll-free minutes, whereas RingCentral versions come with just 100 to 10,000 minutes, and 8×8 packages don't include any.
NextOS app: The NextOS unified communications app puts phone, email, chat, and SMS conversations on a single platform, making it easier to build and monitor customer relationships.
8×8 Overview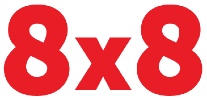 8×8 is a VoIP unified communications platform that lets you mix and match plans. It offers a robust entry-level package with unlimited audio and video conferencing. All 8×8 versions include meeting recording and transcription, team messaging, and document sharing.
Unlike other providers, 8×8 has packages with unlimited international calls for up to 47 countries. Prices start at $12 per user, per month, and 8×8 gives annual prepayment discounts for X-Series plans.
PROS

CONS

Entry-level plan costs less and offers more features than competitors
Self-service tools and tutorials are harder to understand than competitor content
All plans include video and audio conferencing for up to 100 participants
Provides fewer customer service options than competitors
Meeting recording and transcription is a standard feature
Mobile apps receive lower ratings than RingCentral apps
8×8 Features
X-Series integrations: X-Series plans start at a lower price than RingCentral and offer around 50 integrations, including Microsoft Teams, Google Workspace, HubSpot, and Zendesk.
Security: Increase privacy and improve security by designating group chat rooms as invite-only, private, or public. Plus, the services are HIPAA and FISMA-compliant.
Video conferencing: 8×8 supports high definition video conferencing for up to 500 participants, depending on the plan. You can blur backgrounds or select an image. It also offers dial-in numbers for more than 50 countries, including 11 toll-free numbers.
Frequently Asked Questions (FAQs)
What are examples of unified communications?
An example of unified communications is chatting with a co-worker or customer and then switching from chat to video meeting without using a different application. Another example includes team members annotating a document in real time while chatting and receiving a screen pop notification when a phone call comes in.
What is a unified communications strategy?
A unified communications strategy involves auditing your workflows and business processes to see how, when, and where your staff communicates and collaborates. Your audit should include the software used by different team members and highlight opportunities to save time or improve experiences through integrations.
What is the difference between UCaaS & CCaaS?
UCaaS means Unified Communications as a Service, whereas CCaaS stands for Contact Center as a Service. The products differ in their approach. While UCaaS focuses on solutions for teams, CCaaS is geared toward customer-facing solutions. CCaaS is also therefore more likely to include skills-based call routing and sales and customer service integrations.
Bottom Line
With a centralized, unified communications hub, your team can stay focused on collaborating instead of app-switching. While basic voice and text VoIP systems serve a purpose, unified communications platforms support instant messaging, email, and video services. UC unifies your team's conversations and provides a space for real-time interactions.