Zoom Review: Is It the Best for Video Conferencing in 2022?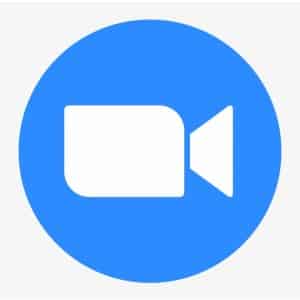 Zoom is the leading video conferencing platform and is well-suited for use by businesses of all sizes and any industry. It's loaded with video conferencing features, and Zoom reviews show the software is easy to use and highly trusted by users. Plus, Zoom's Basic plan is free, making it the best option for many small business owners looking for a standalone virtual meeting solution.
Zoom Overview
Video conferencing is a standard collaboration tool for both in-office and remote workforces, and Zoom is the number one used virtual meeting platform in 44 countries. Zoom boasts a clean user interface (UI), easy download and setup, feature-rich meetings, and more than 1,000 apps and integrations. Zoom is also affordable and loaded with robust features like breakout rooms, whiteboard, webinars, and an up to 1,000-participant hosting capacity.
Users looking to expand to channels beyond video conferencing can also purchase Zoom Phone, while those wanting a unified communications platform should check out Zoom United plans. These options open up valuable channels for business communication that are particularly valuable for smaller companies.
Zoom's only major hiccup is a slew of historical security breaches exposed in early 2020 that the company has since patched. Zoom has even launched a Health Insurance Portability and Accountability Act of 1996 (HIPAA)-compliant solution since that time.
PROS

CONS

Robust features like breakout rooms, 1,000-participant caps, webinars, and appearance touch-up
Security and privacy issues still cropping up, in part due to users not updating to newer versions of the software
1,000+ integrations with third-party applications
Low cloud recording storage in comparison to competitors
Affordable plans with great value for your money
Lacks high-definition (HD) video for meetings with 3 or more participants
Voice calling and short message service (SMS) texting options with Zoom Phone
Unified communications functionality with Zoom United plans
Expand with 500 to 10,000+ participant caps with a Zoom Events and Webinar subscription
What We Recommend Zoom For
We recommend most businesses look at Zoom when considering an overall video conferencing solution. Other platforms have more niche features like virtual spaces, browser extensions, and built-in meeting notes. However, Zoom delivers well when it comes to the essentials like being able to support large meetings, call recordings, in-meeting chat, single sign-on (SSO), and recording transcripts.
In addition, companies wanting to house all of their communications in a single unified communications platform can now add a Zoom United plan. Users can gain access to large video conferencing and webinar software with Zoom's new Events & Webinar plans. Small companies needing a phone system can also now look at the new Zoom Phone plans when comparing voice-over-internet-protocol (VoIP) providers.
Zoom Is a Good Fit For
Small businesses looking for an easy-to-use, standalone video conferencing platform: Zoom's user interface (UI) is easy to learn and master and integrates with many popular business phone systems. New users have no problem joining meetings and finding the essential buttons to start and stop their video or audio, while pro users can navigate from whiteboard to screen sharing to breakout rooms with ease.
Businesses that want a robust, free video conferencing plan: Zoom's free plan lets users host up to 100 participants for an unlimited number of 40-minute group meetings. One-to-one meetings can be as long as 30 hours. Plus, it includes an in-app private and group chat.
Teams that want advanced video conferencing features: Not every video conferencing platform offers features like breakout rooms, appearance touch-up, virtual backgrounds, and noise canceling. If you want the best-of-the-best as far as the included range of video conferencing features, choose Zoom.
Businesses looking to integrate Zoom into their tech stack: Zoom integrates with more than 1,000 third-party applications. If you're looking to connect Zoom to your customer relationship management (CRM) software or another app, there's a good chance an integration already exists.
Zoom Might Not Be a Good Fit For
Companies wanting a lot of user seats on a tight budget: Zoom plans can get expensive as they scale. Enterprise accounts and add-on pricing make Zoom unrealistic if you need to purchase licenses for hundreds of users. RingCentral Video, which topped our list of the best video conferencing software, also offers a free version and integrates seamlessly with RingCentral MVP's unified communications tools, giving you a lot of bang for the buck as your business scales.
Businesses holding large-capacity webinars: In this case, you should check out Microsoft Teams, which is one of the best Zoom alternatives. You get up to 10,000 video conferencing participants with its Office 365 E3 plan at just $20 per user, per month.
Businesses that prioritize top-notch security: Zoom has a troubled history with security issues and "Zoombombing," which is when uninvited guests invade Zoom meetings. While it's come a long way, including implementing a new policy forcing users to upgrade to newer versions at least once every nine months, it's still not the most secure option. If security is a top issue, consider 8×8. It's the Zoom alternative best-known for security features and compliance standards.
Zoom Pricing for Video Conferencing
Zoom pricing for Zoom Meeting plans falls into the mid-range compared to competitors. While there are cheaper video conferencing options, they generally don't provide the same value for the money that Zoom does.
All plans, including the free version, include screen sharing, breakout rooms, virtual background, private and group chat, host controls, whiteboarding, and both TLS and AES-256 encryption for real-time data. It recently added new features to all plans, including colorful filters and fun stickers to make virtual happy hours more fun as well as the ability for users to pin multiple people or for the host to pin the participants whose videos they always want to see.
Zoom Plans

Basic

Pro

Business

Enterprise

Best For

Solopreneurs and small businesses that don't need group meetings longer than 40 minutes

Solopreneurs and small businesses that want to host longer meetings and need cloud recording storage

Small and midsize businesses that want to host up to 300 participants and need SSO

Enterprise-size businesses that want to host up to 500 participants and want unlimited cloud storage

Monthly Pricing

($/User/Month)

Free

$14.99

$19.99

N/A (annual billing only)

Annual Pricing

($/User/Month)

Free

$12.49

$16.66

$20.00

User Count

9,999

1-9

10-99

50+

Participant Limit

100

100, or up to 1,000 with Large Meetings add-on

300, or up to 1,000 with Large Meetings add-on

500, or up to 1,000 with Large Meetings add-on

Group Meeting Length

40 minutes

30 hours

30 hours

30 hours

Recording

Local

Local and 1GB cloud (per license)

Local and 1GB cloud (per license)

Local and unlimited cloud

Support

Help center

Ticket and live chat

Ticket, live chat, and phone

Ticket, live chat, and phone

Social Streaming

✕

✓

✓

✓

Live Transcription

✕

✓

✓

✓

Co-host / Alternate Host

✕

✓

✓

✓

Assign Meeting Scheduler

✕

✓

✓

✓

Reporting

✕

✓

✓

✓

Recording Transcripts

✕

✕

✓

✓

Company Branding

✕

✕

✓

✓

SSO

✕

✕

✓

✓

Bundle Discounts

✕

✕

✕

✓
Zoom Video Conferencing Add-ons
Add-ons include things like higher participant caps, increased storage, and additional call-in features your business might want. Among the add-ons Zoom Meeting users have access to are:
Large meetings: Starting at $50 per month ($600 per year) to expand to 500 or 1,000 participants depending on your current plan
Audio conferencing: Starting at $1,200 per year to add Call Out, global toll-free and local dial-in for premium countries, make it free for participants to join from any device, and get toll-free call-in for one or multiple countries
Cloud storage: Store, stream, and download your video recordings from the Zoom Cloud, up to 3TB per month starting at $480 per year
Premier support or premier developer support: Tiered support packages to help reduce risk and minimize downtime, or get Premier+ to have a Technical Account Manager to escalate issues and ensure resolution
Zoom Features
Not only is Zoom the leading video conferencing solution, but it's also branching further into VoIP technology and webinars. Whether you want to host meetings with 1,000 participants or increase collaboration with whiteboards and breakout rooms, Zoom now offers all the features a small business needs for unified communications.
General Features
Video conferencing with up to 1,000 participants
Screen sharing and co-annotating
Whiteboarding
File sharing
Breakout rooms
Calendar integrations
Meeting recording
Desktop and mobile apps
Team chat
Zoom has all the essential features you need to host high-quality video conferencing meetings. Whether you need it for high-definition (HD) one-to-one meetings, large group meetings, or one-to-many webinars, Zoom can support your needs.
---
Zoom Meetings
Zoom video conferencing, now called Zoom Meetings, is the company's bread and butter. With the large meeting add-on, you can host up to 1,000 participants with a maximum of 49 live screens in Gallery View.
Group meetings can last up to 30 hours, and businesses can upgrade to get unlimited cloud storage on the Enterprise plan. Zoom Meetings provides several collaborative features to improve engagement and collaboration. These include breakout rooms, whiteboard, co-annotation, screen sharing, polling, private and group chat, and live transcription.
---
Zoom Phone
Zoom Phone is the VoIP business phone system solution the provider added last year. Businesses can pay anywhere from $10 to $20 per user, per month to get access to unlimited domestic voice calling and SMS. Plans also include metered pay-as-you-go, unlimited, and select versions.
Zoom Phone includes features such as:
Toll-free numbers
HD call quality
Voicemail transcription
Auto-attendants
Call handling (barge, monitor, whisper, and takeover)
Call recording
Call presence
Team messaging
Integrations
Mobile and desktop apps
Like Zoom Meetings, Phone plans also come with optional add-ons. Examples include toll-free or additional local or international numbers, an international calling add-on, and a $5.99 per month hardware as a service subscription. There is also a Zoom Power Pack for real-time and historical call queue analytics and reports as well as Premier Developer Support.
---
Zoom Events & Webinar
The new Zoom Events & Webinar plans enable you to host one-to-many events and webinars. As the host, you'll be the one presenting, while attendees will have limited engagement options compared to Zoom Meetings. It integrates with customer relationship management (CRM) and other software, making it easy for you to convert registrations and attendees to leads. You can even monetize webinars through this platform.
Zoom Events & Webinar is best if your company hosts events like all-hands meetings, conferences, or large group presentations, or wants to monetize educational webinars. Depending on the settings you choose, attendees can participate via chat and polls, or you can invite other users to share their screens.
Zoom Webinar features include:
CRM and marketing automation integrations
Livestreaming to social media and other third-party platforms
Cloud recordings
Engagement reports
In-webinar chat
Customizable registration
Live transcription
---
Zoom United
Another new offering in the Zoom family of communications tools is Zoom United. It combines Zoom Meetings, Phone, and Chat into a unified communications solution with three plans ranging from about $21 to $30 per user, per month.
Zoom United plans include:
Unlimited calling within the U.S. and Canada
A U.S. or Canada phone number for every user
Dial-by-name directory and automatic call distribution
Plans mirroring Zoom Phone plans
Video conferencing features in plan tiers mirror Zoom Meeting plan tiers
Optional add-on for unlimited calling in 18 countries (Business and Enterprise tiers only)
Key integrations for modern business phone systems including Salesforce, Slack, contact center software, Microsoft Calendar and presence, and Google Calendar and Gmail
---
Integrations
Connect Zoom to your tech stack by taking advantage of the more than 1,000 third-party integrations available across Zoom Meetings, Zoom Phone, and Zoom Webinars. Plus, if you can't find an existing integration, your developers can leverage Zoom's application programming interfaces (APIs), software development kits (SDKs), and webhooks.
Here's a shortlist of integration categories Zoom supports:
Calendaring and scheduling
Collaboration
Meeting transcription
Customer relationship management (CRM)
Education and learning development
Analytics
---
Ease of Use for Zoom Meetings
Zoom's popularity spread because of its widespread availability as well as its intuitive interface and ease of use. New users can quickly navigate the user interface and find the functions they need for a successful one-to-one or group call.
Even in the free version, users can easily schedule meetings in advance and invite participants. Invites include the Zoom meeting link as well as sign-in information, call-in numbers, and calendar files for Google Calendar and Microsoft Outlook. Invitees can click the Zoom link from the meeting invitation or calendar event and quickly join the meeting without having to type in a lengthy passcode.
On the downside, users must download the Zoom application to use it on their desktop or mobile device. Some other alternatives, such as Livestorm, Zoho Meeting, and RingCentral, let you host and join meetings straight from your web browser—no downloads necessary.
Zoom Video Conferencing Alternatives
Zoom might be the leading video conferencing solution in the world, but that doesn't mean it's a perfect fit for every business. Whether you need different pricing, features, or security protocols, here are a few of the best Zoom alternatives to consider:
| | | |
| --- | --- | --- |
| | | |
| Best for: Businesses that want robust account management features, such as admin portal, diagnostic reports, and security options | Best for: Companies that want advanced features like voice commands and artificial intelligence (AI) assistance | Best for: Businesses looking for a collaborative workspace with video conferencing functionality starting at a low price |
| Starting price: $12 per user, per month | Starting price: Free | Starting price: Free |
| | | |
GoToMeeting is a top Zoom alternative, but it does lock some features behind higher-tier plans. If you want options that might have better audio quality or include more features in base and low-tier plans, check out our list of the best GoToMeeting alternatives.
What Users Say in Zoom Reviews
We're big fans of Zoom, but we wanted to see what other users think about the video conferencing platform in Zoom reviews. Generally, most people love Zoom's user interface and ease of use, and those who use features like breakout rooms and whiteboard only have good things to say.
We collected average ratings from third-party websites to learn about thousands of experiences based on users' Zoom reviews:
Among negative reviews, some users didn't love that Zoom's group video meeting quality was reduced to 720p rather than HD 1080p. However, this may be a temporary bandwidth issue as Zoom works to keep up with its rapid growth and new user count.
Bottom Line
If you need a reliable video conferencing platform to support any size business, Zoom is a more than worthy consideration. Zoom reviews receive high ratings from users. It provides the features, scale, and pricing you need to get started and keep using the platform throughout the life of your business. Plus, additional plans like Phone, Events & Webinar, and United enable your business to expand its communication program in many capacities.