How to Record Online Meetings & Share Them With Colleagues
Since the onset of the 2020 pandemic, online meetings for everything from daily team huddles to company meetings and customer presentations have experienced a massive uptick. The last thing you want is for the information shared in your business' online meetings to be lost or inaccessible by other members of your team. Find out how to record online meetings so you can capture and preserve meeting content and share it with your colleagues and customers.
1. Sign Up With a Service That Supports Online Meeting Recording
The process of how to record an online meeting and later share it is easy and involves just a few steps. However, the first step in the process is to sign up with a service that supports this functionality. Fortunately, the majority of audio and video conference providers grant at least some form of conference recording on their free and paid plans. For example, while Zoom only has cloud storage options for its free version, any user can save files locally for later review.
Provider Options at a Glance
| Provider | Recording Limits | Storage for Free Plans | How Long Meetings are Available for Download | Website |
| --- | --- | --- | --- | --- |
| | From 1GB per licensed user to unlimited storage | Local recordings only | 28 days | |
| | From 30GB to unlimited storage | 15GB | Unlimited | |
| | Unlimited | None | 21 days | |
| | Unlimited | No free plan | 90 days | |
| | From 1GB per licensed user to unlimited storage | Local recordings only | 30 days | |
2. Tell Participants They Are Being Recorded
Announce that you will be recording the meeting. Some services will do this for you automatically. For example, when the meeting host presses the record button on Zoom, all participants are given the option to confirm recording or leave the conference. When the attendees are presented with this choice, the video recording won't start until each attendee confirms or leaves the conference.
3. Specify Where to Save Your Meeting Recording
This step will vary depending on what service you use. For the purposes of this piece, we will use Zoom as an example. For conferencing solutions like this Zoom, you can choose to save your recording on your desktop or on the cloud. Both destinations have their benefits. Saving a recording on your desktop can give you greater piece of mind that your meeting recording is secure and can be best for recording sensitive meetings while saving your meeting to the cloud allows you to access your meeting recording from any device.
4. Start Your Recording
Recording your meeting then is typically as simple as hitting a button on a tool bar. In the case of Zoom, the service also allows a host to give permission for another meeting participant to start recording by setting them up as the alternative host. Zoom will notify all attendees with an audio script that says, "Recording in progress" and "Recording stopped" at the end of the recorded session. Here's a look at the record button: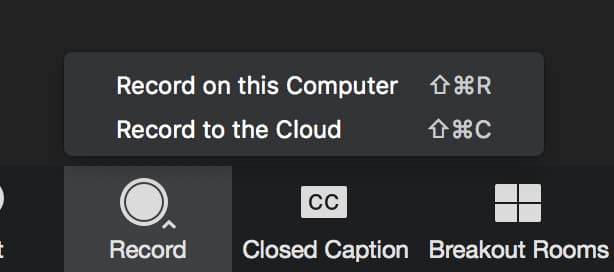 The same button is pressed to end the recording. As you can see, by default, the solution allows you to determine your recording location (whether to the cloud or your computer). For the sake of future sharing, Zoom also sends a link to the cloud-saved meeting to the email address registered to the Zoom account.
How to Share an Online Meeting Recording
As with how to record, the process of how to share your recording varies based on whether the recording is hosted in the cloud or was downloaded to your computer. Locally saved versions of your online meeting will generally need to be shared through a third-party service like Google Drive, Dropbox, Microsoft One Drive, or Box since the size is far too large to send as an email attachment.
Most providers, like Zoom, record conferences in a format like MP4, which should be viewable on most devices. When the link is sent, you can expect a password-protected variation you can use should confidential information be included in the conference, or sharing needs to be limited for some other reason.
You can also directly share the meetings on video-sharing platforms like YouTube, assuming they aren't confidential. For internal users, you may be able to share your recordings via your company's server, intranet, or even its customer relationship management (CRM) software.
For those who opted for a cloud-based recording, sharing is typically easier since most video and audio conferencing providers send links to any recorded meetings via email. Once you have a link to your cloud-hosted recording, it's easy to send it to stakeholders via a team chat applications like Slack or Microsoft Teams, through standard email, or by placing the link on a web or landing page.
Why You Should Record Online Meetings
According to Sage, from December 2019 to April 2020, Zoom, one of the most popular video conferencing and unified communications providers, saw an increase of 290 million daily meeting participants, going from 10 million to 300 million per day in just a few short months. For this reason, platforms that allow your business to record and share meetings have become a must-have.
While video conferencing has become quite popular, audio conferences are also seeing growth thanks to the advent of work-from-home and distributed teams. No matter how you hold your meetings, there are several reasons why you might want to record them, whether online or off.
Here's a breakdown the best reasons to record online meetings:
Missing stakeholders: Whether or not they are working remotely, team members who are on paid time off or who have emergencies come up should be able to feel included. With meeting recording and sharing, those missing from the initial meeting are able to catch up easily.
Heightened transparency: Over time, your business might need to publicize what was discussed in meetings. When you're recording your meetings for posterity, having a visual and audio record of what was discussed could be invaluable.
Providing a reliable source of truth: Meetings are where many business decisions are hashed out, assignments are given, and promises are made. Unfortunately, team members may occasionally have different recollections about what was discussed after some time has passed. Having meeting recordings that can be shared with the entire team and used as meeting minutes ensures that there's a reliable source of truth that can be referred to at a later date.
To identify and make improvements: Meeting recordings are a great way to help team members improve presentation skills from week-to-week or day-to-day. Not everyone is a natural presenter. Checking out past recordings is an excellent way for employees who need to excel at making presentations see and work on how they handle themselves.
Frequently Asked Questions (FAQs)
Is video recorded or just audio with most providers?
When a virtual meeting (also known as an online video conference) is recorded, both the audio and the video in the meeting are recorded. This ensures that anyone who watches the meeting later gets the same experience they would have gained if they had attended the meeting when it was held. Some platforms even record chat notes and other interactions, so if this is important to you, make sure your provider includes this.
Is recording virtual meetings & video conferences legal?
Yes, recording online meetings is perfectly legal, and all participants are asked to confirm their consent when the recording begins. If a session is recorded and shared without everyone's consent, it could be considered a breach of privacy. In some states, recording a person without their permission is considered a felony.
Is it better to record in the cloud or locally on a computer?
It doesn't matter whether you record your team's meetings in the cloud or locally. The audio and video quality of the files will be the same. The primary reason you would want to save the data over the cloud is because it makes sharing it with colleagues, customers, or other stakeholders much easier.
Can participants opt out of being recorded?
When the meeting host presses the record button, a notification is sent to all attendees on the call to provide consent to being recorded. You can say yes or no to this prompt. Before you agree, your video will be turned off, and your microphone will be muted. Once you agree, these functions turn back on. If you do not agree, you will be disconnected from the meeting.
Bottom Line
In the current business world, recording and sharing meetings is critical. Fortunately, the best video conferencing software providers, like Zoom, Webex, and Microsoft Teams, provide ample options for any user to record online meetings as well as share the sessions afterward.