How to Build a Positive Sales Culture
Sales culture directly reflects the values, habits, and feelings of a sales team. A positive culture supports performance, profitability, high job satisfaction, and low turnover. To build a positive sales-driven culture, you will have to address the workplace environment from compensation and communication to collaboration. You also need to give your team the tools they need to succeed, put a healthy spin on competition, and promote coaching and continuous learning.
Positive sales-driven cultures are merit-based, team-oriented, supportive, and encourage continuous learning as opposed to toxic environments with cutthroat competition, limited resources, and high stress. Here are eight best practices and resources for building a positive sales culture in your business:
1. Create a Desirable Workplace for Job Satisfaction
Though it seems more like the human resources department's job, creating an environment within the sales operation that is desirable to work in is the first step in creating a solid sales-driven culture. Culture and job satisfaction go hand-in-hand and directly impact employee turnover. When job satisfaction is low and employee turnover is high, it yields a negative sales culture by default.
The first way to create a desirable workplace is by compensating sales employees properly. In sales, performance-based compensation using commission or sales bonuses are an effective way to keep reps motivated and satisfied with their job. Performance-based compensation should be in addition to a base salary to ensure that even on bad months, sales reps have income.
Performance-based compensation should be managed fairly and taken seriously. A sales employee will be frustrated if they closed a large deal but were not paid for it, and the subsequent loss of trust will negatively impact culture afterward. Commission tracking tools like QCommission and Blitz can be used to monitor sales performance and calculate commissions for sales teams.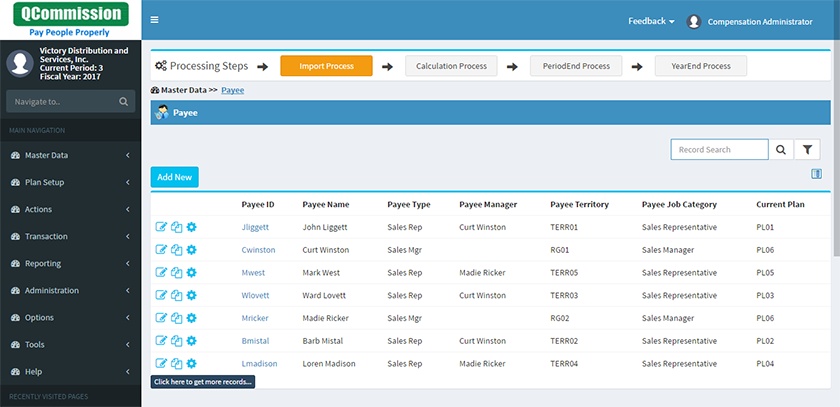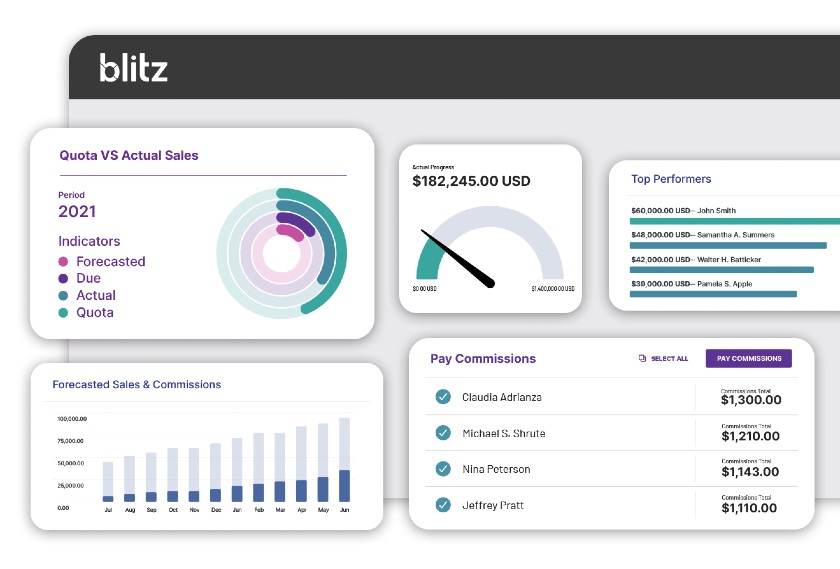 Another way to foster job satisfaction is by demonstrating every job title is essential to the organization, and that no position within a sales department is more important than another. Keep in mind that in sales departments, there are often multiple roles represented within inside sales, outside sales, and account management functions.
Typically, inside sales positions, such as a sales development representative (SDR), are entry-level sales positions leading up to an outside sales role like an account executive (AE). That being said, it's very easy for AEs to think that SDRs are "under" them, because it is usually the SDR setting up appointments or doing prospect research for an AE.
Everyone needs to understand that the sales team is a cohesive and symbiotic unit, meaning that every position needs the other to perform well and should treat one another as equals. For example, if an AE is talking with a prospect about having an SDR send additional information to them, the SDR shouldn't be referred to as "my SDR" or (worse) "my assistant"; use less hierarchical terminology like "my team member" or "my associate" instead.
Providing the right sales technology to your sales team also helps promote and reinforce best practices to ensure they are being followed. For example, tools like SurveyMonkey can help you receive feedback from employees to confirm if the department's and company's practices are being implemented and the extent to which they are promoting a healthier sales culture.
2. Celebrate Wins
Celebrating even seemingly small wins can create a more positive sales culture for employees. Acknowledge all successes—large and small—using both big and mini-celebrations as a way to build an upbeat, sales-driven culture. One example of this is creating a fun ritual, such as letting a new sales rep cut the tie of their manager in half after closing their first deal.
Another common way sales teams celebrate wins is by ringing a bell anytime an appointment is set up or a deal is closed. The modern version of this would be sending a congratulatory pop-up notification or text to everyone to recognize these types of achievements. Essentially, anything that gets your employees motivated and excited to achieve their sales goals is an excellent way to celebrate wins.
Sales technology tools can also be used to celebrate team and individual wins, which is a hallmark of positive sales cultures. WooBoard, for example, is a popular sales gamification software with a social recognition page. On the page, colleagues and sales managers can send a "Woo!" to acknowledge accolades, successes, or provide feedback.
3. Make Lessons Out of Losses
In a positive sales culture, sales losses aren't viewed as failures, but learning opportunities. Sales managers need to identify and track poor sales performance to plan constructive sales coaching sessions. Anytime there's a lost sales deal or missed opportunity due to employee performance, get to the root cause and teach them better strategies for the next opportunity.
Many people think sales training has to be done in a formal setting like an online class or in-person seminar. That's simply not true, as training can be done in a proactive but low-key, day-to-day coaching environment. Dealing with small issues as they crop up using coaching and role-playing tactics often prevents bigger issues that can negatively impact your company's sales culture.
Sales gamification software promotes healthy internal competition and measures sales performance, including offering insights for coaching. LevelEleven, for example, has tools for creating coaching notes based on scorecards and the activity of reps. Managers can then coach them by sending a quick note or setting up a one-on-one session for more detailed training.
Another way to track sales teaching opportunities is with customer relationship management (CRM) software. CRMs organize and visualize sales information, including sales rep activity like calls placed, appointments booked, demos and presentations delivered, and other performance metrics. In turn, this gives managers objective data to identify where performance can be improved.
HubSpot CRM, for instance, provides sales activity dashboards broken down by sales rep. This enables managers to see areas of the sales process where individual agents are lacking or underperforming compared to their peers, and where opportunities were consequently lost.
4. Promote Team Collaboration & Positive Communication
An environment where sales reps perceive benefit in taking down their peers is a huge danger to a sales culture. An example of this is if a company determines compensation, rewards, or even continued employment on a tiered system based on relative performance (aka "grading on the curve").
In this type of system, the lowest-performing sales reps are demoted, go unpaid, or are even fired while high performers are promoted or rewarded. This can lead to culturally detrimental behaviors such as employees purposefully choosing not to help or communicate with other team members, or even actively sabotaging one another in order to save their own job or get ahead.
Corporate values, policies, and high standards for employee behavior and communication go hand-in-hand with promoting an atmosphere of team collaboration. The importance has to be stressed from the beginning, during a team member's onboarding, and going forward. Plus, it requires that everyone from the top of the organization to managers and team members adhere to the company values and team expectations set forth.
Shared commission and referral programs can also promote collaboration. For instance, if a large deal has a better chance of being won by having multiple reps involved, such as a large insurance deal requiring dozens of different policies to be quoted, determine a compensation plan where they all benefit from helping each other out, rather than only one person receiving commission and the others taking time away from their sales activities.
The same can be said for referral programs. If your business uses territories or divides reps by product lines, offer an incentive that encourages sales reps to refer business from one team to another. You may never know how much business is missed due to a sales team member choosing not to disclose information on business opportunities because of a lack of incentives.
It's also essential for your business to provide the lead, deal, and project management tools employees need to collaborate on sales opportunities. One of the easiest ways to accomplish this is by using a CRM with built-in project management tools. This way, sales opportunities and their associated projects can be accessed by all team members from a single centralized system.
Bitrix24, for example, monitors your company's deal opportunities and can convert them into projects. Once an opportunity is converted into a project, multiple members of your sales team can track the tasks assigned to them as well as the overall progress of the project.
You can also reinforce the team collaboration culture by encouraging robust communication between departments. For example, sales reps should always be able to ask accounting when pricing needs to be adjusted or legal when a service term is being negotiated. The attitude should be that you can never overcommunicate and there's no such thing as a stupid question. This encourages everyone to both keep each other in the loop.
Communication tools like Slack empower employees within departments and across the organization to communicate with each other. Communication can be done privately in direct messages, in group messages, or in private (team) or public channels. This flexibility enables individuals to ask questions they might be uncomfortable asking in a group setting while also ensuring that tasks don't slip through the cracks due to lack of efficient communication tools.
Furthermore, Slack integrates with many CRM systems, including top platforms like HubSpot, Zoho CRM, Salesforce, and Pipedrive. This further streamlines internal communication in support of a sales-driven culture. Check out our article on the five best CRMs with Slack integrations.
5. Set Clear Goals & Expectations
Formally indicate the measurable sales performance requirements and goals you expect employees to achieve. Much of this can be done through periodic sales meetings between sales managers and team members to establish sales quotas and corresponding individual and team goals for the month, quarter, or year, as well as the game plan to get there.
Throughout the duration of the sales period, track each employee's sales activity. This could include things like the number of calls placed, appointments set, deals closed, and total revenue generated. Then compare those numbers to the rep's quotas and individual goals.
This is another instance where technology offers support. For example, these nine sales goal tracking tools make it easy to measure progress and hold sales team members accountable for hitting their numbers, and some can even be used for free.
Popular CRMs like Pipedrive and HubSpot CRM make goal tracking simple with reporting options for deals closed and revenue generated in comparison with sales goals or minimum standards. When a rep doesn't hit their numbers, reporting tools analyze data about sales activities like calls placed, emails sent, appointments set, presentations delivered, and proposals sent to uncover the source of lackluster performance.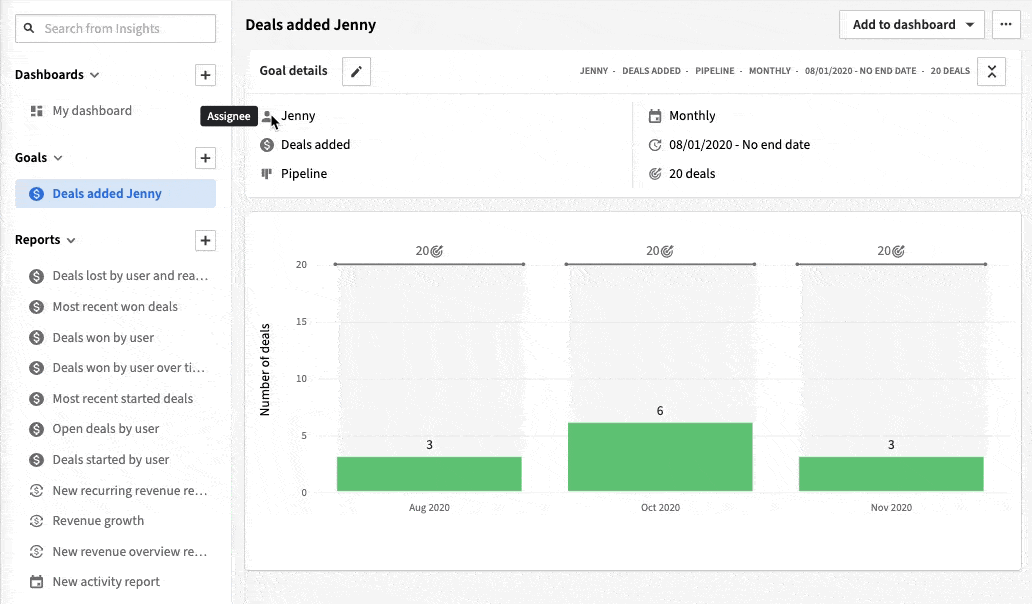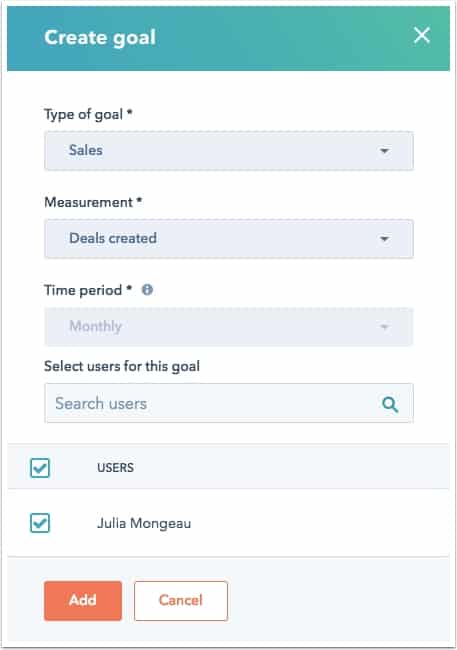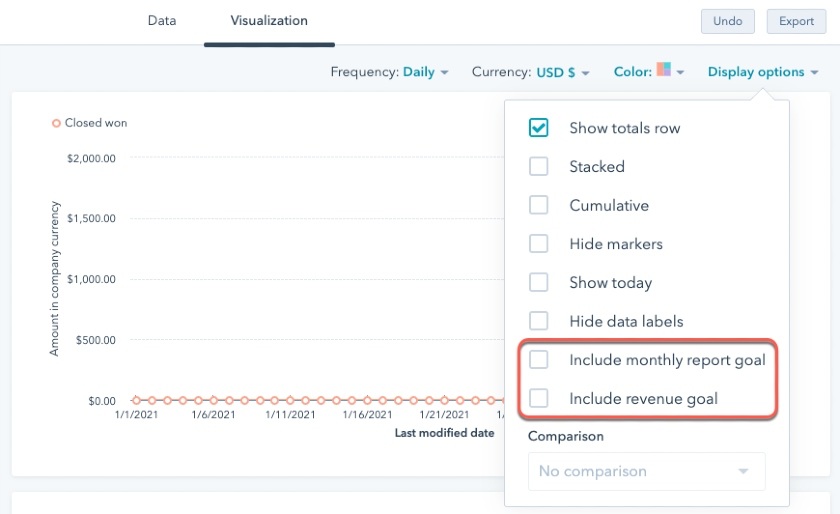 6. Trust Your Sales Reps
No one likes to be micromanaged, and there's no reason to do so since sales performance can be easily measured and tracked. Plus, high trust is critical for building a positive sales culture. It's key for managers to trust sales reps to do what is necessary to hit their sales goals and be a coach the reps can turn to for help rather than a pestering boss.
Take advantage of technology to monitor sales activity and ensure tasks are being completed. CRMs like Salesforce do this with built-in task management tools along with lead and opportunity organization features. Team members can track what needs to be done while at the same time, managers can view the status of completed tasks without constantly hovering or asking for updates.
Collaboration and project management tools like Trello can be used to track tasks in a sales-driven culture. Managers can assign a task to a particular salesperson and see where various leads are in the process while also monitoring overall progress as well as collaboration on particular tasks. Cards can be easily moved to the next phase and team members can be tagged on cards, keeping everyone in the know.
7. Promote Healthy Competition
Finding a way to spark the competitive drive of salespeople can be challenging, especially when attempting to do so in a friendly, team-building way. However, to build a positive sales culture, it's essential to find a balance that enables individuals to perform at their highest without bringing down their colleagues. One way to promote healthy competition within your sales department is through sales gamification.
Sales gamification is when completing sales activities, like calling leads, setting appointments, or closing deals, is turned into a competition or is incentivized with game-like rewards such as badges earned. Numerous sales gamification tools are available to help you boost performance using broadcasted leaderboards, visualized competitions, and recognition and reward incentives.
Gamescope, for instance, is sales gamification software native to Zoho, which also has a CRM platform that integrates seamlessly with Gamescope's gamification tools. Within Gamescope, a point system can be established and sales activities are converted into points. One-on-one, team, and multi-member competitions can be created and digital trophies can be rewarded to high performers.
Tango Card is another sales gamification tool that allows managers to send digital gift cards as a reward to team members who win sales competitions. The catalog includes gift cards from popular companies like Amazon, Best Buy, and iTunes, as well as prepaid cards and the option to donate to a charity as an alternative to redeeming a reward. These rewards can be used to both encourage competition and celebrate individual success.
8. Encourage Continuous Learning
Creating an environment where team members are encouraged to constantly learn and develop new skills is essential for a positive sales culture, and it prepares employees to succeed in their roles. Continuous learning opportunities, including proven sales training programs, should be offered for both new sales team members as well as seasoned veterans.
Sponsoring and requiring ongoing sales training promotes a culture of continuous learning, and doesn't have to be expensive. HubSpot Academy, for example, is a totally free platform of learning tutorials on an array of sales topics, and it's open to anyone. It has training modules appropriate for all experience levels from beginner to advanced in categories like contact management, inbound sales, sales automations, and sales enablement.
HubSpot Academy also allows you to filter tutorials based on content type so you can find full courses, individual lessons, e-books, and templates. You can also choose courses for your sales team based on topic and duration, and they can even receive certifications or badges when completing certain courses.
Pro tip: Training and developing your sales team is a critical role of a sales manager. More information on how to develop and manage a high-functioning sales team can be found in our ultimate guide to sales management.
Evaluating Your Sales Culture
While you may already be following some of these best practices for fostering a positive sales-driven culture, it can be difficult to evaluate how effective those practices are. During the implementation of new policies, or prior to making any changes, ask yourself some important questions to evaluate your sales culture:
Does our sales team uphold the values of our organization?
Are we promoting a positive sales environment that celebrates success?
Are we offering everything we can to our sales employees to maximize job satisfaction?
Do our salespeople feel they can ask questions and be open with their managers or peers?
Are we offering enough learning options for our sales representatives to find ways to develop their skills?
Do we have the incentives and tools to encourage team collaboration?
Do we have a system for motivating our sales team to hit their performance goals without intruding or bringing down one another?
Are we giving our sales team enough autonomy to complete their sales tasks while also holding them accountable?
Are the sales goals and expectations for each salesperson clear and concise?
Do we have a method in place for coaching sales reps when weak points are spotted?
Pro tip: Take advantage of surveying tools like Google Surveys and SurveyMonkey to evaluate the health of your sales culture by gaining insights directly from your team members. Send questions about satisfaction with management, policies, suggestions for change, and whether or not they feel the environment is positive.
Asking the right questions can help you identify culture gaps and find solutions for developing a sales-driven culture where team members are both highly motivated and satisfied in the workplace. In turn, a positive sales culture can reduce employee turnover and give managers new tools to recognize and prevent burnout to prevent negative impacts within the sales team.
Bottom Line
The benefits of a positive sales-driven culture include high job satisfaction, reduced employee turnover, and improved performance, which means increased sales, productivity, and profitability. Best of all, you can foster a healthy work environment while also keeping sales reps excited to do their job at a high level.
As part of creating a sales plan, develop a positive working environment for everyone using proven strategies. A positive sales culture puts your team in the best position to succeed, ultimately allowing your business to thrive.