How to Create a Winning Sales Process for Your Small Business
A sales process is the cycle of repeatable steps your business uses to obtain leads and close deals. Your company's unique sales process should align with your sales pipeline and funnel, providing a roadmap for your sales team to follow. To create an effective sales process, review your sales pipeline, convert pipeline stage activities into sales process steps, visualize your sales process, and create a system to measure each step.
Here are the four steps to creating a sales process for your business:
1. Review the Stages of the Sales Pipeline
Before trying to determine what your company's sales process looks like, consider the customer's journey and the nine stages of the sales pipeline. Then consider how each stage relates to your business model.
Alternatively, or in addition, you can also use your sales funnel to help you identify the larger groupings of tasks you team will need to complete in order to nurture a lead through their customer journey.
2. Create a List of Your Internal Activities for Each Stage
The next step you need to take to create a sales process is to define how each stage relates to your business and identify the sales activities your business will take within each stage. Some stages may have many activities, while others have only one depending on what's needed to close the sale. It's also worth noting that some stages might not have any internal activities if your business choses to outsource activities in a stage.
Here are questions you should be asking yourself for each pipeline stage to develop the list of activities your business will use as part of its sales process. You can also expand each pipeline stage for tips and activity suggestions:
Researching prospects: How do you plan to find potential customers (consumers or businesses, or both) that could benefit from your product or service?
When defining the steps involved in the researching prospects stage, any activities that lead to new or additional information about a lead or prospect count. There's also no limitation for how information is gathered—it could be from an online source, a cold call, a printed publication, meeting someone in person, or some other tactic.
Here are some examples of sales process steps associated with this pipeline stage:
Collecting business cards during a networking event to input into your CRM
Finding and connecting with potential decision-makers on LinkedIn
Reviewing a company website for the CEO's phone number and email address
Compiling a list of email addresses and phone numbers from contacts met at a trade show
Thoroughly researching prospects helps you create customer profiles to incorporate into your sales process. Customer profiles enable you to tailor your sales approach based on behaviors, interests, or demographic information. This helps you generate more qualified leads and gives you a higher likelihood of converting leads into closed business as well as turning closed business into recurring revenue.
For example, if you are selling a subscription-based food delivery service, you could divide each customer type into a profile based on the type of food they like in their subscription package. Once divided, you can then alter promotions based on interest types to create special offers more likely to appeal to a particular customer profile.
Customer profiling is just the first step in the sales targeting process. Our article about how to improve sales targeting covers all the ins and outs of improving sales performance by using targeted customer profiles in conjunction with customer relationship management (CRM) software.
---
Generating online leads: How will you create or obtain contact lists of potential customers?
When creating sales process steps in the generating online leads stage, consider any activities that bring inbound leads or compile contact information for you. Some examples include using online advertising, buying lead lists, networking, or utilizing content marketing. Activities in this stage may also involve cross-team collaboration between sales and marketing departments, particularly when using search-optimized content or landing pages to produce website traffic.
Here are some examples of sales process steps associated with this pipeline stage:
Creating a landing page with an online webform for inbound lead submissions
Auto-syncing online web form submissions to your CRM database for sales rep assignment and to your email marketing platform for nurturing campaigns
Purchasing targeted contact lead lists from an online database and uploading them to your CRM
UpLead is an excellent source for generating lead contact lists. As an online database, UpLead allows you to purchase accurate and up-to-date contact information for business-to-business (B2B) leads based on factors such as industry, job title, location, and company. This saves you hours of time compared to manually researching contact information for leads.
Pro tip: Buying leads is just one of many strategies you can use in the lead generation process. Our ultimate guide to lead generation explains other various methods you can use to keep your sales pipeline full.
---
Introducing products and services: How do you want to introduce your business and its products or services to leads?
Introducing your business' products or services involves different activities in your sales process, such as cold calling, mass or personalized email marketing, or even door-to-door selling. Which techniques are used depends on your preference, customer types, and your sales methodology.
A sales methodology is a set of principles on how to act within a sales stage. For example, while introducing products or services, you may use the Situation, Problem, Implication, and Need-Payoff (SPIN) selling methodology, using questions to find pain points and solutions. This methodology works better in a cold calling environment that has direct contact with a lead since it typically requires back-and-forth conversation.
Here are some examples of sales process steps associated with this pipeline stage:
Cold call introductions to set up software demos
Mass email introductions to contacts from a trade show to provide awareness of your company's unique approach
Introducing a new product during an on-site appointment at the lead's office location or online
Pro tip: Cold calling can be extremely effective when done at the right times, to the right people, and with the right techniques. Our small business guide to cold calling can help you better understand this strategy and provide tips for kick-starting your cold calling campaigns.
---
Lead qualification: How will you determine whether a prospect is qualified to purchase and to what degree is interested in your offerings?
The sales process step for qualifying leads includes any actions that help you determine whether a prospect is interested in what your business offers, quantifying the prospect's interest level, and knowing when a lead is ready to purchase using lead scoring. It's also important to note the difference between the two types of qualified leads.
A marketing qualified lead (MQL) means the lead is a general fit with your target audience, regardless of whether they expressed any direct interest. Sales qualified leads (SQL) have gone through multiple stages in the pipeline and your sales process to the point where they may be (or will soon be) ready to purchase from your business.
Here are some examples of sales process steps associated with this pipeline stage:
A cold call to a lead to determining interest in receiving a product brochure
Emailing a marketing qualified lead to see if they want to schedule a product demo
Checking LinkedIn to ensure a lead's company fits your target profile of businesses with 25 to 50 employees
Learn how to identify the best leads for your business, including qualifying, organizing, and scoring leads, in our article on lead qualification.
---
Nurturing leads: What will you do to follow up with leads over time and build relationships?
As part of a comprehensive sales plan, every sales process should include tactics to continuously nurture leads. Lead nurturing activities remind prospects about what your business offers based on where they are in the sales pipeline. Lead nurturing occurs during many stages of the sales pipeline since the goal is to advance the relationship to the next level.
Here are some examples of sales process steps associated with the lead nurturing stage:
Deploying drip email campaigns to update leads with current promotional offers
A follow-up call to the prospect after a series of drip emails to see if they are ready for a demo or trial
Sending a personal email to build the relationship with a prospect citing a new study or statistics relevant to their business or to your product or service offerings
Emailing is an effective way to nurture leads through consistent follow-up. CRMs allow mass emails to be created and deployed on an automated basis while also being tracked for performance. To ensure you make the best decision for a solid email CRM system, check out our picks for the best CRM software for email marketing.
---
Delivering sales presentations: How will you demonstrate what your business offers and how will initial sales pitches be delivered?
Delivering a sales presentation can include anything that communicates how your business can help your customers. It ranges from product demonstrations and free trials to simply pitching a product or service while on the phone.
Here are some examples of sales process steps associated with this pipeline stage:
Providing a sales presentation about the capabilities and advantages of our industrial printer products
Giving a demo of your software-as-a-service (SaaS) platform during a video call
Presenting insurance coverage options on a conference call with a prospect
When doing a sales presentation, it's essential to have a ready-do-go sales pitch to point the conversation in the right direction. Our guide on how to make a sales pitch explains what goes into an effective sales pitch and provides sales pitch examples for your business.
---
Sending proposals or quotes: How will you communicate the cost of your products or services as well as your terms?
This stage in the pipeline involves activities needed to generate quotes and define terms and conditions, as well as sending them to the prospect for review. For certain businesses, activities for this stage may also involve steps in the background like submitting a formal business proposal, conducting a legal review for contract terms, or using an appraiser to finalize a quote.
Here are some examples of sales process steps associated with this pipeline stage:
Collecting underwriting information from prospects to input in your system for quotes
Sending a formal proposal for financial advising services to a prospect for signature
Determining the number of "seats" for a software package for a sales team purchase
Sending professional-looking proposals makes you stand out from other competitive bids. Fiverr connects you with freelancers for professional copywriting and graphic design services. This ensures your proposals are properly formatted and designed before being sent to prospective clients.
Pro tip: Having the right software to help with things like quote proposal generation is key to making your sales operation more efficient. More ways to improve your sales operation can be found in our complete guide to sales operations.
---
Negotiating terms: What will you do when a prospect asks to customize terms and/or reduce costs?
More common in larger deals, there may be steps in your sales process associated with negotiating terms or the price of your products and services. This stage may also require coordinating with other departments like legal or accounting as well as sending revisions to the prospect.
Here are some examples of sales process steps associated with this pipeline stage:
Having your legal department review prospect term change requests
Sending back revised proposal terms to a prospect
Updating a proposal with the new scope of work and pricing
---
Closing the deal: How will you ensure you have contract signatures and payment, and onboard a customer?
In this stage of the pipeline, activities that involve finalizing the deal with a prospect or onboarding them as a customer can be viewed as sales process steps. For some businesses, closing a deal may involve collecting payment or sending a client a one-time invoice, while for others, several departments may be involved.
Here are some examples of sales process steps associated with this pipeline stage:
Uploading a signed proposal into your database and introducing the account manager to a new customer
Forwarding customer information to the accounting department for invoicing
Scheduling new clients for software training
---
3. Visualize Your Sales Process
Once you have created your master list of activities, you will want to check to see which activities can be completed right away, and which are dependent on a prior task. One way to do this is by visualizing the process using flowcharts differentiated with shapes and colors that guide the viewer down the path from start to finish. This will also make it easier to train new agents on your sales process as your team scales
Below is an example of a sales process flow chart:
4. Make Your Sales Process Measurable & Adjust as Needed
Once every stage in the pipeline has been defined with required activities and displayed in a way that is easy for your sales team to follow, the last step you need to take to create a winning sales process is to find ways to measure the success of each step. Multiple types of metrics like total values, conversion rates, and averages can all be used to quantify your sales process.
Below are common examples of sales performance metrics that can be used for each step of your sales process:
Sales Pipeline Stage

Sales Process Step/Activity

Performance Metric(s)

Researching Prospects

Find and connect with potential decision-makers on LinkedIn

Total number of connections made

Generating Online Leads

Create an online ad with a web form for inbound lead submissions

Total number of leads generated
Ad views to lead submission rates

Introducing Products or Services

Cold call introduction to leads to set up a demo or free trial

Total number of demos set up
Call to demo conversion rate

Lead Qualification

Call leads who submitted an online form to determine interest

Total number leads qualified
Calls to qualified lead conversion rate
Average number of calls needed to qualify a lead

Nurturing Leads

Deploy a drip email campaign to set up a sales presentation

Emails sent to open rates
MQL to SQL conversion rates

Delivering Sales Presentations

Deliver a product sales presentation

Presentation to proposal conversion rate
Average time spent on presentations

Sending Proposals or Quotes

Acquire information needed to generate and send a personalized quote proposal

Average number of proposals sent per month (or per week, quarter, and so forth)

Negotiating Terms

You and your legal team review proposal change requests and send revision(s) to the prospect

Average length of time spent in negotiations
Average number of revisions

Closing the Deal

Acquire signatures on the proposal and start client onboarding

Proposal to closed deal conversion rates
Average number of closed deals per month
Tracking metrics like these enables you to measure progress and identify areas for sales process improvement. Adjustments could entail things like tweaking sales process steps for efficiency, adding new tactics or removing ineffective activities, or coaching sales reps on techniques to improve their sales numbers in different aspects of the sales process.
Customer relationship management (CRM) software should be strongly considered to track a lead's progress through a company's sales process steps and organize lead contact information. Most CRM users can create custom pipeline stages to monitor the progress of their unique sales process.
HubSpot, for example, enables users to customize data fields, assign win probabilities, and use other properties for a sales opportunity or lead, such as the potential deal amount and assigned sales rep. Businesses can also monitor where leads are in the sales process on the contact list view, which can be customized to show the lead's current status.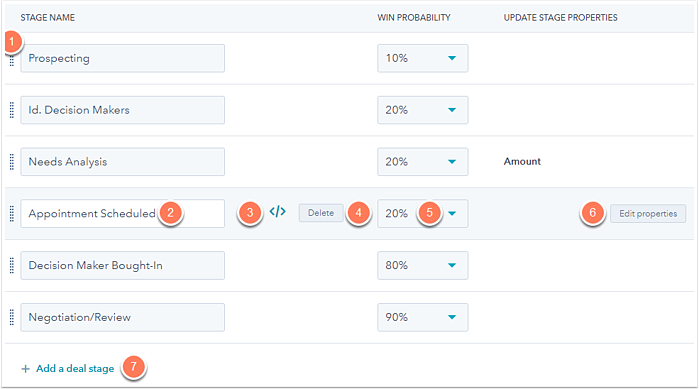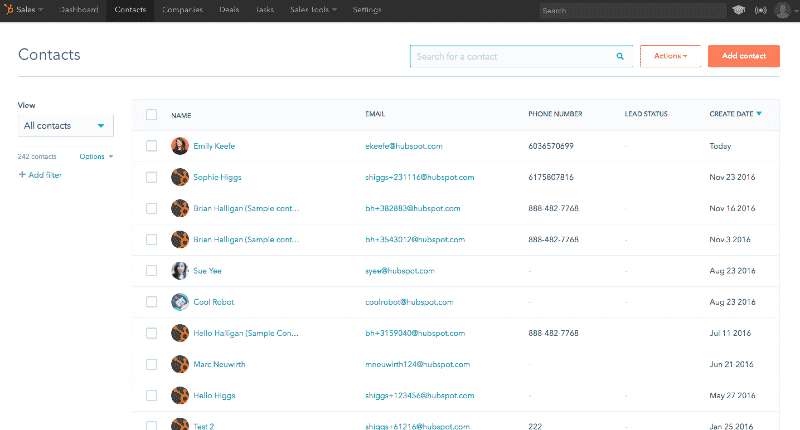 Using Metrics for Sales Process Adjustments Example
Imagine a sales team is finding they are not hitting sales goals because there aren't enough MQLs in the pipeline at a given time. When looking at the sales process metrics, they discover that inside sales reps only have time to do enough online research to create 15 marketing-qualified leads per day, much less than is needed to hit their sales targets.
The team's sales manager decides to remove the online research step of the sales process and generate MQLs by purchasing 300 targeted leads from an online database every week. She then has the inside sales reps, who now have more time, handle the introduction of services by cold calling the new leads to set up sales presentations for the outside sales reps.
Using Metrics for Sales Coaching Example
Another example of how metrics can be used to improve sales operations can be seen in individual performance coaching. The sales manager determines that Charlie, a new sales development representative, has the lowest conversion rates of calls to qualified leads of anyone on the team.
The manager gives Charlie one-on-one coaching for an hour per day to go over sales methodologies and tips to improve conversion rates. Charlie begins implementing the new techniques, like dialing cold calls during peak call times, using emotional selling language, and asking questions to handle objections from prospects. He and his manager begin to see his individual performance improve over time.
Developing your sales operation by continuously using training and strategy adjustments is a huge part of a sales manager's job. With our ultimate guide to sales management, you learn everything you need to know about onboarding sales reps, motivating sales teams, and managing your company's sales performance.
Bottom Line
In order to identify the steps of your sales process, review which sales pipeline stages are relevant to your business, and incorporate the tactics you want to use. Once your sales process is created, you'll have a repeatable set of activities to complete in order to move a sales opportunity from a new lead to a closed deal.
Your sales process can be further beneficial as an observable sales system with performance metrics at every step. These metrics can be used to make adjustments in the sales process and to coach individual members of sales teams.