How to Create a Request for Proposal (RFP) in 8 Steps (+ Free Template)
A request for proposal, or RFP, is a formal summary of needs provided by an organization for the purpose of receiving bids from qualified vendors and contractors. Your RFP should summarize the project and its purpose, describe your business' background and mission, and then dive into sections like the scope of work, budget, time frame, and selection criteria for the project. Create your own RFP or download our free RFP template to get started.
Free Request for Proposal Template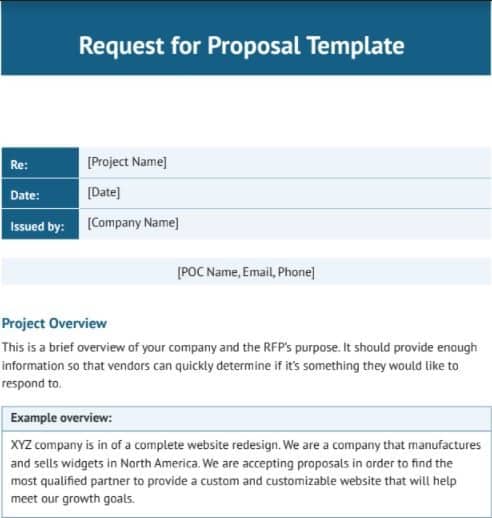 To ensure your vendors send you their best quality bids and to ensure you are evaluating all providers fairly, your RFP needs to be as thorough as possible. This is why we've created a request for proposal template that includes the key information vendors and contractors need to generate a quote which you can download for free and customize for your business' future projects.
Download our free request for proposal template in Word or Google Doc.
You can also create your own RFP document by following these steps:
1. State Your Project Overview
One of the first sections that should be included in an RFP document is the overview of your project. While it doesn't have to be extremely detailed, it needs to provide enough information so a vendor can quickly determine whether or not it's something they can assist with. It should summarize the project and state the purpose or desired outcome of the project.
Below are examples of project overview statements in an RFP:
ABC Company is one of the largest government contractors in Northern Virginia, and is accepting bid proposals to perform a comprehensive website redesign to help meet website traffic goals.
XYZ Real Estate is one of the fastest-growing residential real estate developers in the New York City area. We are seeking competitive bids for a community planning consultant in the preparation of organizing and designing three new development projects.
Solar Inc. is an innovative solar panel manufacturer and distributor accepting proposals for contractors to manage our social media accounts as a way to improve relationships with current customers.
Main Construction Corp. is a West Coast, mid-sized general contracting company seeking proposals for the management of our employee benefits program to provide a central source for administering plans and educating our employees on their benefits.
Ultimately, your project overview statement needs to state the what and why of the request for proposal. It also should describe your organization by name, product or service, size, and primary markets.
2. Include Company Background & Contact Information
The company background section lays out more details about your organization. It should include various identifying information about your company as well as more detailed information about how your business fits into the industry. Below are items that should be included in the company background section of a request for proposal:
Company name
Physical address
Phone number
Email address
Website
Description of your company's products or services
Information about what makes your company different
Details on your target market or ideal customer types
Company size or growth stage
Key members of your leadership team
Pro tip: You may find yourself on the other side of the procurement process and be required to submit a proposal in response to an RFP. Our guide on how to write a business proposal gives you everything you'll need to know to submit a competitive business proposal.
3. Define the Expected Scope of Work
The scope of work expands your project overview summary statement into more detail. An excellent tip for outlining the scope of work is to state the desired outcome as opposed to the steps needed to get there. This allows vendors with innovative technology or creative processes flexibility in proposing how they can meet your needs.
Below is an example of an RFP scope of work with deliverables:
The following deliverables are expected to be included in your proposal for the website redesign and management scope of work:
Current website evaluation/audit (one prior to redesign then quarterly)
Development of brand guidelines
Copywriting of all website content (14 pages)
Backend coding with integration (or plugin) of third-party software
Mapping of the customer journey
SEO strategy and implementation
When laying out the deliverables, be as detailed as possible about what exactly you want to achieve. It also helps to quantify deliverables when possible, making it easier for vendors to determine fair pricing. You may also need to use internal or external experts to help define your project and its deliverables.
This section is also an excellent place to explain your overall project goals as well as the current challenges the project is being used to solve. Describing desired goals and challenges allows vendors to offer solutions in their RFP submission you may not have known about or considered, especially if they've solved similar challenges for their clients in the past.
Below is an example of communicating project goals and challenges in an RFP:
With ecommerce business making up the majority of our revenue, we are looking to increase website traffic by 40% in the next three years. One of our main challenges is getting new customers to our website. At the moment, new customers only make up 5% of our total ecommerce revenue, which we are hoping to get up to 20% through SEO best practices and new content on the website.
Similar to the scope of work and deliverables section, this should also be detailed and use quantifiable information when possible. Vendors use this section to find ways to differentiate themselves from other vendors submitting bids through the solutions they offer.
4. Clarify Project Budget or Explain Why It's Unknown
An estimate of desired spending should be provided in the request for proposal document. Even if it's a range, vendors will be able to see whether submitting an RFP is worth their time—or yours. For situations where you cannot offer any type of project budget estimate, you should indicate why.
The most common reason for not being able to provide a budget range is because a funding request, either from a government entity or a different department of an organization, has not been approved. Another reason could be simply because the issuing organization simply has no idea how to price the particular project, or has budget flexibility and wants to consider a wide range of proposals.
Project budget is another section of the request for proposal where you may need to consult with experts prior to issuance. A budget that is too small can result in only the lowest-quality vendors submitting bids, while having a budget that is too large may cause you to overspend.
Additionally, you can itemize budgets for various stages of the project, and make extended budget statements to be open about how much you will (or can) spend. Examples of expanded budget statements include "We want to spend $25,000-$37,000 total on the project but will consider spending more for a high-quality vendor," and "We will not spend more than $40,000 on the project."
5. Establish Your Required Project Timeline
Adding a desired timeline or schedule for the project helps vendors with both planning and estimating. You have the option of placing hard deadlines, flexible ones, or segmented ones for various stages in the project.
Accurately detailing your request for proposal's project timeline section may also require consultation with in-house or outside experts who understand how long each of the deliverables of a project will take. It needs to be realistic to ensure vendors with solid experience and a reputable portfolio are willing to bid.
Below are some examples of project timelines statements in an RFP:
Hard deadline: Regardless of when each of the deliverables is finalized, we expect the new website to be online no later than March 8, 2022.
Flexible deadlines: Our desired date for the new website to go live is between February and March of 2022. We are open to slightly later than that range if it means higher-quality content and/or better functionality of the site.
Segmented deadlines: We expect contractors to adhere to the following project schedule:

Initial website audit report no later than December 1, 2021
Web page design and grand guidelines proposal due by January 1, 2022
Front-end web page creation and site content copywriting complete by March 1, 2022
Back-end storage with all integrations finalized by April 1, 2022
Website user testing finished by June 1, 2022
Final media content added by July 1st, 2022
Website goes live no later than September 30, 2022
SEO setup complete by September 30, 2022
When managing a project or collaborating with an outside contractor on a project, your sales customer relationship management (CRM) system can be used for monitoring project progress to see if it's keeping up with the established timeline. Bitrix24, for example, has free project management tools in their CRM that allow you to view the status of a project using various displays, including Gantt charts and Kanban view.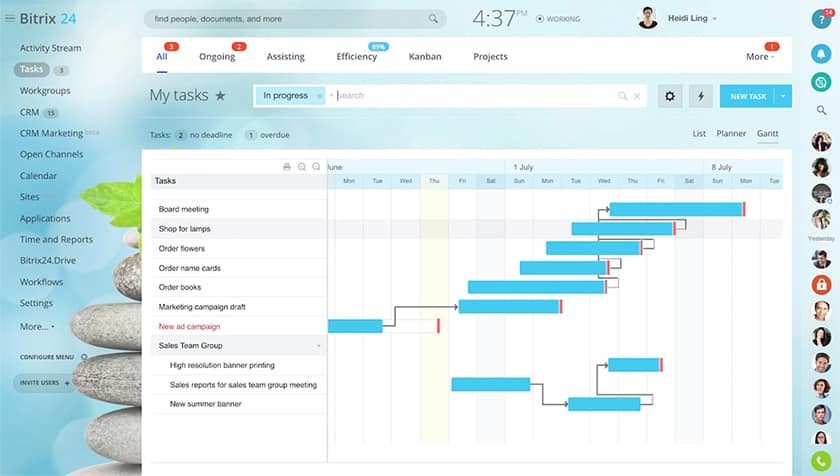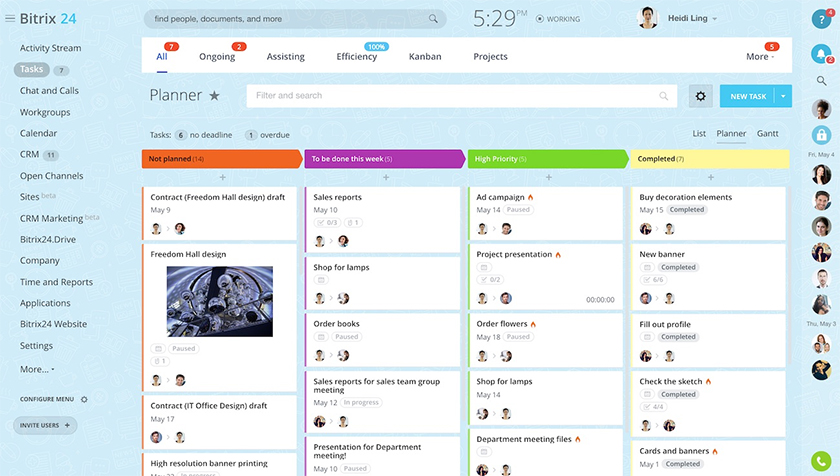 6. Specify Your Submission Requirements
Another important section to include when you create a request for proposal template for your business is for vendor submission requirements. This is where you inform vendors or contractors what is expected of them in their RFP submissions. Generally, you want them to provide basic information like their company background, experience, and maybe even a response to specific questions you issued in the RFP.
Additionally, you can request they send sample work or portfolios showing work related to your project as well as references from previous clients. You also want to gain an understanding of how they will deliver on the project by requesting recommendations for the project scope, information about who will manage the project, and how they will meet your timelines as well as their bid price.
If you have specific formatting requirements for RFP submissions, such as document type or a maximum number of pages, this section should indicate those requirements. This can also detail how you would like pricing bids, timelines, and methodology laid out in the document. For example, when it comes to bid pricing, you may require either an hourly rate, monthly fee, or total project cost in the RFP submission.
Some RFP issuers prefer to keep the proposal submission uniform to allow for easier, apples-to-apples comparison between the vendors. This can be done by providing a single RFP template that all vendors must use in their submission.
The submission requirements section may also be used to differentiate between must-have vs like-to-have vendor attributes or experience. For example, you can issue an RFP requiring vendors to be within 100 miles of your business and to have completed at least three similar projects as must-haves, while vendors having experience with firms in your industry is a like-to-have (or preferred) attribute.
7. Explain the Selection Criteria
Criteria of how a winner will be selected and the contract awarded should be referenced in your request for proposal document. We recommend using an objective system, such as a scoring process, for measuring and comparing the proposals.
Using objective criteria also helps in the event of procurement disputes. If a vendor claims they were unfairly rejected, you can cite the point system as your reason for selection.
Below is an example of RFP criteria using a point system:
Each proposal will be evaluated on a point system based on the following criteria:
Previous work experience: 30 points
Bid price: 25 points
Approach to project completion: 25 points
Experience/qualifications of vendor personnel: 15 points
Adherence to proposal submission requirements: 5 points
Total: 100 points
8. Set Expectations for Your RFP Procurement Schedule
This section is typically either at the beginning or the very end of the request for proposal document. It should indicate a timetable for when proposals are due, how long question submissions are open for, dates on other stages in the procurement process (such as vendor interviews or counter-proposals), and the estimated date of when a contractor will be selected.
Other Types of Requests
If you aren't quite ready to issue a full RFP but still want to obtain information about a potential project, there are other requests that can be made. These assist your business in acquiring information on price estimates or about how a vendor would go about solving a specific problem.
Request for quote (RFQ): Used to find an estimate or price range of what a project or scope of work will cost. Generally, you know what the work is and why you need it, but have no frame of reference for how to budget for it.
Request for information (RFI): Used to determine whether vendors have solutions that could solve a problem you are having. Generally, you know the problem, but you are trying to explore different ways vendors would go about solving that problem.
As a fact-finding exercise, the information attained from an RFQ or RFI helps define your project's scope of work, timeline, and budget before issuing a formal request for proposal. For example, if you issue an RFQ and get a range of cost estimates for a project, you can use the lower and higher end of those ranges for your RFP project budget.
​​How CRMs Help Manage the RFP Process & Templates
Customer relationship management (CRM) software is a resource that can help with the RFP process. For example, HubSpot has free RFP templates for issuing and submitting requests for proposals. These templates can be shared among team members for collaboration in the CRM's document sharing system.
Using a CRM for RFP management and sales activities is a key element when developing a robust sales operation by providing tools your team needs to succeed. Other insights on training and motivating sales reps as well as strategizing on how to achieve peak sales performance can be found in our ultimate guide to sales management.
Similar to using an RFP template to streamline your sales operations, developing your sales plan to establish objectives within your strategies is more productive with access to templates to use as a reference point. In our how-to guide for creating a sales plan, you not only get a step-by-step tutorial for creating a sales plan, but have access to our free sales plan template to download and customize.
Bottom Line
A request for proposal is a great way to compile a list of potential vendors or contractors to complete a project for your organization. The formal issuance and submission process allows you to obtain all the information you need to select the best contractor to work with. Having a standard RFP template makes it easy to create and send requests in a timely manner, fairly evaluate proposals, and award contracts.